Typical German Christmas biscuits recipe!
UPDATED – December 2017
Christmas time is baking time! This is probably more true in Germany than any other country! Read on for some great recipes and hopefully inspiration for you to make your own German Christmas biscuits.
When the first door of the advent calendar is opened children around the country start asking when the first 'Plätzchen' will be baked. But it's not only the little ones – year by year people of all ages are looking forward to this wonderful tradition with an excitement that no supermarket biscuit could ever cause.
The German Christmas baking tradition is not really about amazing flavours or fantastic recipes – it is all about celebrating traditions, creating special moments and enjoying times with loved ones!
In the early days of December, families and friends gather around the German kitchen tables to spend hours mixing, moulding, cutting and decorating whilst listening to Christmas music and chatting about how much they love this time of year.
When it comes to this get-together, even people who never normally enter the kitchen turn into passionate bakers and therefore most people just stick to the easy and very traditional 'Plätzchen' (recipe below), which are butter biscuits. After a nice afternoon of decorating and shaping them, there is nothing like having the first 'Plätzchen' of the year right from the tray – that's the moment Christmas starts!
To get a feeling for the real German Christmas spirit, here are some easy and classical recipes that will turn out delicious even for the least talented bakers – as long as you make a the act of baking special, you can't go wrong!
This blog post was updated in December 2017 with a new recipe and step-by-step guide below.
We really like the tradition here at Apple Language Courses and now there's no excuse to not bake your own German Christmas biscuits!
Today, I will be sharing with you my grandmother's recipe for traditional German Christmas biscuits also known as ''Plätzchen''. These biscuits are easy to make and will satisfy every sweet tooth! Here's how to make them:
Plätzchen Recipe
You will need the following ingredients:
For the biscuits:
300g flour
200g cold butter
100g icing sugar
1 Medium egg
For the icing:
100g icing sugar
4+ tablespoons of lemon juice
Sprinkles of all kinds
You will also need: a pastry brush, cookie cutters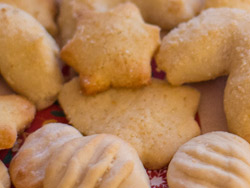 Plätzchen Recipe 2
Ingredients:
4 cups flour
1 cup sugar
1.5 cups melted butter
1 or 2 pods vanilla pulp (or vanilla flavouring)
2 egg yolks
1 egg
1 teaspoon grated lemon zest (or lemon flavouring)
1 pinch of salt
Mix all ingredients (except for one egg yolk) and knead until smooth
Wrap the dough into cling film and place into the fridge for at least one hour
Roll out the dough (1 cm thick) on a floured surface and use cookie cutters to cut out different shapes
Place on a baking sheet lined with baking paper and brush with egg yolk
Decorate with chocolate chips, sugar strands, nuts, pearls or whatever you like!
Bake at 175°C for 10-12 minutes
This recipe is all about the creativity of shaping and decorating the biscuits – try the following variations to give your biscuits a personal touch:
Instead of decorating the biscuits before baking, bake them plain and decorate them afterwards – you can use any kind of icing, chocolate glaze, decoration and candy that you think of that is edible and looks good!
Why not paint the ready baked Plätzchen with food colouring? It's all about making them unique!
You can also individualise your biscuits by placing two shapes on top of each other, making little balls, curls, pretzels or whatever shape you can think of!
If you want to bring some variety into your Christmas baking, you should also give the following recipe a go! 'Granny's cinnamon stars' are another timeless classic of the German Christmas time and the absolute favourite of every almond-lover!
Although most Germans are convinced that their Grandma makes the best 'Zimtsterne' in the world, you certainly don't need the baking-skills of a Grandma to create these really easy and incredibly delicious goodies!
Omas Zimtsterne Recipe (Granny's cinnamon stars)
4 cups ground almonds
Ingredients for the dough:
2.5 cups icing sugar
2 table spoons liqueur (preferably almond, for example Amaretto)
2 egg whites
2 teaspoons ground cinnamon
Ingredients for the icing:
1 egg white
1 cup icing sugar
Place all ingredients for the dough into a bowl, mix thoroughly and use your hands to knead into a smooth dough
Cover a surface with icing sugar and roll out the dough (1 cm thick)
Cut out stars with a cutter and place on a baking sheet lined with baking paper (If your dough is really sticky, it can be helpful to cover the cutter in icing sugar)
To prepare the icing, beat the egg until stiff and gradually add the icing sugar while doing so
Brush stars with the mixture and bake at 150°C for 10 to 15 minutes
Rebecka and Maria