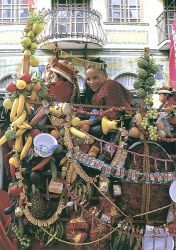 I stayed in Ecuador for two and a half weeks, and it was the most interesting and exciting holiday I ever had! Although the country is quite small, when compared to other South American countries, it offers you the full range of South American landscapes: the Pacific coast, the Andes, and the jungle. And all of them are just a bus ride away from each other!
If you are considering a Spanish course in Ecuador and want to stay in a really vibrant city, then go to Quito! For the first couple of days you might feel a bit lost in this busy city, but don't worry, you will love it! The colonial architecture in the historic part of Quito is just beautiful, and there are incredible views of the volcanoes which stand all around the city.
There are also so many places around Quito that are well worth seeing. For example, not far from Quito is Otavalo with its famous indigenous art and handcraft market. There you can buy beautiful traditional Indian clothes, jewelry and much much more. If you love strolling around markets as much as I do, you absolutely must go there. Not far from Otavalo is Cotacachi, known as the "leather town", where you can buy all kind of leather handcrafts.