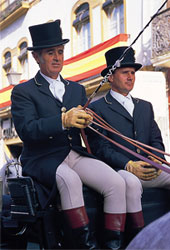 If you enjoy watching expert equestrian riders, amazing (but also controversial) bullfighters, flamenco dancers and huge parties, the Feria will definitely not disappoint you!
The Seville April Fair (Feria de Abril) is held this week in Seville, Andalusia. This year we see it taking place from 16th to 21st April, two weeks after Easter Holy Week (Semana Santa de Sevilla).
Officially, this year's amazing fiesta began on Monday at midnight with the prueba del alumbrado (lighting test), in which thousands of colored light bulbs were lit around the main gate of the city.
The Feria will run for six days and starts with a parade of flower decorated carriages with expert riders, carrying Sevillian dignitaries through the city towards the Spain's oldest and most unforgiving bullring (La Real Maestranza).