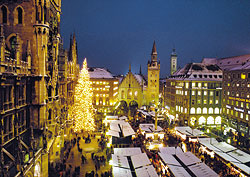 Whether you want to visit a typical German Christmas market, learn how to prepare a traditional Italian festive feast with a host 'mamma', or just lie on the beach and relax in the Canaries, Apple Languages can arrange it all for you this winter!
Many of our schools stay open over the Christmas and New Year period. Some schools, such as our schools in Berlin, Tenerife and Naples offer language lessons, accommodation and daily Christmas/New Year excursions and activities. Other schools, such as Madrid, St Anne and Kitzbuhel, stay open over Christmas/New Year (just closing for bank holidays), offering language courses and accommodation throughout the period, but no specific Christmas/New Year activities.
Choosing to learn a language over Christmas/New Year is a great way to meet people, make friends and see how Christmas/New Year is celebrated elsewhere! Language lessons are usually held in the morning, while in the afternoon/evening the schools arrange visits and activities.
Do something different this Chrisatmas/New Year! Even if you just do a 1 or 2 week course, you'll be surprised at how much you learn, how many people you meet from all over the world, and generally how enjoyable the whole experience is!
Are you tempted by the locations we offer? Where would you like to spend this Christmas/New Year?