10 incredible things to do in London
Hello everyone, I hope you are all having a great day! Today, we are back with a new blog post, this time, about 10 incredible things to do in London, England.
We have chosen some of our favourite not-so-touristy places in the capital to keep you busy like a Londoner.
Perhaps these recommendations will also inspire you to take an English course at one of our language schools in London!
1. Partridges Food Market
In 2005, the owners of this Chelsea-based family-run food shop 'Partridges' started a food market in the space outside their shop. It was started to honour British and International cuisine and to share the joys of food with the public.
The Market grew in popularity and still takes place every Saturday, hosting about 70 stalls which means an incredible variety of food and drink! From French cheeses, Spanish honeys, English fudge, Peruvian dishes to Caribbean specialities and much more. I can assure you that you will want to eat like a hungry lion!
2-5 Duke of York Square
London
SW3 4LY
Sat: 10am-4pm
www.partridges.co.uk/foodmarket
2. Tottenham Green Farmer's Market
If you happen to be in London on a Sunday instead of a Saturday, then the Green Farmer's Market in Tottenham is another great food market.
Here street food is served together with local and international dishes and a lot of quirky yet delicious cuisine!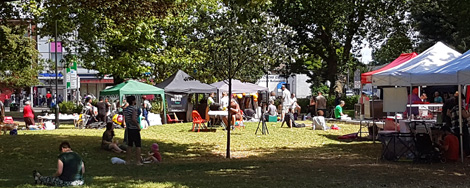 Town Hall Approach
London
N15 4RY
Sun: 11am-4pm
3. Highgate Cemetery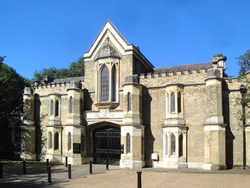 Highgate Cemetery is the resting place of numerous prominent figures such as Karl Marx and more recently, George Michael. It occupies a total of 37 acres and about 170,000 people are buried there.
Guided tours are available to see the graves of poets, artists and musicians. It is recommended to wear sensible shoes as some areas tend to be fairly muddy.
Please note that it is forbidden to take videos as well as photos for non-personal use.
Address:
Swain's Ln
Highgate
London
N6 6PJ
Opening times:
Monday to Friday: 10am to 4pm last admission 3.30pm
Weekends and public holidays: 11am to 4pm last admission 3.30pm
Admission: £4 adults, children under 18 free.
4. Brick Lane Market
Brick Lane Market is a large Sunday flea market in the London Borough of Tower Hamlets. The vibe, the place, everything about Brick Lane Market is incredible and makes it one of the coolest places to hang out!
Go get some great bargains on antiques, bric-a-brac, fruit and veg and clothes. Or, just gawk at all the awesome items available, do some people watching and have a very tasty lunch or quick snack.
Address:
91 Brick Lane
London
E1 6QR
Opens Sunday: 10am-5pm
5. Grant Museum
A natural history museum with 68,000 skeletons of specimens that have disappeared long ago! Super interesting and an ideal activity for young and old people alike.
Rockefeller Building
University College London
21 University Street
London
WC1E 6DE
Mon-Sat 1-5pm
Admission: Free!
www.ucl.ac.uk/culture/grant-museum-zoology
6. Whitewebbs Museum of Transport
The Whitewebbs Museum is transport museum located in the London Borough of Enfield.
This museum has a collection of historical cars, buses, motorbikes and other special vehicles. There are always exciting events and exhibitions at the museum so keep an eye out for those!
Hot food is served in the tea room between 10am and 2pm.
Refreshments and cakes are then served from 2pm to 3.30pm.
Opening times: Tuesdays: 10am-4pm
Last Sunday of the month: 10am-4pm
Admission: £5 for adults, children under 12 can go for free.
7. Draughts – London's first board game café
Draughts is a superb Hackney café and bar with a twist: a library of 600 board games are waiting to be played! It is therefore a paradise for hungry board game enthusiasts.
Get yourself to Draughts with a few close friends. An especially fun activity if the Great British weather is not behaving! Also, competitions, themed evenings and workshops regularly take place there.
Address:
337 Acton Mews
Hackney, London
E8 4EA
Opening times:
Monday-Friday: 10am-5pm & 6pm-11pm
Saturday: 10am-12pm
Sunday: 10am-11pm
8. Greenwich Theatre
A lovely local theatre in Greenwich, southeast London with productions for the entire family. A cosy and intimate venue with high production values.
Discover classics from Shakespeare, modern day masterpieces from Alan Bennett, Disney favourites, pantomimes and more!
See what's on on their website here:
www.greenwichtheatre.org.uk/
Address:
Crooms Hill
London
SE10 8ES
9. Rooftop Film Club Peckham
If you want to enjoy a cult, classic and newly released movies under the stars then look no further than the Rooftop Film Club!
Situated in Peckham, this rooftop cinema provides a quiet and romantic place for enjoying a movie. It's a popular summer event that takes place between May and September. The screenings are announced a month in advance and often sell out, so you need to plan it carefully!
Address:
Roof A, Bussey Building
133 Rye Lane
London SE15 4ST
Visit their website for the latest info: https://rooftopfilmclub.com/london/venues/bussey-building/
10. Waxy O'Connor's
Probably one of the best Irish pubs that London has to offer. It is located in the heart of West End, this rather unique and award-winning pub is a labyrinth of four different bars over six levels each with its own atmosphere and personality.
There is always something for everyone at Waxy's and they have an especially great selection of Irish whiskeys and food.
Address:
14-16 Rupert Street
London W1D 6DD
Opening times:
Mon to Thu: 12am-11.30pm
Fri & Sat: 12am-12pm
Sun: 12am-11pm

http://waxyoconnors.co.uk/
---
I hope that gives you a better idea of some interesting things to do in London. I love London. It is my absolute favourite city on this planet. Vibrant, exciting and interesting. It can also be challenging sometimes – but makes you feel alive when you there. I can not wait to go back!
If you liked our blog post, then take an extra step and live like a local whilst learning English. There's no better place than on an English language course in London!