Vegetarian language travel tips
Travelling as a vegetarian or vegan can get difficult, especially if you're travelling in a different country. It can be even worse when that country is well-known for its meat-heavy cuisine. But there are still ways to enjoy an immersive experience in a country and also eat how you want.
Here are some tips for vegetarian or vegan eating during a study-abroad programme:
The advantage of homestay hosts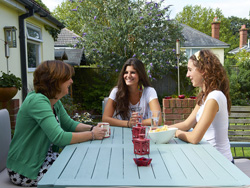 Most of our schools offer the option to stay with a local host, which has many benefits. Firstly, it's one of the most immersive experiences there is; living with locals and being part of their day-to-day life is the perfect way to complement your studies and get extra language practice.
This option brings another key advantage to people with special diets (not just vegetarians and vegans). Our schools have hosts available who can serve you dishes that fit your dietary needs or desires. Whether you have an allergy, a religious restriction, or simply prefer not to eat certain foods, this can be taken into account by your host. So long as we know about any specific requirements before you make your booking, we can ensure you're placed with someone who is able to provide appropriate food for you. This way, you'll still get to know more about the local cuisine without needing to make any compromises. You might even discover one or two recipes you'd like to take back home!
Cook for yourself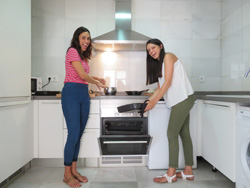 Staying with a local host isn't for everyone, and that's perfectly fine. Most schools have more independent options available, like sharing an apartment with other students, staying in a residence, or renting a private apartment. Usually, these options are available on a self-catering basis, which gives you the freedom to do your own cooking. This is an especially good option for anyone who's concerned about maintaining their dietary habits or routine during their language course.
Most groceries stores and local markets offer a wide range of fruits and vegetables, and in countries like Germany, England, and France another option is on the rise: meat substitutes. Usually made from plant-based products, these substitutes allow you to spice up your dish with meat-free nuggets, minced meat, sausages, burgers, and more. These days, the choices are endless – which is perfect for people who want to be vegetarian or vegan but who still enjoy these kinds of products. The range of meat substitutes available adds a whole new layer to your diet and opens more doors for your daily meals, offering you more variety than you might have thought.
Language is key
Obviously you won't eat at home all the time, and we actually don't recommend it. Experiencing a night out in a different country helps you to understand the usual way of things, and you can get further insight into the local cuisine. Also, going out and experiencing another place is often quite fun!
However, it's not always easy if you don't eat certain key ingredients, like meat, cheese, or nuts. In many countries, it's simply not standard to have all the ingredients on the menu. Chefs in France and Spain often treat their recipes in a rather freestyle way, meaning they might add something to the dish that you're not aware of. This is undesirable for any vegetarian or vegan, but it can get dangerous for those who are allergic to certain foods. For this reason, it's always better to have an arsenal of expressions at hand if you're a 'tricky eater'. You should master phrases like, "I'm allergic to fish/nuts/cheese", "I don't eat animal products", and, "Does this contain cheese/meat/eggs?" so you can avoid any unwanted surprises.
Our schools will be more than happy to help you with this, giving you information about what to say and what to ask. Especially in meat-heavy regions, it's always better to be reassured about what will be on your plate when it arrives. If you're staying with a local host, you can also ask them for tips – they'll probably be able to give you great recommendations for eateries to try (or avoid!) based on your dietary requirements.
The most important thing, in any case, is to stay friendly. In some countries, it's simply not that common to be a vegetarian or a vegan, while intolerances might not be understood at all. Try to be patient; most eateries will have a solution for you, but if they don't, there's no need for hard feelings. It's all part of the learning experience.
Apps to help
On a more positive note, it's easier than ever to find veggie- or vegan-friendly options these days. Take advantage of the fact that we're living in the 21st century and use your smartphone!
Apps like HappyCow give you information about the right places for you to eat, with feedback from previous customers to help you decide. This way, you can scout the area by phone and find out where to get vegetarian or vegan food without much trouble. This reduces the gamble of dining out to an absolute minimum and lets you relax while you're on your way to your chosen restaurant. The app also has a large stockpile of vegetarian and vegan recipes, which are great for when you're out of ideas or want to try something new.
Another useful little helper is the vanilla bean app. This one works just like HappyCow, but it gives you more extended information about each place. If you're lactose- or gluten-intolerant, you should check this out because it gives information about the restaurants that can serve you. The app also lets you search for places that use organic, fair-trade, and/or local ingredients, allowing you to support these industries. With this much transparency, it's easier than ever to grab some grub.
We can help, too!
If you have a special dietary requirement and are planning a language course in a different country, we hope that this blog post has helped assuage any worries you might have had. If you want to know more about our schools and how you can make your immersive experience work for you, don't hesitate and contact us – we are always happy to help 😊