San Sebastian – Top 10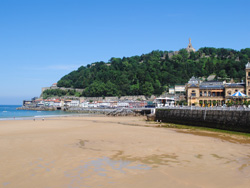 San Sebastian is a wonderful city to live and to study in. Having lived there for five months, I will let you in on some of the best bits of the city:
1. Food! (pintxos, pintxos, pintxos)
San Sebastian is known worldwide for it's Michelin star restaurants (try Mugaritz and Arzak). It is also famous for it's specifically basque take on tapas, called Pintxos. 
These little mouthfuls are tantalisingly lined up along bar counters throughout the city. For cheap Pintxos, (typically 2 Euros for a pintxo and a drink) head out in the Gros area (calle zapaleta). You can also try the Mercado de San Martin which has live music on a Thursday evening.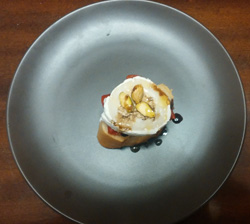 For those who have more time, hop from bar to bar exploring 31 de Agosto street. Mondays are quiet here, so instead head down from Tuesday to Sunday.
There is a good reason that the New York times suggested that 31 de Agosto street was one of the best streets in all of Europe! You will find a lively and friendly atmosphere in the heart of the city. The view over the bay of La Concha is excellent and the place is steeped in history. It was the only street to survive a devastating fire in 1813 on 31st August. It is also home to some of the best Pintxos bars in all of Spain.
Gandarias, La Cepa and Atari Gastroteka are sure to be one of your new favourites!
Finally, if you have a sweet tooth, do not miss the legendary La Viña. Their homemade baked cheesecake has been wowing locals and tourists alike for years.
2. Spanish and Surfing (Zurriola and the Basque coast)
Surfers come from all over the world to experience the roar of the waves along the Basque coast. Taking a dip for a few hours with one of the local surf schools is a must! I personally tried the Zurriola Surf School and loved it.
Don't forget that you can also learn to surf on your Spanish course with Apple Languages! 🏄
Get to grips with the basics and then practice, practice practice! On a sidenote, July and August have the busiest the crowds, but the water should be a dream all year round. Alternatively, try the little less crowded beaches at Zarrautz and Mundaka.
3. Walks, strolls and hikes (Igeldo, Urgull and further afield)
For a short stroll and an impressive view of the ocean, walk around Monte Urgull. This is the mountain with a statue of Christ at the top. the best route is to go from the bridge opposite the Kursaal opera house, up until you reach the port, which leads back into the old town.
If you want a stunning overall view of the city, head up Monte Igeldo on a clear day. You can hike up and down or catch the Furnicular, which costs about €3.50 for a return ticket. For a longer walk take the trail to the fishing village of Pasaia from the end of Zurriola beach. If you go up and around Monte Ulia the views here are also pretty spectacular.
4. Free Festivals (Music/Art/Culture)
There is always something happening in San Sebastian. The city often offers free and beautiful music for all. The jazz festival Jazzaldia which takes place in July/August each year sees artists from all over come and perform. You will get to see them all on one of the city's many stages. I particularly enjoyed some funk and soul style Jazz, which was performed on the beach!
Other fantastic local festivities that you should check out are:
The classical music festival
The international film festival
Semana Grande – the biggest week of the year, including an international firework competition
Behobia Marathon
31 de Agosto day
Tamborrada – a 24-hour drumming festival held in January!
The Basques like any excuse to have a good old party!
5. All things Basque
San Telmo Museum, the Tabakalera and a protest bar!
Would you like to get to know a little more about Basque history? Are you interested in contemporary art? Then the San Telmo museum and the Tabakalera both offer a fantastic cultural education!
The San Telmo museum is free on Tuesdays and offers a variety of exhibitions, most recently including one of the life and films of Alfred Hitchcock and photography by Louise Dahl-Wolf as well as the permanent exhibitions about Basque history and culture.
The Tabakalera hosts lots of exhibtions, workshops, a fantastic library and study space. It also has a fantastic café and a really good vegetarian pizza place!
To fully immerse yourself in Basque culture, head to the bar Alcalde on Aldamar street. Here you will find the walls adorned with typically Basque flags, slogans and pro-independence literature. They also serve delicious veggie food!
6. Ciderhouses (aka steak and cider)
Going to a Ciderhouse is a must for those visiting San Sebastian. Some recommended places would be Intxaurrondo and Petritegi. The traditionally made cider, held in gigantic barrels, is served typically alongside prime steak and homemade bread.
Often guests are invited to try around six different types of cider. You can also try and master the art of catching a couple of mouthfuls of cider that come streaming out of the barrels as the waiter taps open the lid. It is common to see Basques pour their locally made cider at a height when drinking it at picnics, not to show off, but to accentuate the flavour of the cider. This is a nice tradition which has been passed down through generations.
7. Ice cream 🍦 and Coffee ☕ (all the flavours!)
San Sebastian is the perfect place to laze away an afternoon in a café or eat ice cream on the beach. For the best ice cream in the city try Papperino Ilgelato. However, if you just need that ice cream fix, there are plenty of places all over the old town!
For those that like a decent strong Spanish coffee I'd try the following:
Alabama: This Brazilian owned coffee shop offers a relaxing atmosphere with a good playlist for winding down after a long run or surf session. Or just go there for a little pick-me-up or treat. The Acai bowls are absolutely delicious and the hazelnut milk coffee is to die for.
Hogar dulce Hogar: Translated to Home Sweet Home. This gorgeous coffee shop is a lovely place to relax, read or even work. They offer a range of teas, coffees, pastries and ice cream. I'd definitely recommend trying the local basque tarts called pastel de vasco.
Iratxo is a cheap and cheerful place to get coffee in the old town. They also offer cinnamon with the coffee, a rare find in Spanish coffee shops.
8. Picnic 🍴 and a sunset 🌅
As I wrote in a previous post, you can't miss a San Sebastian Sunset. On a clear evening, gather your mates and head down to Zurriola beach wall. Take some food and drink and watch the sun dip into the water. It's an absolute must for any visitor to San Sebastian 😊
Later on, why not head over to the steps outside the Santa Maria church in the old town. Share a drink with good company and experience the lovely evening atmosphere.
9. Learn Spanish in San Sebastian
Throughout my time in San Sebastian, I was given fantastic private lessons at their partner Spanish language school. My teacher encouraged me every step of the way to push into the next level of my Spanish learning.
We had so much fun with the lessons and despite my struggle with grammar, I was made to feel at ease by my teacher at each stage of the learning process. The enthusiasm and kindness of the staff was exceptional and I would thoroughly recommend their services 😊
10. Enjoy the city!
Leave room for spontaneity throughout your time in San Sebastian. The weather often changes rapidly. If it is raining think about heading to the aquarium or one of the museums. If it's gorgeous weather, take advantage of the beaches and available outdoor pursuits. These include local tours, boat trips or hikes.
The Basque people have a reputation, much like the British, in that they are considered to be quite closed off compared to other Spaniards. In my experience, the Basques are lovely people. Always willing to chat, particularly if you throw in a smile and Basque word or two. They love to tell you about their culture when given the chance. I'd encourage you to go and enjoy all that San Sebastian has to offer and hopefully these top ten things will get you off to a good start!
---
Catherine