Responsible travel: a how-to guide
It's 2020 and climate change is a topic that's almost unavoidable. It's also one of the most important global topics – if not the most important topic. Many people worldwide try to reduce their carbon emissions where they can, but what about travelling? Travelling is as popular as ever, while at the same time the word 'fly shame' trends in Sweden – meaning you're ashamed to fly because of the environmental impact. As we become more socially and culturally aware of the impact of our trips abroad, 'responsible travelling' is becoming more important to us. It's a step in the right direction, but what does it mean?
If you want to travel, visit different countries, and learn about different cultures and languages, we have some tips for travelling more responsibly.
Getting there and back
First of all, you have to determine where you want to go. For language travellers, this will largely be decided by what language you want to learn. Luckily, we have partner schools all over the world and can offer tuition in a variety of locations. It's safe to say that we have the right place for your travel experience! What's more, you might not even need to fly there.
Here are some options for travel by train or bus you can check out if your destination is in Europe:
Trains
There's a selection of high-speed trains in Europe that connect the capitals and/or major cities. With these options, you can get to your chosen destination fairly quickly and often cheaply.
Eurostar: The Eurostar connects London with Paris using the well-known Channel Tunnel – but there's more! There are also stops in Amsterdam and Lille, so it's not just the standard destinations that are open to you. If you want to go on a French course in Paris or an English Course in London, you have the perfect connection right here. The trip across the Channel takes just over 2 hours, so it's fast, too!
If you're studying outside these capitals, you can easily get bus links to your destination (see below).
ICE (InterCity-Express): This highspeed train from Germany is perfect for fast travel within the German borders. It also stops in Paris, Vienna, Copenhagen, and Arhus. If you want to do a German course in Austria or Germany, this is your go-to train.

Renfe-SNCF: For travel from France to Spain, you can choose the Renfe-SNCF. This will take you from Paris all the way to Madrid or Barcelona, stopping in Lyon, Montpellier, and Marseille along the way. It's the perfect option for Spaniards wanting to learn French or French people wanting to learn Spanish. You can go from one iconic European metropolis to another in just a few hours!
TGV: The TGV (Train à Grande Vitesse, which literally means 'high-speed train') might be the best-known of all European high-speed trains. It stops in Zurich, Munich, Brussels, and even Milan! It's also a great way to travel within France itself, rather than heading outside its borders. Wherever you go, you'll see some stunning scenery along the way.
Thalys: This French train is less international than its bigger sister, TGV, but it's still a more-than-valid option for travel between Paris, Munich, Brussels, or Amsterdam. Depending on your destination, a standard ticket will cost you less than €100, and Thalys also offers premium seats which include more leg room and a meal – ideal if you have a long journey!
Buses
An economic way to travel in Europe (and beyond) is by bus. While this may sound unattractive at first, it's worth considering the pros of this kind of transportation. First off, you'll see a range of landscapes on your journey and may even stop off in some interesting places. Besides that, taking the bus is one of the cheapest options available, so you're likely to save quite a bit of money.
Undoubtedly the best thing about bus travel, though, is that you can get almost anywhere! It's not only major cities or capitals that are accessible by bus, but also lesser-known towns and villages within each country. This has the added benefit of making your travel more flexible, since you might not need to travel to a major city in order to get your transport in the first place.
Eurolines: From Poland to Morocco, the UK to Italy, or Austria to Portugal, Eurolines gets you to almost every major European city, as well as to smaller destinations. Wherever you'd like to go, it's almost certain that these coaches will get you there. If you want to know just how big the coverage is, click here!
Portuguese and Spanish destinations are especially well-featured on the map, which is perfect for anybody who wants to travel to these vibrant countries.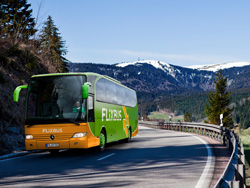 Flixbus: This company lets you address your carbon footprint when you buy your ticket. If you travel with Flixbus, you can choose to pay a 'CO2 compensation', which is 1 – 3% of your total ticket price. This compensation is then donated to environmentally friendly projects, which we think is a great idea!
The drawback is that Flixbus doesn't offer the same coverage as Eurolines. You can use Flixbus to get to most European capitals, including Paris, London, Vienna, Prague, and Amsterdam. Getting to smaller towns, however, usually requires a connecting service with a different provider. The best coverage is in Germany, where most of the bigger cities can be reached by Flixbus.
Being there
Responsible travel isn't just about how you get your destination – it's also about what you do there, too.
It's the little things that count. Often, it's the things you never gave much thought to that are the most important. A key tenet of responsible travelling is respecting a destination and the people that call it home – these are the reasons you chose that destination in the first place, after all. In other words: support your locals!
Accommodation
With most of our courses, you can choose to stay with a homestay host rather than in a hotel room or a flat. The primary reason for selecting homestay lodging is that you'll benefit much more from your stay when you are surrounded with native speakers. This is because practising as much as possible helps you to learn the language even faster. Homestay lodging also helps you get to grips with the local culture and how daily life works in your country of study. As we've covered before, this gives you a well-rounded experience and deepens your understanding of the language, even if it might not be immediately obvious why.
While you're supporting locals, you're also more likely to save energy during your stay. You're less likely to waste water or leave lights on when you know your hosts and have a bond with them than you are when staying alone in a flat or in a largely faceless hotel. This is especially true in more expensive hotels, where you'll usually have your sheets and towels washed every day (even if they are not actually dirty). When staying in a hotel, you're much less responsible for your own wastage and energy usage, but this isn't usually the case when staying with a local person. In homestay lodging, by comparison, you'll add your laundry to theirs, eat the same food as them (unless you have dietary needs that mean you can't), and share the communal spaces in the home, so your overall carbon footprint is much likely to be a lot smaller. Contrasted to energy usage in some hotels, there really is no comparison for responsible lodging!
Daily life
During your stay, a great way to maintain responsible practices is to shop at smaller stores or even markets. This offers a more natural experience in terms of everyday immersion, and also helps to sustain small businesses and vendors. Get your fresh goods from the market instead of going to huge supermarket and, ideally, take your own bag rather than getting a plastic bag. Produce on a market, especially, is much more likely to be locally sourced than produce in a supermarket, especially one that's part of a national or international chain. This way, the city profits from your stay and not some global business hundreds of miles away.
This tip seems to be obvious, but try your best to speak the language of your chosen country while you're there. Even if you're not fluent and end up making mistakes, it's more appropriate – not to mention polite – to communicate in the local language. Though it might be daunting at first, just take the challenge! You might be surprised. Most people will try to help you, and will be happy that you tried to communicate with them properly. These experiences make you grow, after all – however embarrassing we're worried they might be.
If possible, try to use public transport as much as you can instead of using cabs or renting a car. If you don't feel safe, using a cab is of course the best option, even if not ideal. The good news is that you can offset this with responsible transport during the day. Some cities, for example, are best seen by bike. Many large European cities, in fact, have bike rental programmes like Seville's Sevici bikes. Most bike rentals are easy to use and there are docking stations around the cities that have them – perfect for carbon neutral exploration (not to mention keeping fit)!
If you're doing your own exploring, avoid anything that would damage the flora or fauna. Treat the rules of the country, its nature, and its people with the same respect that you would back home.
Conclusions
Numerous studies show that well-travelled people have more open minds, are more creative, and are more trusting of others than those who don't travel. What's more, knowing multiple languages is increasingly valuable in the job market, so travelling doesn't just help you in a personal sense – it can also help your bank balance.
What we need to remember is that our actions can have a significant impact on the world around us. The good news, though, is that there are easy changes we can make to reduce our environmental impact and treat the places we travel to more responsibly! If this a concern for you, hopefully this blog has helped.
If you need more advice about where to go for your immersive experience, we're always happy to help – just get in touch.