Wild adventure in Cordoba, Argentina!
Cordoba is just a beautiful colonial-style historic Argentinean city. There's always so much to see and do here! For example, if you are seeking extreme adventure and high adrenaline thrills, then don't miss The Rally in Argentina in late March. Come to Cordoba hills and enjoy 3 days of intense car races around winding mountain paths! It's amazing!
2008 will be the 28th running of the Rally in Argentina and as always the most renowned car manufacturers and world-famous rally drivers will be challenging each other along the winding dusty roads. Citröen, Ford, Subaru and Suzuki will show off their best weapons as the Rally in Argentina continues throughout the days.
As a visitor, you will have the chance to witness the race just from a half meter distance and watch all the cars coming and going at an incredible high speed right in front of you!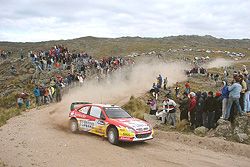 The Rally in Argentina is organized by the Argentinean Cars' Club together with many other companies that offer health security, food and catering, and different products.
In the Argentina rally you will meet people from all over the globe, sharing the typical customs of Argentina such as eating a traditional Argentinean barbecue "asado" with the locals, enjoying horse rides in the countryside and having fun during one of the most important dates in Argentina. The rally is just one of the events which takes place in Cordoba throughout the year, but it's really not to be missed!
Our Spanish school is ideally located for anyone wanting to see the rally, just just 30 minutes away from Carlos Paz, where the real adventure begins. All you need to do is take a bus to nearby Carlos Paz and feel the roar of the engines battling for the first place! It really is an experience second to none. You'll be glad you went and will be telling your friends about it for years to come!
Mariano Fachel Dias