Discover Vienna's exciting Naschmarkt!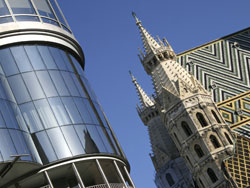 The Austrian capital is famous for many things which make it a unique and enchanting place. Impressively, Vienna is known as 'the musical capital of the world!'
The Vienna Philharmonic Orchestra, for example, really helps credit the city this title. Every year their New Year's concert attracts a huge number of viewers across Europe. For many it is now a yearly tradition on New Year's Day to watch this concert on TV.
Vienna is also well-known for its Kaffeehauskultur (coffee house culture). Viennese Kaffeehäuser are not only about drinking coffee, they reflect a way of life! If you want to delve into the Viennese culture it is therefore a must to visit a Kaffeehaus and experience this very special atmosphere yourself.
In this city, on the wonderful Danube River, you will also find countless beautiful buildings. A visit to Austria's capital will allow you to admire the impressive combination of historic and modern architectural highlights.
But let's not forget Vienna's good food!
If you want to indulge yourself in delicious gastronomic specialities there is one place that you should definitely not miss: The Naschmarkt.
Read on to learn more about this fantastic market and the various products on offer!
A locals' favourite for many years
The Naschmarkt originated in the 18th century as a market for dairy products. Back then it was called Kärntnertormarkt and limited to the area of the Karlsplatz. Only after the Wien River had been built over the market could spread over this new area.
Between 1910 and 1916 also permanent market stalls were set up at the Naschmarkt.
It is not fully clarified where the market's name comes from but as the word naschen translates as 'to nibble' there could not be a better name for this fascinating market. Through the years the market has become more and more important and today it is an essential part of everyday life in Vienna.
Products at the Naschmarkt
The Naschmarkt covers an area of two hectares and consists of more than 120 permanent market stalls. The amazing range of products will surely impress you! Aside from absolutely delicious Viennese delicacies you will also find a variety of food from around the world.
Visit one of the cheese stalls to taste cheeses that you have never seen before or buy yourself a good quality piece of meat or fish. You can also discover exotic spices from across the globe and expand your culinary knowledge. At many stalls the vendors will even offer you some bits to try!
If all this delicious food makes you hungry and you need something zum Naschen, why not buy yourself some delicious candied fruit or enjoy a piece of cake at one of the nearby cafés?
Eating at the Naschmarkt
Not only can you buy some fresh and high-quality products at the Naschmarkt. There are also plenty of eateries where you can enjoy a delicious meal of your choice. D
o you fancy a Wiener Schnitzel or a Kaiserschmarrn, or do you prefer falafel or even an Indian curry? You will be spoilt for choice!
Alternatively, if you are not very hungry, you can go to one of the many lovely cafés. Originally, the Kaffeehäuser were a place of communication and social life. Still today people try to maintain this unique characteristic of Vienna's special cafés. So what are you waiting for? A Viennese café is the perfect place to practice your German language skills outside the classroom!
The spectacular flea market
Every Saturday the Naschmarkt is joined by a fascinating flea market. The first flea market at the Naschmarkt was held in 1977. Today it attracts up to 15,000 visitors every week.
It is a true paradise for bargain hunters. Due to the flea market's big size and many products on offer it is almost certain to find a collectible that you will fall in love with. You will find any kind of second-hand goods, from books, CDs and vinyl records to art objects, antiques and household items.
Even if you don't buy anything it is absolutely worth visiting this flea market. Browsing numerous market stalls and enjoying the unique atmosphere is a great experience.
The Naschmarkt in Vienna truly is a bustling and captivating place. Has this blog post inspired you to go and experience it yourself? Then why not take a German language course at our school in Vienna and expand your food vocabulary at Vienna's most popular market.
Sabrina