Travelling to Salvador da Bahia, Brazil
The 2014 world cup showed us just how welcoming and tolerant the country of Brazil can be for all those that are lucky enough to travel there. Brazil is a vast and beautiful country, a melting pot for many different nationalities, cultures and traditions. Over half of Brazilians are connected to some form of European heritage and the amount of mixed ethnic backgrounds in Brazil is steadily growing year on year.
Despite the very welcoming atmosphere, it is always a good idea to be as prepared as possible before your trip. Our Portuguese school in Salvador da Bahia has recently updated us on the latest useful information for anyone who is interested in travelling to Brazil and we are happy to share this with you now.
Visa
The majority of nationalities who wish to study Portuguese in Brazil can stay up to 90 days with an option to extend for a maximum of 180 days. However, a visa is normally required for all citizens of America, Canada, Australia, Japan and Russia.
We always advise students to contact the Brazilian consulate in your home country or city regarding the entry requirements to Brazil. If a visa is required then we would always recommend choosing a tourist visa as it is often easier to arrange and cheaper than other forms of visa, plus perfectly acceptable in order to study at our Portuguese school. If arranging a tourist visa you will most likely need a letter of invitation from our school, which we be happy to arrange for you upon full payment of your course.
Insurance
We always recommend students book comprehensive travel insurance whenever they go abroad. Many companies offer combined travel and health insurance to help with any emergencies, lost luggage or even trip cancellation. Cancellation insurance is also recommend to cover the cost of the course and accommodation booked through us.
Money
Brazil is not the cheapest place in the world but you can certainly need no more than US$20/day if you book half-board accommodation with us. If you eat out regularly and make your own accommodation arrangements you will need more than this. Either way, our school suggests you bring no more than US$1,000 in cash and then take a good value credit card or bank travel card to help you with extra expenses you may incur whilst in Brazil.
Most cash machines in Brazil accept Visa and MasterCards with some also dealing with cash network cards such as cirrus. Most cash machines can be found in banks or at the airport. It is unusual to find isolated machines not in these locations. There are several banks just moments from our school in Salvador.
Clothes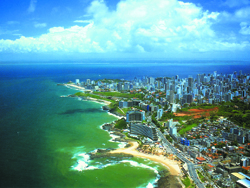 Brazilians like to dress well at night and comfortably during the day. Almost anything you can imagine can be bought in Brazil, which caters to all styles and budgets. We recommend you pack light and comfortable, casual clothes. Don't forget your sun block and hat, together with a bathing suit and sandals for the beach. Brazilians don't normally use big bathing towels on the beach, especially if visiting Rio. Girls should take a sarong with them (kanga) to sit on at the beach, but a beach chair is also acceptable! Guys can take a chair (which is relatively cheap to buy in Brazil) with them also or just sit on the sand!
Weather
It goes without saying that the weather in Brazil is very hot, with high humidity. You should take all necessary steps to stay clean and fresh, taking a shower once or twice a day and changing and washing your clothes when possible. Just a five minute walk from our school is a laundrette where you can drop your clothes off to have them washed and pick them up the next day, sometimes longer.
Average air temperature: Summer: 28–34°C/82–93°F and Winter: 21–26°C/69–78°F
Average water temperature: Summer: 23–27°C/73–80°F and Winter: 15–20°C/59–68°F
Internet
There is free internet with WiFi in the school building but also many internet cafés nearby, with a shopping mall right next door!
Bahian Cuisine
There is an exotic and African influence to the cuisine in Salvador da Bahia together with the traditional 'Churrascarias' that serve the best barbecued meat possible! You will also come across lots of beans, rice and vegetables, seafood, beef or chicken and a huge selection of fruits available.
It is advised to drink bottle water or at least water that has been filtered in a cooler and avoid water from street vendors or taps, at least until you are acclimatised.
Sports
You are never too far from a gym or sports match taking place on the beach in Brazil. Whatever your interests from scuba diving to basketball, students in Salvador are able to easily find sporty activities to take part in. Our school even supports a basketball team as a social project with local teenagers.
Social Responsibility
Our school takes their social responsibility very seriously and is partnered wish a social organisation in Salvador. Students are welcome to help volunteer at one of the many social projects and even encouraged to bring used clothes, toys, books and other things to be donated to underprivileged children in the local community.
Whatever your interests, our school can't wait to welcome you on your next Portuguese language course and wish you a fantastic trip!
Please Contact us for any further information you may require.