Over in Vancouver
Consistently ranked among the most liveable cities in the world, Vancouver is a place of incredible opportunity and diversity. This picturesque Canadian metropolis is surrounded by nature: mountains, forests, and the sea. However, Vancouver also packs in a large population due to well-planned high-rise residential towers that protect and preserve its green spaces.
Vancouver isn't just a perfect place to experience the lifestyle of native Canadians whilst on your English course. Studying here also allows you to explore the great outdoors, which you'll find both in and out of the city! Vancouver is a unique treasure for any traveller who loves both Mother Nature and large urban centres.
If that's not enough for you, here are 10 reasons why Vancouver is an excellent destination for an immersive language course:

1. Marine life
In the heart of Stanley Park you'll find Canada's very first aquarium, which houses over 50,000 animals. Take a closer look at the world of the sea lions, otters, tropical fish, penguins, and eerie jellyfish.
View this post on Instagram
The Vancouver Aquarium is more than a marine zoo, however. It's also the headquarters of Ocean Wise, an organisation that researches the ocean and how to protect it. They tackle problems such as plastic pollution, shoreline clean-ups, and searching for ways to provide sustainable seafood.
In consequence, it's no wonder that the aquarium is also an animal sanctuary, treating these precious creatures with kindness and respect. You'll find plenty of opportunities to educate yourself on the beautiful life of the sea. It's well worth a trip!
View this post on Instagram
If you prefer to see marine animals in their natural habitat, you should take part in a whale-watching trip off the city's coast. This is a great opportunity to get up-close-and-personal with these beautiful animals, without glass tanks or enclosures. On the boat you'll also get information about whale biology and migration patterns – perfect for any animal lover!
The captivity of whales, dolphins, and porpoises for entertainment was actually banned this year in Canada – all the more reason to take a boat ride and see these truly majestic creatures for yourself.
2. Parks
Vancouver's Stanley Park must be mentioned when talking about the wildlife of the city. This West Coast forest has so much to offer that you could spend all your free time just here! Trek through 400 acres of parkland and enjoy wonderful views of the sea and the mountains. Become one with the surrounding trees that have inhabited the area for centuries. You can walk the 27 kilometres of trails within the park or visit the wonderful beaches along the water's edge.
The park boasts several natural landmarks including the beautiful Beaver Lake – its 10-acre surface is covered with water lilies and is home to beavers, fish, and a variety of water birds. If you look out, you might spot other wild animals like raccoons, bald eagles, herons, and marmots, to name just a few. Stanley Park also has playgrounds, tennis courts, an 18-hole pitch-and-putt golf course, a seaside swimming pool, a water spray park, and Brockton Oval, which is used for track sports, rugby, and cricket.
If want to discover something completely different, count yourself lucky: Vancouver offers the world's first Chinese garden outside China! Finished in 1986, the Dr. Sun Yat-Sen Classical Chinese Garden is modelled in Ming Dynasty style and is symbolic of the meeting of cultures: Western and Chinese. Its whole purpose is to maintain the bridge of understanding between the two nations and to represent Chinese culture in the Western world. Situated in the heart of Vancouver's China Town, this wonderful garden is a peaceful oasis in the middle of a bustling urban metropolis.
View this post on Instagram
The garden offers plenty of entertainment. You can take a guided tour, be part of a classic Tea Ceremony, or get to grips with Tai Chi. You can even arrange a tour of Chinatown itself! This park is perfect to get not just an understanding of Chinese history and culture, but also of the bond between Vancouver and China – a unique and interesting cultural experience.
3. Hiking
If you like the trails within Stanley Park, you'll love the mountains just outside the city!
A 15-minute car ride from the centre of Vancouver is the foot of Grouse Mountain, just waiting to be discovered. Peaking at 1,231 metres, you'll have quite the trek ahead of you if you decide to climb it! Trails of varying difficulty lead to the top of the mountain, so there's be a suitable way for everyone to get up to the summit – no excuses! The most popular trail might be the relatively steep Grouse Grind, which is nicknamed 'Mother Nature's Stairmaster'. This trail is perfect if you want to have a bit of a challenge whilst enjoying the wonderful Canadian scenery.
View this post on Instagram
A one-hour drive from Vancouver is a more difficult trail that's well worth a visit for any serious hiker. The 15-kilometre-long Sendero Diez Vistas presents the perfect opportunity to get out of the city and enjoy the nature around Buntzen Lake. On your 6- to 7-hour-long hike, you'll have see picturesque views over the landscape between you and Vancouver, so don't forget to take lots of photos!
4. Sea to Skyride
If you're a fan of nature and nice views but not of hiking and climbing, don't worry; you can take the Skyride instead and still take in the mind-blowing panoramas at the summit.
Grouse Mountain has a year-round cable car taking visitors right up to the top. Here, you can see the Birds in Motion show – which offers great displays of birds of prey like falcons, hawks, and owls – and explore the Pollinators' Garden, which is dedicated to all the natural pollinators on the mountain. Brave visitors can take on the Mountain Zipline and experience speeds of up to 80 km/h over the rolling mountain peaks.
View this post on Instagram
If you can't get enough of that you can also take a ride in the Sea to Sky Gondola, another cable car taking riders 885 metres up the atmospheric Mount Habrich. At the top you can check out the suspension bridge above the trees, dine-out 2,000 feet above the ground, or look out from the viewing platforms and lose yourself in the landscapes beneath.
5. Skiing in Vancouver
The mountains of Vancouver have another thing to offer: skiing. Grouse Mountain boasts 33 slopes, most of which are suitable for beginners and intermediate-level skiers. You don't need to be a pro to enjoy the snowy part of the mountain!
14 of the slopes are made for night skiing – this might not be something you've ever thought of, but the city lights stretching out below the mountain are beautiful to behold. We definitely recommend visiting at night if you're thinking of trying your hand at skiing during your time here!
View this post on Instagram
A 90-minute drive out of Vancouver is possibly the best ski resort in North America: Whistler. If you're into skiing and snowboarding, or want to start, you should definitely take the trip and enjoy this winter wonderland in the mountains of British Columbia. With 200 slopes on offer, Whistler will blow you away and certainly make you fall in love!
View this post on Instagram
If you want more than just skiing, Whistler also offers snowmobile tours, a sliding centre, and a Scandinavian spa, so there is plenty to see and do here!
6. Cycle tours
If you want to discover Vancouver but don't like the slow pace of walking, the city's cycle tours are just the thing for you! Bike through Vancouver and visit famous sights and landmarks; take a look at the many districts of the city; or, if you like it more natural, there are cycling tours available in Stanley Park. Night-owls can also participate because there are tours later in the day, and Vancouver after dark is just as beautiful as it is during the day. For everybody who wants to discover some of the city's brews, you can combine cycling with a Craft Beer Tour!
View this post on Instagram
Cycle Tours have something for everyone and are an excellent way to get to know the city.
7. Vancouver markets
In the summer months, you can be part of the annual Richmond Night Market, a gigantic food market with many diverse dishes to try. It's so huge it will blow your mind – last year, almost 400 booths served food on the market! With this many options, you're certain to find something delicious and innovative. In 2020, this event will celebrate its 20th anniversary, so be prepared for something big …
If you like to do your shopping at local markets, Granville Island is the perfect place for you. This peninsula is famous for its markets – here you can find fresh vegetables, fruits, and meat, as well as artisanal crafts and clothing. You're sure find something that appeals to you and will make a perfect souvenir of your time in the city.
8. The many faces of the Canadian coast
For a city, Vancouver has some lovely coastal scenery, so if you love being by water then you're in just the right place!
On the Salish Sea you will find the Seawall, a 22-kilometre walkway along the shore that wraps around Stanley Park, English Bay, and False Creek. A stroll along the Seawall will take around 2 hours and will provide fantastic views of Vancouver and its ever-changing surroundings.
English Bay is perfect if you like a classic sandy beach. In summer, it's the ideal place to soak up the sun and go swimming. The beach is close to a huge selection of restaurants, which are great places to enjoy the ambience and try some native cuisine. There are also plenty of shops and boutiques in the area, giving you the opportunity for a little retail therapy after you've sunbathed.
9. Water sports in Vancouver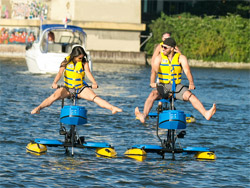 Vancouver has even more to offer in terms of water, especially if you're into water sports! At False Creek, you can rent a kayak and discover the city from a completely different perspective. If you do, you'll pass Granville Island; here you can take a rest and maybe enjoy some refreshment before you continue your kayak tour.
If that hasn't sated your thirst for water-based activities, you should visit the Jericho Beach near the university. Kayak tours are available here, too, though adventurous participants can choose to paddle board, windsurf, or sail. This beach has almost everything to offer in terms of water sports. Why not try something new? You never know – you might have a new hobby afterwards!
10. Shopping and dining
Vancouver has many options for shopping and dining. In fact, it's the perfect city for shopaholics and foodies, with plenty of delights waiting to be unravelled.
For one, you have the world-famous Robson Street. It's hard to beat this iconic fashion location; this major thoroughfare has over 100 shops and boutiques, serving all kinds of styles for all budgets. Despite being famous for its luxury retailers, this area is not just the preserve of the wealthy. You'll find plenty of mid-range and low-cost options amongst the restaurants and eateries.
Just 3 kilometres away you'll find South Granville, another key retail district. In this area you'll find bookstores and contemporary art galleries as well as independent stores and furniture retailers. There's something for everyone here!
View this post on Instagram
For foodies, we recommend the Mr. Bannock food truck, which serves indigenous food made from fresh local ingredients. This place is perfect for a typical Squamish snack! For fresh and original meals, visit the markets of Granville Island – you won't just find ingredients here; you can also sample a wide selection of street food or visit one of the many restaurants serving typical Canadian fare.
Bonus: go visit nearby Seattle!
A stay in Vancouver should have everything you will ever need. However, across the United States border lies Seattle, just 2.5 hours away by car (a short journey by Canadian standards!). Seattle, in the state of Washington, is also a West Coast port city. In fact, it's the biggest city in the Pacific Northwest region of North America, so it's well worth a visit! Visit the famous Space Needle and take the elevator to the top – from there you can enjoy spectacular views over the city and also learn about the history of this iconic piece of architecture. From the Space Needle you can take the monorail to other parts of Seattle. Both constructions were built for the 1962 World's Fair; their charming atomic-age design showcases the magnificence of this city.
View this post on Instagram
As well as being mother to the rock legend Jimi Hendrix, Seattle is said to be the birthplace of video games and the horror film genre. It's definitely the home of grunge, sprouting such legendary bands as Nirvana, Pearl Jam, Alice in Chains, and Foo Fighters. Creatives should be sure to pass by the Seattle Art Museum, which is home to artworks of various eras and styles, including an outdoor sculpture park!
How to get there
Hopefully this post has ignited your curiosity for Vancouver. If you're planning an exciting English-language adventure, why not consider this lovely Canadian city for your immersive course? With so much to offer in one place, it's perfect for almost anyone and certainly won't disappoint!
Contact us today to see how we can help you study.
– Dennis