Shanghai: China's Capital of Magic
Shanghai is the vibrant centre of China's soaring economy, a bustling international metropolis and an amazing place to experience the best of modern China. Expats have named Shanghai the most attractive city for foreigners in Mainland China, surpassing popular cities including Beijing, Shenzhen, and Guangzhou. This doesn't come as a surprise – Shanghai is a city of superlatives that will enthral everyone travelling there.
It's not for nothing that Shanghai earned its Chinese nickname, "Modu'": 'Capital of Magic' or 'Enchanting City'. After all, here you can find the largest container port in the world, travel the world's longest metro network, take the fastest train in the world, and ascend one of the world's tallest buildings!
The Shanghai Tower
The Shanghai Tower is probably the most important symbol of Shanghai's amazing modern development. Sticking out 632 m from the ground, when seen from afar it looks like a giant needle reaching up to the sky. When I first saw this masterpiece on the horizon, I suddenly felt like I'd travelled to the future into a high-tech city where people had already conquered the sky! If you stand at the foot of this tower and look up to the top – more than half a kilometre above you – you can't help but be amazed by the skills of those architects who made this building stand upright.
Though looking up at the Tower certainly is amazing, looking down from the observation deck on top is nothing less than overwhelming. Hundreds of meters down below you are thousands of tiny toy cars, driving between houses that look like little building blocks. Countless people as small as ants bustle through this giant city, which stretches out towards the horizon. This is the only place on Earth where you can look down on nearby skyscrapers which reach heights of almost 500 m, making even their mind-blowing size seem small.
The Shanghai Tower truly is a building of superlatives and a worthy representative of the city. It's the tallest building in China, the second-highest building in the world, and features the world's second-fastest elevator, which will catapult you to the top at a speed of 20.5 m/s. But this is just one example of Shanghai's amazing modern architecture, which includes no less than 94 buildings over a height of 170 m.
Strolling around a mega-city
If you want to enjoy a stunning view of Shanghai's skyline and all its skyscrapers, we highly recommend that you walk along the Bund on the opposite bank of the Huangpu River. On the Bund, you might feel as if you've just stumbled into a European city, because these buildings date back to the times when Western merchants and bankers settled here. Because of this, the area around the Bund is a bustling centre of international trade and business. The best time to come here is in the evening, when all the buildings on the skyline are beautifully illuminated, turning the originally black river into a stream shimmering with hundreds of colours.
In Shanghai, you'll feel the hustle and bustle of this 24-million-people mega-city. Even simply strolling through the streets is a worthwhile activity that will make you discover the countless little details that make China such a fascinating place. When walking around in the evening, you will invariably notice crowds of (mainly elderly) people that simply turn on a music box and dance in public squares or even on the pavement. In the morning, many people prefer a quieter activity – they go to a nearby park for daily Tai chi practice instead.
As a visitor, you don't have to just to watch; you're welcome to join in, so don't be surprised if a nice old lady invites you to dance with the group! Shanghai's welcoming spirit doesn't end at invitations for a dance, though. Even though Shanghai is China's most international city, less than 0.5% of the population aren't Han Chinese. When walking through the city as a foreigner, you'll be greeted with a friendly, "Hello!" or a, "Welcome to China!".
If you've already learnt a little Chinese through one of our language courses, you'll find that many people will be happy to have a little chat with you and help you practice. If you're a beginner in Chinese, Shanghai is an excellent place in which to start learning. As the Chinese city with the most English speakers, you can count on finding some way to communicate in English whenever you feel your Chinese skills aren't sufficient to handle the situation.
Markets and Old Shanghai
Shanghai isn't all busyness, change, and modernity, however. Visiting the marriage market offers a fascinating insight into a more traditional part of the city. Here, parents try to find a suitable partner for their adult children by handing out leaflets advertising the key benefits of their offspring. Curious? If you join our Chinese language programme in Shanghai, you can visit this special market as part of the diverse activities programme our school offers for its students.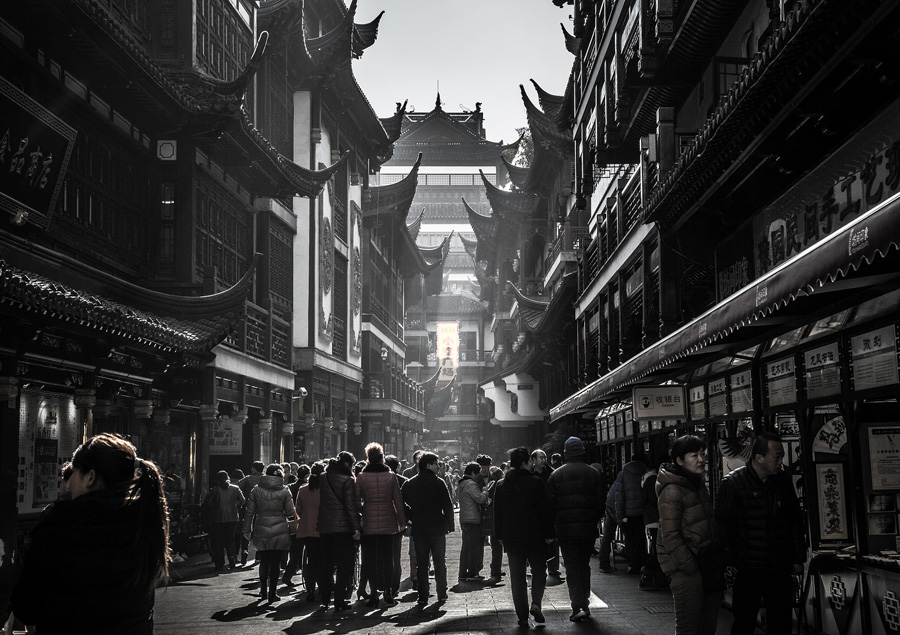 Another place which shows a part of traditional Shanghai is the Old Town, which is especially beautiful when it's dark. Red lanterns light the narrow alleys between traditional-style buildings, which you can wander as you enjoy the atmosphere of Old China. Here you can also try all kinds of local snacks sold in the street stalls. Food is a crucial part of Chinese culture, and you should never miss out on an opportunity to taste the delicious local cuisine!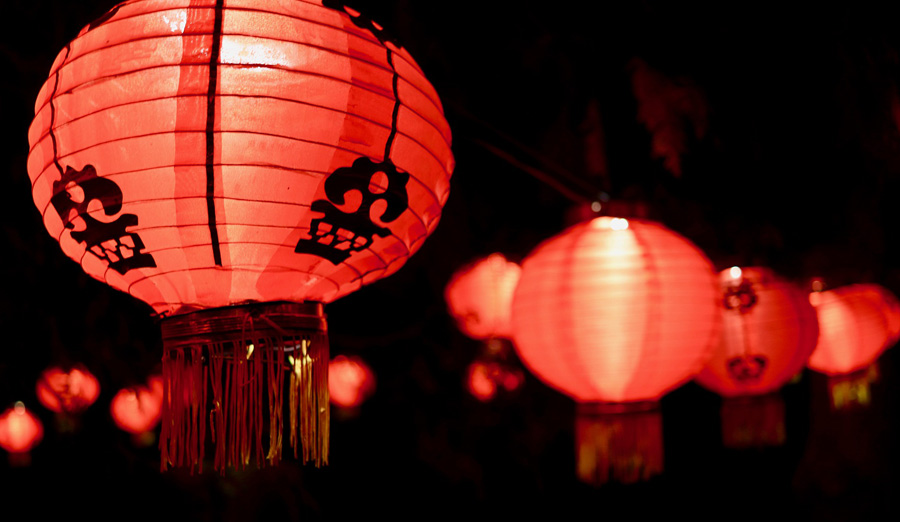 Famous Shanghai snacks include Wonton soup and steamed buns with all kinds of fillings (e.g. pork, Chinese cabbage, or even sweet bean paste). If you're feeling more adventurous, you can try stinky tofu, which requires a little courage. However, if you can ignore the smell you'll probably enjoy the surprisingly mild taste. If you feel a little overwhelmed by the seemingly unlimited choice of restaurants and snack bars available, you can opt for the Wednesday dinner at our language school instead. Together with other students, you'll taste the diversity of Chinese delicacies while touring various restaurants in Shanghai.
Shanghai gardens and water towns
If you feel like resting in a green oasis after roaming through Shanghai's concrete jungle, you should visit one of the five classical Chinese gardens hidden inside the city. Walking into one of these gardens is like entering into a fairyland. Fragile bridges span clear streams while artistically arranged bonsais and rocks create miniature landscapes. Dark ponds hide under the green, white, and purple of blooming lotuses, and elegant pavilions peek out of the green branches of nearby trees. All this makes these gardens enchanting and mysterious places to discover.
The best classical Chinese gardens aren't to be found in Shanghai, however, but in Suzhou, which is just an hour's train ride away. If you're studying  at our language school in Shanghai, you can simply join a weekend trip with other students to Suzhou and enjoy its delights. This city earned the nickname "Heaven on Earth" for its stunning beauty.
Around Shanghai and Suzhou there are several water towns waiting to be explored. These towns consist of lovely old-style houses arranged on a system of canals. With comfortable walking paths everywhere, these towns create the perfect atmosphere for a gentle stroll. If you want to have a rest, you can enjoy an authentic Old China experience with a ride in a traditional boat.
Shanghai blends together traditionalism and modernity and, in that, it's a mirror of China itself, with all its diversity, contrariness, and all the surprises it holds for a foreign visitor. If you can't wait to visit this fascinating city, you can book a Chinese course with our language school today. You won't just have the chance to take immersive language courses in small classes – you can also choose from a wide range of free-time activities to help you explore this amazing city.
Our Chinese school
Our Chinese language school in Shanghai is conveniently located in the very centre of the city, so you just need to step out of the classroom to dive into Chinese city life. What's more, the social programme offered by our school includes countless activities that will allow you to feel the international atmosphere of Shanghai and to meet new friends as you practise your language skills.
For example, you can visit a Language Mix meeting to practice your Chinese, and then help another student who is learning your mother tongue. Or maybe you would prefer to make new friends while taking part in an InterNations gathering, where dozens of amazing international people meet in a classy Shanghai bar? If that's not enough for you, you can dive into Shanghai's nightlife with your new-found friends from your classes, enjoy a movie night with free beer at our school, get active while ice skating during the winter months, or spend a few adrenaline-fuelled hours playing Lasertag with your classmates.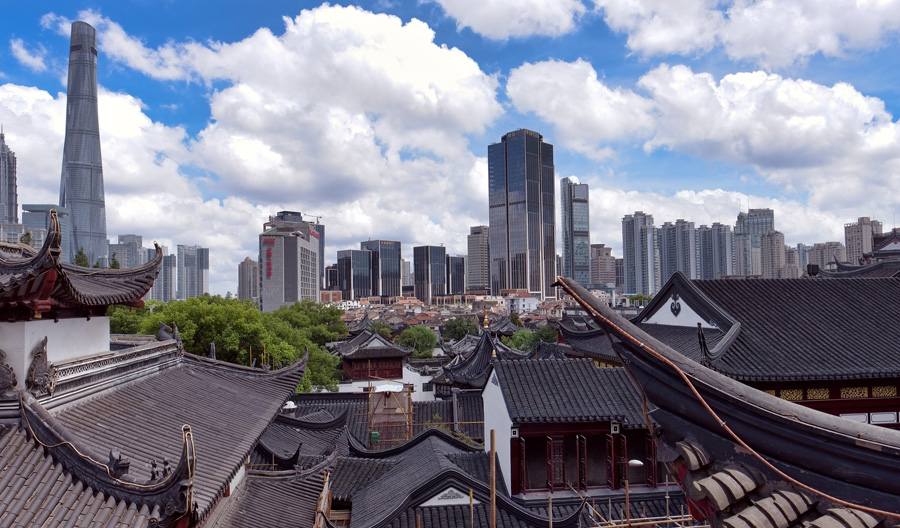 Sounds like a language programme you would enjoy? Feel free to contact us; our team will be happy to help you with any questions you may have!