My last week in Costa Rica has begun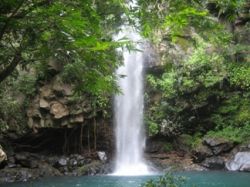 Hola amigos!
As I've written before, time flies here in Costa Rica and yesterday was my first day of my last week at the school in Playa Flamingo. Before I go back home to Europe I still, luckily enough, do have one week left of travelling on my own here in Costa Rica. It might be a good opportunity to practice my Spanish.
Last weekend me and 9 friends from school made a weekend trip to Liberia, which is a city quite close to Playa Flamingo. We had a really good time and visited lots of local restaurants and bars and shopped for some souvenirs. Prices in Liberia are so much cheaper than the other tourist resorts on the coast of Peninsula Nicoya. I bought an official Costa Rican national team jersey for the boy in my host family in Potrero and he was so happy when he recieved the gift!:)
On Sunday we visited the Parque Nacional Rincón de la Vieja and had a wonderful time. We had the most amazing guide and got to swim beneath a beautiful waterfall, see a Boa Constrictor and springs of boiling mud.
The weekend before in San José was also very great and the football friendly between Costa Rica and Chile was an amazing experience. La Sele (the Costa Rican national team) won 2-0 and the big crowd enjoyed every second of the game. They really do love their football over here.
If you ever decide to come to Costa Rica to study Spanish, don't be afraid to make weekend trips on your own. It's very safe, very cheap and so much fun! When you go on your own the chances to practice your language skills are so much better than on the arranged tours where the guides always speaks English.
Time to go. I might try to write another post before I school is over. And I might just as well let you know that I'm already dreaming about coming back here to continue my studies in Spanish.
Pura Vida
Jens