I love Santiago de Cuba!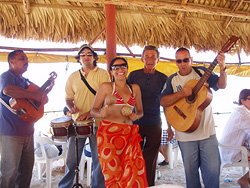 I've been in most of Europe and much of Latin America, but Cuba is truly unique. It's almost like going back in time, especially when you see the characteristic authentic American cars from the 50's… There is so much to do and see and the people are really friendly and open.
I'm so pleased that I chose Santiago de Cuba… Raquel from the school is tireless and is always there for you, whatever questions you've got or whatever advice you need. She made me feel very welcome from the very first moment. Also Elvira, my Spanish teacher, was just brilliant. She is the best language teacher I have ever had. Very patient, but very attentive to my study needs. I really can't praise her too highly and I would love to come back for extra lessons with her.
What I have liked the most about my time in Cuba is that, living in a Cuban host family, I have really lived and experienced the ordinary Cuban lifestyle and it's been a really special experience. My host family has been lovely and have introduced me to a lot of their friends. I enjoyed very much when other relatives came home and all treated me as a family member as well. One afternoon, an aunt taught me how to cook banana and another showed me the way they wear their beautiful shawls on the head. They were such sweet women and talked me of their lives in a very joyful way. It was a privilege and really enlightening experience to meet them and learn about their lives.
Also, I have learnt a lot about the Cuban history during the chats I've had with my host family, they were very passionate and proud about being Santiagueras. They are incredible hosts and I've spent such a great time with them!
The Spanish lessons and people I've met have definitely been the best part of my experience in Cuba.
Anyone who comes here won't be disappointed. I've been here just three weeks and it's been the best time of my life!
Camilla (Sweden)