Manchester – a weekend in warehouse city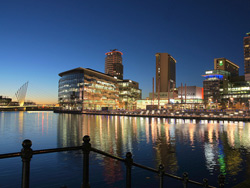 Manchester – a powerhouse of the industrial revolution in the UK and England's second city. When people think of England they often just think of London, one of the best known cities in the world. However, after this you have Manchester.
Some dispute its second city status when compared with Birmingham. However, Manchester is without doubt one the of the most important and popular cities in the United Kingdom. A beta to London's alpha world city status.
There is an incredibly large variety of things to do in the large English metropolis of Manchester. It really has something for everyone and is also England's second most visited city.
From sports, with two world-class teams, to the famous nightlife, to strolling through one of its many parks.
Go and experience Manchester to the fullest and take in all its rich cultural history. The industrial revolution started in cities like Manchester, which makes it one of the most 'modern' historical cities in Europe. The world's first industrial city expanded at a rapid pace since the late 18th Century.
Whether you are in Manchester for the weekend, a week or a month, there are certain places you NEED to visit.
So let's start…shall we?
Football in Manchester
Football! A simple sport where twenty-two players, eleven players on each side, kick a ball, trying to score in the other team's goal. The game was first concocted in England in 1863 and has grown massively in popularity ever since. It still grows year on year to this present day. The sky seems the limited for this sport!
Like every other city in the UK, Manchester loves football. Seven professional football teams are represented by the vast metropolitan area of Manchester. These include: Manchester United, Manchester City, Bolton Wanderers, Bury, Oldham Athletic, Wigan Athletic and Rochdale. This really makes Manchester the Mecca of football.
It is almost impossible to see all these different clubs in one weekend. That is why you should choose between the clubs you want to visit. Football is great but, hey, there are more awesome things than just football to see in the city! The two clubs almost everyone chooses are the two biggest and most famous clubs, Manchester United and its rival Manchester City. The roots of both teams trace back to the beginning of the previous century.
Manchester United
First stop, Manchester United. The Red Devils, as they are known, play their home games in one of the most iconic stadiums in the world: Old Trafford. The Theatre of Dreams, the stadium's nickname, has been in constant use by The Red Devils, celebrating its 118th birthday on 19th of February 2018. During this time many football legends have passed through these almost religious grounds. To name just a few: Sir Bobby Charlton, Mark Hughes, Ryan Giggs, Ruud van Nistelrooy, Ronaldo and all-time top scorer Wayne Rooney. Also, who could forget the most successful coach in club history: Sir Alex Ferguson.
Seven days a week, except when a game is played, you can visit the stadium on your own, or with a guided tour at any given time on their website. This tour will lead you alongside the well-stocked trophy case, over the Sir Alex Ferguson stand and through the players' tunnel towards the 'holy grounds' of Old Trafford!
Manchester city

On the other side of town, you will find the Man U rival, Manchester city. The citizens, as they are called, play their games at the Etihad Stadium. This stadium is significantly younger than Old Trafford, but no less impressive than the Theatre of Dreams.
The Etihad has been used as the official stadium of the citizens since the 10th of August 2003. Therefore, it is not a very old stadium and was built from a modern perspective. Where Old Trafford has its historic charm, the Etihad has modern, state-of-the-art architecture. This stadium has been designed is such a way that it can function as a multi-functional stadium. It's not just for football and can be turned into a track and field stadium! You can visit this modern stadium 7 days a week, except when a match will be played.  For more information, can be found on the official Manchester City website.
Famous Nightlife
Like other metropolises, Manchester, has a great number of, restaurants, bars and clubs. This means there is always something for everyone looking to take part in the vibrant nightlife.
You can choose from a relaxing night in one of the many traditional pubs to an epic dance experience in a club. Also, several restaurants in Manchester are owned by celebrities.
A selection of nice pubs, clubs and restaurants in Manchester include:
Cloud 23
A stylish bar and restaurant on the 23rd floor of the Hilton Manchester on Deansgate. Cloud 23 has a beautiful overview of the city.
Rosso
This "gorgeous and glamorous" dining and drinking venue has quickly become one of Manchester's most popular restaurant-bars. The venue is owned by former Manchester United and England centre-back Rio Ferdinand. Imagine that, you are eating at Rosso and Rio Ferdinand pops up in the restaurant! Rosso is highly recommended if you are ever in Manchester!
Matt and Phred's
If you are interested in a place where they play live music, then Matt and Phred's is definitely the right place for you! This live-music venue is famous for its jazz nights. Enjoy a nice pint of beer or a glass of wine with your friends, whilst you are listening to the fine tunes of Jazz.
These are just a few examples of the vibrant nightlife of Manchester. There are so many other restaurants, bars and clubs to discover!
After a nice evening of dining and dancing you might want to burn off those calories or walk off that possible hangover. In Manchester you do not have to go to the gym for that. You can just go for a nice run in one of the many many parks.
The beauty of nature
You do not immediately think of beautiful, scenic nature when you first think of an industrial metropolis. But, it is quite remarkable how many wonderful public parks the city of Manchester has. Each park more breath-taking than the last.
Manchester might not have parks as large as its 'rival' London, but that does not necessarily mean the public parks from Manchester are less beautiful. On the contrary, Alexandra Park, Parsonage Gardens and Heaton Park are just three wonderful examples.
Alexandra Park
Let's start off with one of oldest public parks in the city: Alexandra Park. Opened in 1868, the 60-acre site was designed by Alexander Hennel. The purpose of it was said to be 'scaring the working men of Manchester away from the alehouses during their day(s) off!' This historical park has just been restored in order to boost the life back into the park. Improvements to the lake and paths have been done and some restoration of the historical features, such as the drinking fountain and tabernacle.
Heaton Park
Another park worth mentioning is Heaton Park. This park is on the edge of Manchester and is filled with several attractions that offer you a whole lot of enjoyment, no matter how old you are! This park even has a golf course! Heaton Park is also the venue of the Parklife music festival since 2016. Several famous artist who performed here are Ice Cube, Years & Years, Stormzy, Bastille and many more. Despite the young age of this festival, it is growing every year and gaining a lot  of recognition!
If you just want to spend a nice day in Heaton Park than that is possible also. The park opens every single day from 8 AM up until dusk.
Although not technically a park, you shouldn't forget Parsonage Gardens. Theses Gardens were built in 1929, which makes its one of the city's newest 'constructions' of historical interest, listed by the department of environment in Manchester. The Parsonage Gardens are open for the public every day and are free for everyone to enjoy.
Finally, escape the city bustle with a wander down the picturesque canal area. Canals helped make Manchester the large industrial city is is today. They have been regenerated to provide a thriving but peaceful part of the city centre.
Learn English in Manchester!
Manchester has a lot to offer and we have only just scratched the surface. It is one of the most 'modern' historical cities in Europe! Sports, music, entertainment, shopping, nature and more. It is the perfect place to immerse yourself in the English language.
Also, the city always has something going on to cater every student's wishes. It is almost impossible to see everything in just one weekend, so how long are you prepared to stay?
Our English school in Manchester is British Council accredited. You can find in the heart of Manchester's vibrant and cosmopolitan city centre, the capital of the North West of England.
If you are thinking about learning English in Manchester then book a language course with Apple Languages today!
– Randy