A bird's eye view of Cologne!
After recently returning from a German course in Cologne, I am happy to tell you how surprising and fascinating this city was!
As a person who travels a lot and been to Germany several times, I have been round various castles, churches and cathedrals, both in Germany and at home in Spain. But,  I've NEVER climbed up any historical building with a  view which can compare with the one you get from the Cologne Cathedral!
Going to the top of the Cathedral really is worth it – the stunning views you have from the top are amazing, though climbing the hundreds of winding stairs can be a bit of a challenge! You have to go up 509 steps of the spiral staircase, and the same for down! 😉
This means that at the same time you are trying to climb there are also people trying to go down and there are moments in which you may think you are going crazy! I felt a bit anxious sometimes, but in the end I highly recommend trying this experience. Also when you are almost on the top, you have metal stairs that make you feel you are floating in the air… It is a very strange feeling…but good!
Also, half way up the climb, you have the chance of visiting the huge bell and can take a small rest. The whole thing was immensely enjoyable and something I will never forget.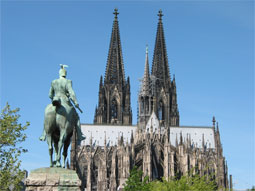 Of course, apart form the Cathedral there are many other things to do in Cologne. On the one hand, if you like shopping and a busy atmosphere you will enjoy going to a huge pedestrian street (Hohe strasse) with loads of shops and places to eat. This street is always crowded.
On the other hand, if you prefer something more relaxed, you can choose going for a nice walk through the Rhine with the sunset. Absolutely wonderful
During your stay in Cologne you will have also loads of chances to pop into shops and smell the famous Eau de Cologne – Not to be missed. You may also be interested to know that Cologne, in addition to having its own perfume has its own beer – Kölsch! It is quite light so you don't need to worry TOO MUCH about getting drunk on it. Above all, Cologne is a student city, so there is also a great night life which I really enjoyed. I made lots of friends during my time at the school. Only one of them went up the 509 steps of the cathedral, but many of them regularly went out with me, in a group, to cafes, pubs and sometimes… at the weekend, to one of the many clubs. I learnt lots of German, but also had LOTs of fun!
Carlos