A Dream Come True!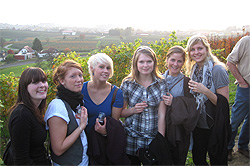 Hi! My name is Sophie, I´m 20 years old and I come from Sweden. Here I am, second from right, along with some of my new friends.
I have during the last three months been studying German on the little island in the south of Germany, called Lindau. I decided to take a year of from my school in Sweden because I wanted to do something else, something fun, interesting but also something that would be educational.
A dream of mine has always been to work during the season in the Alps. My dream  will come true thanks to the school in Lindau. They have a work program that includes work and accommodation in the Alps. Then I will first learn German and later in the Alps I will use the language in real situations which I think is great.
I think the school is great, to great amount because the teachers are very motivated and helpful, there are only small classes so everyone will get the attention they need. I had also opted for intensive course, which I recommend, especially if you're going to do an exam. During breaks, you can meet those living in host families and you can drink a coffee together or use the computers for example. Each week the school organizes activities. We have wandered in the Alps, been in Stuttgart, gone swimming, had a barbecue party, went to discos, had an international evening and perhaps everyone's favorite when we went to October festival in Munich! Beside our school activities we organized our one evenings including parties, chocolate fondue, taco night and ice skating.
Just one week after I got here we started to prepare for our job applications for work in the Alps. One of our teachers showed us how a CV could look like. Witch was helpful when we wrote our own CVs. As soon as our CV:s were ready, the teacher send them to a lot of hotels, restaurants, shops, but also to some special requests such as lift guard attendant etc. A week later, everyone received at least one job offer. One mail was from a ski store which is located on the main street in the middle of St. Anton. I went there for an interview. It went great and I got the job as salesman in the store. I'm looking forward to work this season in the Austrian Alps with some of my new friends from Lindau and to continue to develop my German. Since this adventure started I have never thought it would be this fun. This will be a memory for life!
Sophie (Sweden)