Five fun-filled weeks in Frankfurt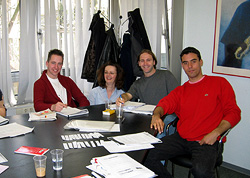 It is hard to believe, now that my 5 weeks on a German course in Frankfurt are drawing to a close, but when I arrived, I was actually quite nervous. A foreign country, a language I then hardly spoke and living with perfect strangers – of course I was nervous!
But when I saw the smiling face of my host mother, holding a sign with my name, I somehow knew everything would be all right – and I would come to realize that it would be so, so much more than that!
Upon arriving at my home for the following 5 weeks, I immediately felt most welcome. I had dinner with my host family and after getting over my initial shyness, I actually began joining in already. Everybody in Germany was so nice to me – My hosts, the teachers at the school, even random people on the street!
I had never been particularly confident in my German abilities but, boy, do I now! The classes were smaller than I was used to and focussed a lot on actually using the language – yes, that was a little terrifying the first day. But really, after a few days I realized how rapidly my German was improving; it didn't even feel like I was working particularly hard. We talked, laughed, covered some grammar – but it just never felt like school.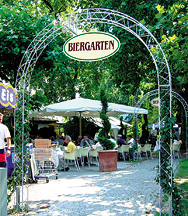 I also particularly enjoyed the activities organized by the school. Frankfurt really has some amazing sights with fascinating history! And its always more fun and more interesting to do these things in groups, with people who actually know what they are talking about – as opposing to wandering around sights by yourself not taking in most things because you don't understand what they mean or stand for.
What stands out particularly in my memory, though, is definitely the Museumsuferfest (Museums Riverbank Festival). It's a huge event where all the museums get together and organize special fun things, the streets are filled with booth selling jewellery and crafts, and live bands give performances up until late at night on public, open-air stages! It was a German beer, culture and party extravaganza for my friends and me!
Speaking of friends and party – this also was something I didn't quite expect. My classmates were great and we had so much fun! It might have been learning a language together and being foreigners in Frankfurt that bound us together into this wonderfully tight-knit group. But whatever the reason – I can't believe how much fun we had – we went out for meals or got our fair share of the famous Frankfurt night-life and everything seemed better, more rambunctious and more interesting in a foreign country and in this great group than it tends to do at home.
Now it's time to go… but I hope I'll come back to the school year and do it all over again! …meeting up with old friends and hopefully making some new ones!
Sven (Sweden)