7 reasons to learn German in Freiburg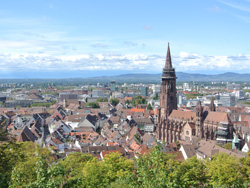 When people think about learning German in Germany they often tend to consider the big cities first. There is no doubt that cities like Berlin and Hamburg are remarkable places and definitely worth a visit. But why not try something new and exchange a big cosmopolitan city for wonderful and unhurried Freiburg im Breisgau!
In this blog post we would like to give you an insight into this charming town on the edge of the beautiful Black Forest.  We also want to give you 7 reasons why Freiburg is an ideal place for your next German language course.
Germany's warmest and sunniest city
With around 2000 hours of sunshine every year, Freiburg is the sunniest city in Germany. Between 2003 and 2015 the city even held the national heat record of 40.2 °C. This delightful weather allows for all kinds of activities in and around the city. You can go hiking in the Black Forest and enjoy this natural paradise whilst soaking up the sun.
A tour of the city is also more fun when the weather is great. Leave your umbrella at home and admire all wonderful sights this fantastic place has to offer!
A city soaked in history
When exploring Freiburg you will quickly notice that there are marvellous historic buildings at every corner. There are several impressive sights that you should not miss during your visit of this historic town.
The most important sight in Freiburg is the famous Freiburger Münster, the town's impressive cathedral. The Swiss historian Jacob Burckhardt once said that the Freiburger Münster would remain the most beautiful tower on earth. For some reason people misquoted him which is why today the Münster is also known as "the most beautiful tower of Christianity".
Still today you can see the remains of Freiburg's fortification. You can either visit the Schwabentor or the Martinstor. These are the two last remaining gates of the medieval town wall.
The gate building of the Martinstor accommodates a McDonald's restaurant. An interesting fact about this restaurant is that Freiburg's town council prevented the fast food chain from putting their logo on the gate. There you will only find the restaurant's name written in discreet black letters. Fortunately!
If you go to the Rathausplatz (town hall square) you can marvel at the old and the new town hall. Both buildings are very unique and of real architectural value.
The old town hall sticks out with its red colour. The new town hall is a renaissance building which originally was the main building of Freiburg's university.
You can even stay at the Rathausplatz and combine your visit of the town halls with a little rest under the square's shady trees. Make sure you visit one of the cafés that you will find in the surrounding alleys.
If you want to learn even more about the town's history, Freiburg's Museum für Stadtgeschichte (Museum of Town History) is the perfect place for you. This interesting museum is situated in a building called "Haus zum schönen Eck". Built in 1761 for the artist Johann Christian Wentzinger, it is a great example of late baroque architecture. The Museum für Stadtgeschichte has been there since 1994. Apart from an exhibition on the life of Johann Christian Wentzinger, the museum itself is mainly dedicated to Freiburg's fascinating history. Immerse yourself in the city's early days!
If you get hungry whilst discovering this impressive town Freiburg's market hall will offer you everything you are looking for. You will find a wide variety of food stalls where you can get delicious international, as well as regional, specialities. The Markthalle even has a live stage where bands or DJs perform in the evenings or at the weekend. The locals also gave one of their favourite places the nickname Fressgässle, which translates as eating alley.
A pedestrian-friendly historic centre
In Freiburg's old town you will find huge pedestrian zones where the only vehicles will be trams and bicycles. This allows for leisurely walks and offers a peaceful atmosphere.
Whilst walking around the city you will also soon notice that there are many little streams next to the pavements and streets. These are called Bächle and are a unique characteristic of the townscape. The Bächle are diverted from the river Dreisam and can be found nearly everywhere throughout the old town. During the hot summer months locals like to cool down by putting their feet in them. Some shops even sell little ships on a string so that children can let them float on the water while walking along the streets of Freiburg.
Amazing views
To have a truly stunning view of Freiburg go to the Schlossberg which is located east of the old town. You can either walk up this mountain or take the Schlossbergbahn. As the Schlossberg is part of the Black Forest this train runs under the slogan "In 3 Minuten im Schwarzwald" (Within 3 minutes to the Black Forest). You will probably have the best views from the Kanonenplatz which is located right above the historic town centre. Sit on one of the square's benches, lean back and enjoy the incredible view of amazing Freiburg!
Ten kilometres southeast of Freiburg you will find another mountain with the beautiful name Schauinsland. This literally translates as 'look into the country' and describes very well what this mountain is all about: wonderful panoramic views!
To go up this mountain you can take the Schauinslandbahn which is the longest circulating cable car in Germany. Once you are on top of the mountain you will have breathtaking views of Freiburg and the surrounding Black Forest. If the weather is good you will even have the chance to enjoy splendid views of the Alps!
About 30 kilometres from Freiburg you will find the magnificent Todtnauer Wasserfall. This impressive waterfall is 97 metres high and one of the highest waterfalls in Germany. The surroundings offer the perfect environment for hiking trips. There are several trails around the waterfall giving you a great opportunity to enjoy pure nature and marvel at the region's flora and fauna.
A university town
As Freiburg is an enchanting university town you can enjoy a lively but still relaxed atmosphere. The town is home to the Albert-Ludwigs-Universität which was founded in 1457 and is one of the oldest universities in Germany.
If you want to experience real student life in Freiburg you should go to the Stühlinger district. It is close to the old town and the university and is therefore easy to reach. This trendy part of Freiburg is a very unique and extraordinary place.
You will find countless pubs, bars and clubs where you can socialise with the locals and immerse yourself in Freiburg's nightlife. One of the city's biggest event locations is also located in the Stühlinger: The E-Werk. Every year there are around 400 cultural events with music, dance and theatre performances as well as art exhibitions.
In this remarkable district you can also admire the incredibly beautiful Herz-Jesu-Kirche (Church of the Sacred Heart). You will surely be impressed by the prominent green church spires and the wonderfully decorated façade. This building, which was constructed between 1892 and 1897, is characterised by a mixture of Neo-Romanesque and Neo-Gothic architecture.
Delicious regional specialities
Freiburg belongs to the region of Baden-Württemberg which is known for its mouthwatering delicacies. Here are some that you must try:
Schwarzwälder Kirschtorte (Black Forest cherry gateau) – This is probably one of the most delicious cakes throughout Germany! For this incredibly tasty cake you need three chocolate sponge cake bases, cream, cherries, chocolate slivers and lots of 'Kirschwasser' (a fruit brandy made from cherries). Make sure you don't miss this absolute delight whilst visiting Freiburg.
Münsterwurst (also known as: Lange Rote) – This is a special red type of Bratwurst which is unique to Freiburg. A special characteristic of this sausage is that it is made without a skin. It is eaten in a 'Weckle' (bread roll) and people often add mustard and onions to it. The Münsterwurst is traditionally eaten as a whole. If people halve their sausage in the middle and put it back into the roll locals call this 'Touristenwurst' (tourist sausage).
Flammkuchen – This dish is often compared with pizza but it actually tastes very different. The very thin base consists of bread dough. Originally it is topped with onions, bacon lardons and sour cream. However, nowadays there are countless variations of it and you can basically top it with anything you like. Since it is baked at high temperature it is ready to eat after just a few minutes!
Schwarzwälder Schinken (Black Forest ham) – A smoked ham which is simply delicious! The smoking as well as the unique combination of spices give this delicacy a very rich flavour. It is definitely my favourite type of ham.
Flädlesuppe (pancake soup) – A simple but yet very tasty dish. To prepare this soup you make savoury pancakes and cut them into strips. After that you only have to pour meat broth over them and your Flädlesuppe is ready.
The location of our school near the Münsterplatz
Our German school in Freiburg is situated just a short walk from the charming Münsterplatz, the town's most important square. The Münsterplatz is an ideal base to explore other parts of the town. It is also surrounded by enchanting historic buildings and can be described as the heart of Freiburg.
Aside from the above-mentioned Freiburger Münster and "Haus zum schönen Eck" you will also find two other impressive buildings here.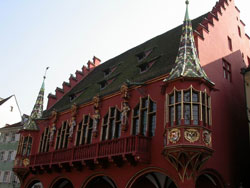 One of them is called Historisches Kaufhaus (Historical Merchants' Hall). This building from the 16th century stands out due to its beautiful red façade and magnificent oriel towers. It was originally built as Freiburg's municipal merchants' hall. Today, however, it is used for special events.
Another fantastic building is the Kornhaus (Grain House) which is located on the northern side of the Münsterplatz. Throughout the years it was used for different purposes. It started as a ballroom for Emperor Maximilian I, then was turned into a slaughterhouse. It was also used as a theatre and, famously, a granary. Today the Kornhaus accommodates a cosy café and several shops.
One of the best things about the Münsterplatz is the varied farmers market held during the week. You can browse market stalls offering fresh fruit and vegetables. Wonderful arts and craft are also available. What's more, most of the products come from regional farmers.
The Münstermarkt is also the place to buy yourself a traditional Lange Rote from one of the food stalls. This delicious treat is so popular amongst locals as well as tourists that there are more than five stalls that sell Freiburg's best sausage.
Here is some extra information for you: You may have noticed that many German words in this blog post, such as Bächle or Flädle, end with -le. In this region of Germany you will come across many of these words. The locals use this ending as a diminutive. This is why their way of speaking German is especially pleasant to listen to!
We hope that we have given you an insight into Freiburg's unique charm. A German course at our school in Freiburg really is the perfect opportunity to learn German in a wonderful environment, delve into the German culture, meet friendly locals and try a lot of excellent food!
Sabrina