Romantic, historic Heidelberg!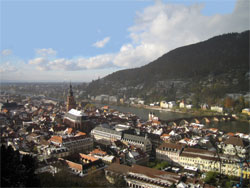 I have been in Heildelberg for six months and I found this city wonderful not only during the spring but also during the winter! Heidelberg has been labelled a "Romantic town" and if you come here, you will understand why! You will also be impressed by the breathtaking views of the river valley and the Heidelberg Castle – truly amazing!
The best starting point for exploring Heidelberg's historic heart is "Bismarckplatz", right next to Heidelberg's main pedestrian street and not far from the school . Heidelberg's historical city centre, the "Altstadt" (Old Town) is lively with its stylish cafés, good restaurant and nice shops.There are a lot of attractions that you can't miss: Heidelberg's "Alte Brücke" (Old Bridge), the Town Hall, the Old University and historic buildings.
In addition to this, Heidelberg is full of beautiful green spaces near the Neckar River where you can hang out with friends during summertime. On the "Neckarwiese", along the banks of the river Neckar, you will find plenty of space to relax sunbathe and socialise with your friends.
During my stay I met lots of other students from all over the world to share experiences with and speaking in German of course! With them I enjoyed the lively university life, discos nights, house parties and trips to the city's surroundings. If you want to get a taste of Heidelberg's vibrant university life I suggest that you have a drink in the great bars, coffee shops, and cheap eateries located in "Untere Strasse", the narrow cobble stone street, which runs parallel to the main pedestrian street in the Old Town.
If you are planning to go to Heidelberg in winter, during Christmas you will find a picturesque Christmas market which takes place in the oldest part of the city. I also suggest you try the 'Glühwein', a warm spicy traditional German winter drink…. and buy the famous chocolate called Heidelberger Studentenkuss (student kiss) as Christmas gift for your family and friends!
A detached villa in the historic centre of Heidelberg is home to the Apple Language Courses German school. There is a great range of German courses available from Intensive group courses to private lessons and also TELC/DaF exam preparation courses. For our more mature clients a Club 50+ course runs in Heidelberg outside of the summer months. Accommodation is available in the on-site residence or with a German host family.
Rosella