Stuttgart – The heart of Baden-Württemberg
Stuttgart, capital of the state Baden-Württemberg and Germany's sixth largest city, definitely knows how to combine good old German traditions with a modern sophisticated life style!
Experience party life and tranquillity in a city where cultures clash. Stuttgart, with about 600.000 inhabitants, is a very international city with people from over 180 countries living and working here. You will find traces of multicultural life everywhere in Stuttgart.
Stuttgart's inner city is definitely worth a visit. Stuttgart has a very high standard of living and is a vibrant, cultural city. There are lots of sights to visit in Stuttgart: the first TV tower of its kind, for example, or the two castles of Stuttgart – the old and the new!
Stuttgart is one of Germany's economically most successful regions and does not only attract companies but also international employees. What's significant about the city is its affinity for expensive cars: Stuttgart is home of Mercedes, Porsche, Daimler and Maybach. You can learn everything about these cars in the Mercedes Benz Museum or in the Porsche Museum.
Beside the economical prosperity Stuttgart is also a great place if you are into wine and culture. For German wine, this is definitely the region to visit since there are plenty of vineyards in the countryside around the city. With some of Germany's finest vineries, only the best wine growers will make their signature Riesling or Müller-Thurgau here.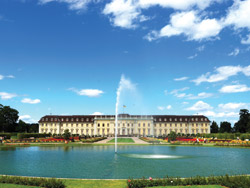 It is also very easy to find tranquillity in Stuttgart: lots of parks, groves and green areas in the city can make Stuttgart very peaceful. Here you will even find the "Green U" which is a large green area in the shape of the letter "U", which is about eight kilometres long! It combines all parks in Stuttgart and makes it a popular escape from city life.
If you want to experience Stuttgart from a completely different perspective you can also take boat trip on the river Neckar to see the beautiful buildings and vineyards from the riverside. Alternatively, why not view the city from Stuttgart's very own historic cable car? This wooden cable car (actually a funicular railway) was first opened in 1929 and is made out of teak. It was modernised to comply with European safety standards, but will still give you an impressive ride and stunning views over the city!
Once a year Stuttgart attracts millions of visitors. The "Cannstatter Volksfest" is a three-week long festival and a true rival to Munich's Oktoberfest. German traditions, a colourful fair for families and lots of beer and wine are typical for the festival and will make a trip to the heart of Baden-Württemberg unforgettable.
Apple Language Courses offer year round German language courses in Stuttgart.
Sabine