Travelling to Augsburg
The only German city with its own holiday, home to the Fuggerei and the Puppenkiste, birthplace of the famous writer Bertold Brecht and Mozart's father Leopold Mozart and one of the oldest, greenest and most liveable cities in Germany – these are just some of the fascinating facts that Augsburg has to offer.
Augsburg lies in the very south of Germany, in the state Bavaria and in the administrational region of Swabia. It is situated in one of the nicest areas in Bavaria since it is close to the sprawling city of Munich (45 minutes by train) and to the Alps.
Although I don't live in Augsburg directly but in a small village about 25 km away, I've still spent a lot of time in this beautiful and historically interesting city. This was due to it being our closest 'big' city, the fact that I studied there for three years and because it offers so much to do there. Actually, I didn't know exactly how much there was to see and do until I started my bachelor's degree. If you are interested at all in doing a German course in this lovely Bavarian city, let me take you on a little virtual tour and show you the must-sees whilst studying in Augsburg!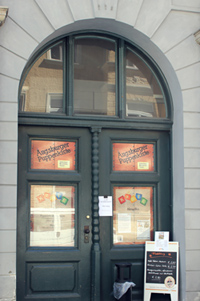 The Augsburger Puppenkiste is a marionette theatre and produces theatrical adaptations of fairy tales together with more serious pieces. It is located in the Heilig-Geist-Spital in the very heart of Augsburg. As the name suggests, it is the invention of a citizen of Augsburg, Walter Oehmichen, in 1943. It's a small wooden stage with astonishingly beautiful stage props. Those alone are worth a visit. However, the plays are also very recommendable, as they pay a lot of attention to detail. There are shows for children and for adults. Both are very good and therefore sell out very early. So if you want to see a piece of the history of Augsburg, you have to decide early enough. I cannot stress enough how great seeing a play here is! The ones for children are definitely suitable for adults as well, simply because of the breathtakingly beautiful stage props and the impressively detailed expressions of the puppets.
The Fuggerei is the world's oldest social housing complex that is still in use. It was founded in 1516 by Jakob Fugger to create a place where the poor citizens of Augsburg could live. It is a walled enclave within the city center, with gates that were locked at night. People still live there up until this day! It is definitely worth a visit because you feel like you are set back in time into a small medieval town. Many houses are covered by ivy, which gives it a charming touch and lets you completely forget that it was built for citizens in need. If you want to see what the houses look like inside, there is a "show house" that you can enter as part of the €4 entrance fee – which is more than four times the current annual rent that the citizens pay!
When you walk around the stunning historical centre of Augsburg with beautiful buildings and fountains, you will come across the town hall. It is a really impressive Renaissance style building built in the 17th century and really nice to look at, but what's inside is even more impressive! The Golden Hall is a ceremonial room and famous for its ceiling paintings and golden wall decoration. Although the entrance fee of €2,50 is quite a lot to just look at a golden room, it is nevertheless impressive and a must see in Augsburg.
If you are in the mood to party, Augsburg won't let you down. In fact, there is a whole street dedicated to the nightlife: the Maximilianstraße or just Maxstraße for short. You'll find it in the centre of Augsburg and it offers bars and clubs for everyone's taste. Of course Augsburg nightlife isn't limited to just one street. Since it is a university town, you'll find bars and pubs everywhere and if you feel like partying a bit harder, people will be more than happy to recommend their favourite clubs to you.
If you are in Augsburg during spring or summer, you should definitely visit the zoo and the botanical garden. In the zoo you can see exotic animals such as tigers and leopards and admire the world of amphibians or rare and beautiful birds. The botanical garden is spectacular during spring and summer when most of the gorgeous flowers are in full bloom and the smell is most intense. It will make you forget everything around you and you can just relax and enjoy the beautiful nature. There are some "special" gardens, such as the rose garden or the Japanese garden, which I can recommend wholeheartedly.
Are you due to visit Augsburg during December? Lucky you!  You will get to see one of the most beautiful Christmas markets in all of Germany. The Augsburger Christkindlesmarkt is a charming Christmas market of just the right size and with its winding lanes it definitely spreads a magical feeling. Make sure to have some "Schupfnudeln" with bacon and sauerkraut, a traditional Swabian dish, together with a glass of "Feuerzangenbowle" (mulled wine with a rum-soaked sugarloaf lit above it) and enjoy the special atmosphere.
There are many more things to see in Augsburg and the area around it, but I hope I could inspire you enough to consider a German course in this stunning city. If you are scared that the people are not friendly or welcoming, don't worry. Bavarians tend to have the reputation of being grumpy, but that goes mostly for older people and even they will warm up to strangers fairly quickly. Just greet them with a "Servus" (the Bavarian version of "hello") and tell them how beautiful their city is, and you'll win their heart in no time.
Rebecca Reiber