7 amazing things to do in Athens
Athens is the oldest capital in Europe and one of the oldest cities in the world. It is a remarkable city, drenched in history and culture.
If you want to learn Greek this is the perfect place for you to go!
Athens doesn't just give you an incredible opportunity to improve your Greek language skills in an authentic environment. It also offers astonishing sights and amazing activities.
In this blog post we would like to introduce you to the unique charm and the captivating history of the Greek capital. We will also suggest seven enjoyable activities which allow you to make the best of your time in this stunning city.
A mythological name
Before starting your exploration tour of Athens you should know some facts about its historical background.
Athens has an incredibly long and impressive history. It has been continuously inhabited for at least 3,000 years! Whether it is the Acropolis or the beautiful Syntagma Square, Athens' past is visible throughout the whole city.
The city's name has its roots in the Greek mythology. It is said that the goddess Athena and the god Poseidon competed for being the city's patron. During their competition they offered Athens' inhabitants certain goods to win them over. Whereas Poseidon offered them a salt water spring, Athena wanted to give them an olive tree. As the Greeks preferred the olive tree Athena won the competition and the city was named after her.
Speaking of olives, it is also important to know that Greece is the world's third largest producer of this delicious food. Growing olives has a long history. There are even some trees of the 13th century producing olives today. They have since become an integral part of the Greek diet.
The Greek mythology is an important part of the country's history and culture. Make sure you delve in to this captivating stories, if you haven't already.
Next, get ready for some really amazing activities:
Travel by metro
You might ask yourself why should I take the metro? Especially if you can walk in the fresh air and enjoy the sun. You may be right to question it, but we still advise you to take a few metro journeys in Athens. It is not so much about the metro itself. A special feature of the metro system are the stations themselves, some of which are like small museums.
At some metro stations you can admire works of art by the most popular Greek artists. What's best is that you can enjoy these exhibitions for free!
Archaeological artefacts are even displayed by four of the city's stations. Each of them were found during the metro's construction. As you can see, a journey on Athens' metro can be a journey through the city's history at the same time.
Immerse yourself in the world of Plato
Plato was a famous ancient philosopher who dealt with many important questions. His perceptions and insight in to philosophy is still relevant today.
At the Digital Museum in Athens you will have the chance to experience the world of Plato. The tour of this museum will feel like a journey through time itself. All visitors can walk through several rooms, each dedicated to a different topic.
You will learn something about Plato as a person and will also find out how his fascinating thoughts influenced the following generations.
Multimedia material, pictures and texts enrich the whole tour. This extraordinary museum will certainly offer you a very informative experience!
Experience the heart of the city
When visiting Athens you can't fail to miss the Syntagma Square (Constitution Square), the capital's main, central square. Syntagma Square is named after a military rebellion, then the first king of Greece had to establish the constitution.
Syntagma Square lies right in front of Athens' parliament building. It is characterised by a lovely mid-19th century water fountain and many trees providing useful shade. It is a very important hub for the residents and visitors alike. You will almost certainly cross it several times whilst discovering Athens. This square is the perfect base to explore all the other parts of the capital.
Athens' main square is not only a famous tourist attraction. It is also a meeting point for locals and thus the ideal place for you to meet some friendly Greeks. Sit down on one of the benches and enjoy the special feel in the heart of this ancient city!
Relax in the National Garden
Right behind the parliament building you will find the beautiful National Garden. This is a true place of relaxation which allows you to escape from the hustle and bustle of the city.
You will find all sorts of plants and flowers, marvellous statues and lovely ponds in the National Garden. Many of the plant species are typically Greek, including oleanders and carob trees. However, there are also plants from many different parts of the world, such as species from China or the Canary Islands. The National Garden covers an area of about 15 hectares and is home to more than 500 species in total.
It is also a great place for animal lovers as you will meet cats and several types of birds, such as ducks and peacocks. You can also visit the garden's own little zoo with goats, chickens and more.
At the main entrance you will find an impressive sundial – a great photo opportunity! It is a common attraction for visitors as well as locals. Taking this as a starting point, discover the garden's paths and pergolas. It will make you feel as if you were walking through a labyrinth.
Visit the unrivalled Acropolis
Even if this is an obvious tourist attraction, don't miss the breathtaking Acropolis. It is not without reason that this UNESCO World Heritage Site is Athens' most popular sight. When thinking of Athens the Acropolis is probably the first thing most people have in mind.
Acropolis translates as 'upper city' so prepare for a nice walk up to this impressive archaeological masterpiece. It consists of several ancient temples, including the Temple of Athena Nike and the Erechtheion. The most prominent one, however, is the Parthenon. The Parthenon takes its name after the goddess Athena, who was also known as Athena Parthenos (Athena the Virgin).
The Athenian Empire, at the peak of its power, built the Parthenon in the 5th century BC. It's still a mystery how they managed to erect such a wonderful, complicated and precise temple. Constructed as a dedication to Athena, the Parthenon sheltered a marvellous 'chryselephantine' statue of her. At some point in history, this massive statue made of ivory and gold disappeared, possibly destroyed and unfortunately never to be seen again.
The Parthenon is made from white marble. It was originally decorated with numerous magnificent sculptures and would have been even more impressive when new. There was also a frieze on its façade that told stories of ancient Greece. Today, the temple is famous for its striking columns that overlook Athens.
Watch a film at Athens' unique cinemas
If you love watching films then Athens is the ideal city for you. It offers some wonderful places where you can enjoy screenings in an extraordinary environment.
Cine Paris is the oldest of Athens' fantastic outdoor cinemas. On the building's rooftop you can enjoy captivating films whilst having a drink in the open air. This cinema mainly shows contemporary movies but also some classics. The best thing about it is the splendid view of the Acropolis in the background.
Another outdoor cinema is Cine Thision, considered one of the best in the world. Just like Cine Paris it offers amazing views of the Acropolis. Another special feature Cine Thision is that you will get more than just the typical cinema snacks. Indulge yourself in delicious cheese pies and have a refreshing homemade vissinada, a Greek drink made of sour cherries and brown sugar.
Stroll around Varvakios Agora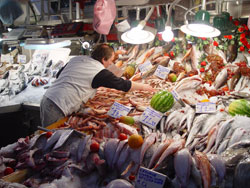 Last but not least, you should visit the Varvakios Agora, the capital's central market. Here you will find everything from meat and fish to vegetables, spices, fruit and sweets.
Livers and kidneys, intestines and feet. Here you will find nearly all body parts of an animal on sale! Not great to walk around if you are vegetarian. However, one of the main highlights are the olive stalls. Get to know countless sorts of this typically Greek delicacy and find your favourite. You will also find lots of different cheeses at Varvakios Agora, including the famous and delicious feta!
There are also various traditional tavernas at the market where you can enjoy a delicious meal. A typically Greek and also cheap dish is Patsas soup. The ingredients of this special soup included lamb or bull stomach and lamb's feet. However, don't let this put you off – it is one of the locals' favourites!
We hope some of the above-mentioned activities will be of interest to you. Check them out whilst taking a Greek course at our language school in Athens!
Sabrina