Become a Pirate of the Caribbean in Guadeloupe!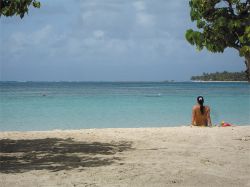 The first thing that hit me when I went to Guadeloupe was the heat! Stepping off the plane, and walking down the tunnel to the terminal my first thought was that someone had left the heating on. Then I saw that the windows were open and realised that this was how it was going to be for the duration of my stay and I had better get used to it!
To be honest, after a couple of days I did start to get used to it and it wasn't a problem at all (in fact, it made a pleasant change to life in the cold and grey UK!). My bedroom had a fan to keep me cool at night, there is always the possibility of swimming in the clear blue sea. What's more, the numerous bars along the beach mean that there is no shortage of ice cold drinks.
You can also find people sat under umbrellas on the beach making natural coconut ice cream in wooden barrels. This is simply delicious and I would highly recommend trying it!
Furthermore, if it hadn't been hot in the Caribbean, then I would have been seriously disappointed so don't think I'm complaining!
Although I have travelled extensively around Europe, this was my first time in the Caribbean and it was definitely unlike anywhere I have ever been to before!
Put simply, Guadeloupe is beautiful butterfly-shaped island paradise, with lush green forests, waterfalls, long sandy beaches and even a dormant volcano, 'la Souffriere'.
I would definitely advise hiring a car and going to explore the island as with so much to see, it would be a shame to stay in one place.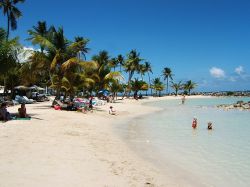 The small towns and villages (mostly in the Grand-Terre part of the island) are a real mix and you can see palatial mansions next door to more modest concrete homes.
There are numerous beaches and plenty of opportunities for taking part in water sports such as surfing and waterskiing.
If this sounds a little too energetic, it is always a pleasure to spend the afternoon lying on the beach in the shade of a swaying palm and listening to the sea gently lapping on the shore. Life at home really does feel a million miles away!
Another must is spending a day at Pointe-a-Pitre which is the main city on the island. It is a joy to explore the bustling streets and colourful markets which are crowded with shoppers. I enjoyed spending half an hour watching the small fishing boats in the harbour turn up and offload their catch directly to the vendors on the harbour wall before turning back around and heading out to sea again. You don't get much fresher than that!
For dedicated 'Francophiles' like me, Guadeloupe is a curious experience. The natural environment is of course, nothing like France, yet all around there are reminders that Guadeloupe is just another 'département' of France in the same way as Paris or the Pas de Calais.
There are many of the same shops that you will find in France, the Euro is the common currency and you will find the flags for both France and the European Union outside of public buildings!
In terms of learning French, you are certainly at no disadvantage in doing so in Guadeloupe instead of in France. Although there is an accent, I did not find it any more pronounced than in the south of France. Indeed, the people of Guadeloupe consider themselves French and are proud to speak French as it is spoken in France.
The school is in Sainte Anne, which is known for having some of the best beaches on the island! The school is just off the main town square where you will often find students sitting outside one of the cafes having an ice cold Orangina and a sandwich!
Although the school is quite small, this does give it a very friendly atmosphere and you will soon get to know the names of the other students. This means that it is never difficult to get together a bunch of friends to hire a car and explore the surrounding area.
The school building is air-conditioned (essential in Guadeloupe!) so students can enjoy a cool and relaxing atmosphere in which to study.
When I visited the school, I stayed with a local family. This was actually a single lady whose son had left home to work in France. In the host family there was also another female student from the school. Our host was extremely friendly and welcoming and it was pleasure to sit out on the terrace in the evening having a meal together, whilst discussing the events of the day and listening to the background noise of crickets.
The host was an excellent cook and made an effort to introduce us to traditional creole food (including lots of fish, fruit, chicken and even curry!).
My room was simply furnished, but was comfortable and had a mosquito net over the bed (although I did not have any problem with mosquitoes during my stay).
Most of the host families in St. Anne are located in the same neighbourhood so this adds to the community feel and students usually knock on each other's doors before heading off to school or to the beach (which is just a couple of minutes walk from the school!).
Getting to Guadeloupe is easy, with twice daily flights from Paris Orly. The flight time is 8 hours and at first, I was a little put off by this (I am used to flights of 2 hours max!). However, it was actually an enjoyable experience, you have a couple of meals, a choice of films and other entertainment, so after a little snooze the time literally flies by!
If you're learning French, chances are you've already been to France several times on holiday. So if you're feeling adventurous, why not try something completely different and attend a French course in the sunny Caribbean? You may not want to come back!
Scott