A public holiday in Florence!
Breathtaking. It's the only way to describe the Duomo. Actually, that's a lie, as you could also use awesome, ornate and gargantuan!
I arrived in Florence by train one evening, and as the city seemed fairly compact (on my map at least!), I decided to walk to my accommodation, passing the city's most famous attraction en route.
From the station, Piazza del Duomo is reached by walking along a central shopping street, busy with shoppers and traffic. As the road curved slightly, I caught my first glimpse of the Duomo. I couldn't believe how enormous it was! It was a little late, and after weighing up the situation, I ignored the excited tourist within me and made my way to the apartment. I'd make sure I was well rested for the next day.
My first full day in Florence was a public holiday, which meant that the course didn't start until the next day. I decided to use my free day to explore and after wandering for a while I stumbled across a great horticultural show, which was held in one of Florence's public gardens. I was desperate to purchase some of the lush potted herbs, colourful flowers and a small and daintily potted lemon tree, but I had to remind myself that I live in England, and have a small, paved patio rather than a sun-drenched terrace!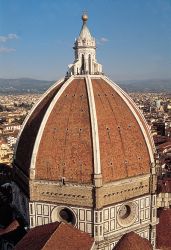 Making my way back to the main hub of the city I spent a great day exploring! I wandered around the bustling street markets, indulged in that great pastime of 'people-watching' at Piazza del Duomo, enjoyed a fantastic ice-cream, window shopped in the designer stores, ate delicious pasta for lunch, and just stood on the Ponte Vecchio looking onto the River Arno. Having walked for hours I decided to give my legs a rest and enhance my sightseer status by buying a ticket for the official tourist bus.
This was a great idea as I was able to see the whole city. I say this literally as the bus stops as Piazzale Michelangelo, a viewpoint that provides an amazing panoramic view of Florence. From here you can take some great photographs, capturing the city's famous skyline, with its richly coloured cupolas.
The bus route took in all of the main attractions and once you've purchased a ticket it's valid for 24 hours. It will also take you to the nearby suburban town of Fiesole, a favourite weekend retreat of the Florentines.
The next day I arrived at the school early, enjoying the stroll en route. Located only 5 minutes walk from the Ponte Vecchio, the school is housed in a beautiful old building, which was once a seventeenth-century palace.
After having a look round, the real fun began! Our teacher was a lovely Italian lady who laughed a lot. This seemed to be infectious as the whole class had soon joined in! It was a very relaxed lesson and we all had fun attempting to construct sentences and remember new words that we'd learned.
Florence is a great destination and I really enjoyed my time there. The city has something to offer everyone, and I will definitely visit again to brush up on my Italian and visit the surrounding area. It was reassuring that Florence has a lot more to offer than 'David', my day spent exploring was packed, and I didn't have to part with too many Euros either!
Amber