Alghero – a Sardinian Paradise!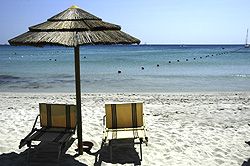 Ok guys (and girls!)… Close your eyes for a second and follow me…
Think of a wide, white sandy beach lapped by a crystal-clear blue sea. Imagine the crunchy feeling of delicious tasty seafood in your mouth, the intense scent of rosemary and the bright red colour of coral. Your senses are going to explode!
Perhaps you are thinking that I am describing an exotic Caribbean destination, located a thousand miles away from Europe. But you're wrong! I am dreaming of Alghero, a little paradise situated on the northern coast of Sardinia where I spent an unforgettable time this summer!
Every day there was something exciting to do: a boat tour along the coast to discover the beautiful "Grotte di Nettuno", a visit to the natural caves with amazing stalagmites and stalactites, an excursion to visit one of the "nuraghi" (prehistorical buildings) or, of course, simply relaxing on the beaches.
But the best part of the day was perhaps going out at night, having a delicious dinner of "spaghetti alla bottarga", seafood and then "seadas" (the local dessert), on a terrace facing the harbour, and walking in the narrow streets of the town centre, full of jewellery and handicraft shops. Then, after dancing in one of the clubs by the beach until late night, it was time for a visit to "Los Cornetteros" for a croissant filled with ice cream and chocolate syrup for breakfast. Your senses are still exploding! Do you wish you were there?
The school is ideally located, right in the centre of Alghero, but if you're planning to attend an Italian course in this paradise, then just be careful with the local liqueur "il mirto"… as it's quite strong!!! You'll end up practising lots of Italian as the evening wears on, but don't drink too much!
Alghero itself is beautiful, but girls, remember not to wear high-heeled shoes wherever you go. They're fine for an evening out most of the time, but not such a good choice when walking on the cobbled streets of the picturesque old centre – flat soled shoes are much better there! I hope you love your time in Alghero as much as I did! Buon viaggio!
Manuela