Bologna: the Italian gem
Bologna is a true gem of a city. Many Italian-speaking students have already realised this and come to the city to study at one of the world's oldest universities. It's thanks to this university that Bologna has such a long-standing reputation for educational excellence, making it just the place for an immersive language adventure.
If this isn't enough for you, we've listed some reasons why Bologna is the place in which to learn the language of music and the arts.
Authentic school within authentic walls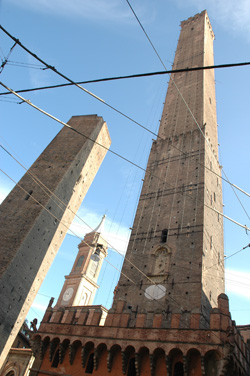 Our Italian language school in Bologna has everything you could ask for when searching for an immersive experience.
The school itself has been run by an Italian family for over 20 years. This means that the staff have a lot of experience in teaching Italian to international students. It also means that, by studying here, you'll experience a more personal approach overall than you might find in other language schools. The personal touch is underlined by the fact that this institution is small enough to cater to every individual.
The size of the language school has a direct impact on class size, and smaller classes give our Italian teachers the best opportunity to give each student a much more bespoke experience. The teachers can better adapt to your specific strengths and weaknesses, giving you a greater chance of improvement, no matter the length of your course.
Another great advantage of our Bologna school is its position in the centre of the city. The language centre is situated within the old city walls, just around the corner from many historical buildings. In just a few minutes' walk, you can reach the city's famous Two Towers, the San Petronio Basilica, and Bologna Cathedral. These are perfect sights for history buffs and anyone who can't wait to discover this stunning historic city!
Also close to the school is the Giardini Margherita, a lovely park that's ideal for relaxing amongst nature. Why not take your homework and some locally bought food and top up your tan as you lounge on the grass after class?
The average student in Bologna
The student profile at both Bologna university and our Italian language school is very diverse. Our language classes benefit from a wide range of international people. In 2017, for example, our school welcomed students from over 40 countries. The opportunity to interact with students from around the globe will encourage your own language learning, making for an even more interesting experience. It might also give you an idea for a course in a different language!
Another great stat from Bologna is the age range of the classes. Approximately 60% of students on the course are aged between 17 and 34. The remaining 40% are above 35 years old. To ensure you're getting the most out of your immersive experience, classes are organised by starting ability level rather than any other factor. This means that you'll be studying with people of all ages, which makes for a dynamic learning experience and can even give you a new perspective on things. Since the age range is so varied, you're also bound to find friends at the school, so you'll never feel excluded.
Whoever you are, wherever you come from, you will be more than welcome at our Italian school in Bologna!
An immersive experience in Bologna
Though the city itself has a lot to offer, mass tourism doesn't take hold there. With cities like Rome, Florence, and Milan just around the corner, you can't really blame tourists for flocking there instead. In Bologna, meanwhile, you can focus on the language and the culture while avoiding the crowds of fellow tourists. Since it has fewer international visitors, Bologna is able to offer a more authentic Italian experience. You're required to speak Italian more often, which is just the right challenge for any language learner! Speaking with locals will complement your classroom learning and help you put the theory into practice. It also gives you a fascinating insight into daily life in Bologna.
Another great way to immerse yourself even more in the language is to take additional language workshops, like pronunciation classes or grammar lessons. Both are perfect if you want to improve your Italian further and put the finishing touches onto your language skills in the safe environment of the school. With these extra hours of practice, you will be sure to advance even faster with your studies, giving you the confidence to have even better conversations with the local Bolognese.
Italian sightseeing
Since Bologna is so close to other popular Italian destinations, a language course here puts you in the perfect place to see more of Italy and experience the atmosphere of other Italian cities. Luckily, Italy's rail connections are very good. It's a piece of cake to catch a train and travel to iconic cities such as Rome or Venice. Florence is only 30 minutes away, so you could go there and back in one afternoon!
However, you don't have to do all that travelling on your own. Our school in Bologna offers weekend trips to popular Italian towns and cities in the local area. You can travel with your new friends and don't have to worry about arrival times or catching the right train. Just enjoy the activity and learn about your destination from our Italian teachers.
Bologna offers you an authentic, exceptional, and distinctive experience, combining a great number of historical sites in one place. But if you crave a glimpse of more iconic Italian cities, the train will get you there. You can decide how and where you want to experience the soul of this wonderful country.
Culture classes
Our school offers another perfect way to get to know more about Italian life: culture classes. You can take courses in wine-tasting, learning the differences between various wines and how to pair them with food. Additionally, you'll learn how the weather affects a wine's flavour, and gain excellent Italian vocabulary for talking about this popular drink. As part of the course, you'll also visit a wine cellar, giving you even more in-depth knowledge about the world of wine.
For foodies, why not attend the cookery class? Learn from trained chefs how to prepare national and local dishes and get an insight into the Italian way of cooking. And is there a greater pay-off than eating the meal you yourself have prepared? We think not. You'll record all the recipes you cook over the duration of the course, meaning you can take your personalised cookbook home with you afterwards. You can show off your new skills to your family and friends! If you're interested in Italian cuisine, check out our blog post about 'Eataly World' – perfect to get an idea of what is waiting for you.
Your Italian course
Italy has a lot to offer. Its language and culture are fascinating, and Bologna is one of the best places to witness that. If you have further questions about this wonderful city or our Italian school in Bologna feel free to contact us and see how we can help you arrange your exciting language adventure!