Fashion & Design in Milan…what a great course!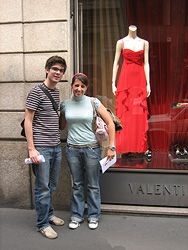 Ciao! I'm Andrea from Colombia and I attended the Italian for Fashion & Design course at the school in Milan. I had such a great time that I now want to stay here!!
I have to say that this particular course has been really interesting. The course focuses on learning the vocabulary of fashion and design, but at the same time you do different activities. For example, one afternoon we worked on a project for a hotel. We had to do it with help of magazines pictures and then do a collage. Afterwards we had to present our ideas – in Italian of course!
The activities were really great. We went to Montenapoleone to see the different shops of the Italian fashion designers. At the same time we had to describe the window and describe in our own words how it was. Other activities included short documentaries about Italian designers and answering questions, or going to different streets to see specific types of architecture.
One activity I liked very much, and that really helped to improve your Italian level, was a character-game. For example, one time I had to pretend I was an Oscar winning actress and that I needed I a dress for the next Oscar party and for a very special dinner. The other person was my stylist. The point of the role play was that I wanted to wear something very simple and minimalist in black or grey, but my stylist wanted me to wear something rich in design and colour. Each person had a piece of paper and had to explain who the person was and what they looked like, but the other player couldn't see it until the end. It was really funny and you had to describe all the details, colours and fabrics.
I am really happy that I took this course. After doing grammar and exercises in the morning, it was nice to have a different kind of lesson, where you can improve your knowledge of the language, you learn the vocabulary in the area you like and have fun at the same time! I would recommend this course and the school in Milan to anyone!
Andrea