Strolling around Genoa's medieval alleys!
Hi everyone! Daniela here, ready to share some tips about my hometown, Genoa!
Maybe you've heard that Genoa was the birthplace of the Italian navigator and colonizer of the New World, Christopher Columbus.
Or maybe about its Aquarium, the largest in Italy and amongst the largest in Europe.
What about the local green sauce, consisting of basil, garlic and pine nuts? Of course you've heard about, and most likely tasted, Pesto!
But have you ever heard, at least once, about Genoa's peculiar caruggi district? No? Then let me clue you in on what embodies the soul of this port city! In Genoese dialect caruggi simply stands for "alleys". And as Fabrizio De André sings:
"Nei quartieri dove il sole del buon Dio non dà i suoi raggi…"
("In the districts where the sun of the good God does not send its rays…")
However, even though they are one of the most attractive features of the city, they are often neglected by tourists. This is because they are just too hidden away and many visitors simply don't know they are there. It is a real shame, because this is the real Genoa!
Caruggi represent the very core of this city's secular history: a maze of alleyways going back to the Middle Ages, whose archaic charm is well preserved. Made famous by the already mentioned Genoese singer Fabrizio De André, they look like an open-air museum, made of stones, marbles and slate. Every corner is marked by monuments, churches and small squares. Each telling a story about the ancient splendours of a city that, for a long time, was the "Master of the Seas".
You'll easily run into unexpected treasures strolling around this labyrinth of alleyways!
Here are a few you shouldn't miss:
Piazza delle Erbe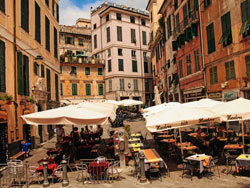 Considered a meeting point of sorts for young people. This is especially true during happy hour!
You'll find this place crowded with local as well as international students, gathering around the small tables outside bars. The whole square is in fact surrounded by bars.
You can have a taste, along with your cocktail, of some typical appetizers such as: focaccia, frisceu, panissa and farinata.
During the weekends, after 10 pm, this place literally comes to life, bustling with students and becoming a key point for Genoese "movida". Piazza delle Erbe is the perfect base to start your journey in Genoa's nightlife. But, let me warn you: you won't be back home before 6 am! 😊
I highly recommend Gradisca Café and Libreria di Piazza delle Erbe.
Don't be deceived by the appearances of the latter; it might look like a bookshop, but this is actually a bar where you can enjoy reading whilst sipping a great glass of wine.
Piazza Lavagna
Another small square hidden in the depths of alleys. Quite similar to Piazza delle Erbe, it's actually smaller and less crowded, making it the perfect place to relax.
Chat with friends here and enjoy some of the street musician music.
As for me, after all these years, it still takes some time to find this lovely place. Don't worry if you get the feeling of being lost, you probably are!
Easy to get lost and part of a labyrinth is what makes this spot in particular so cozy and quiet. 😊
Please see the map of Genoa below for the location of these special places!
Vico dell'Amor Perfetto
If you happen to run into this place, you'll probably find nothing special. So why would I put it in the list of must-see places in Genoa? Well, what makes this place so dear to locals is actually the story behind it.
The name of this alley can literally be translated as "Alley of Perfect Love".
During the summer of 1502 the King of France Louis XII arrived in Genoa in order to convince the Genoese nobles to help him in his efforts to obstruct Spain's power.
At a party during his stay, the King met a certain Tommasina: it was love at first sight for both. They danced the whole night away, however that was the only time they saw each other, as the King had to return to France the next morning.
Tommasina cloistered herself at home for years due to her long-distance, unrealised love. Hoping to free Tommasina from her prison of pain, her nurse divulged false news about the death of Louis XII, but it led to tragedy instead. Believing the tragic news, Tommasina died of a broken heart.
When the King finally did return to Genoa, he visited the house where Tommasina had lived and died. While looking out from one of her windows, legend has it that he said, "It could have been a perfect love."
Hence, a we have a sort of Romeo & Juliet story but 'made in Genoa'. One whose locals are very proud of! 😊
Vico Casana
A cross-street of the main Via San Lorenzo, hosting a church of the same name. Here you'll find 'Cattedrale di San Lorenzo', the most important church in Genoa. It is therefore often bustling with tourists!
So, if you wish to get away from the hustle and bustle, I highly recommend you to take a look at this alley, rich in historical shops, where you can taste another of Genoa's traditional snacks.
Let me introduce you to strips of tripe! Smothered in oil and salt and sold to take away in little cardboard cones.
Highly recommended: Tripperia La Casana. Since 1811, this is where you can come to enjoy any dish based on tripe, prepared just as it was two centuries ago. A perfect choice if you want to eat something typical with little financial effort: sit at the counter and taste Ligurian-style tripe!
Via Balbi
Actually not-so-hidden, this main street will be the first thing you'll see if you decide to travel to Genoa by train. You can't miss it as you emerge from Principe Station. Considered the very core of Genoa's student life, it bustles with bars and libraries. Mainly because it hosts most of the city's universities. But Via Balbi is not just about libraries and universities!
Indeed, here you can find Palazzo Reale or Palazzo Stefano Balbi (named after the Balbi noble family), which is part of UNESCO's World Heritage since 2006.
However, Palazzo Stefano Balbi is not the only one to be awarded this title… So, let's head straight to the next point!
Palazzi dei Rolli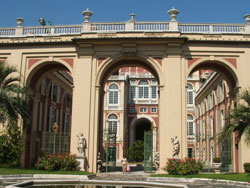 As I mentioned above, Genoa has plenty of UNESCO's World Heritage places: 42 to be exact.
Public palaces and mansions of eminent Genoese families (dating back to XVI century), which, at the time of the Republic of Genoa, aspired to host the persons in transit for visits of state.
Once a year, during Rolli days (a cultural event usually taking place in April), they're open to the public. The city even organises free guided tours.
Follow this link to find a full list of these stunning buildings: Visit Genoa
Piazza San Cosimo
Last but not least, this tiny hidden square deserves way more attention. It is also one of my favourite places ever. When the weather is good the stairs in front of the little Cosma and Donato church are decorated with colourful cushions. This allows people to sit comfortably and enjoy a cocktail from the nearby Taverna Zaccaria.
An intimate atmosphere that only this magical place can provide!
If you enjoyed reading about these (no-longer) "secret" places in my hometown, and want to spend time in Genoa yourself then make sure you take an Italian course at our language school in Genoa!
Ciao! 😊
– Daniela