Genoa – International Boat Show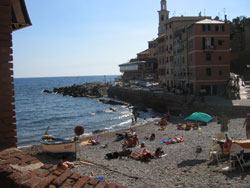 Are you a real boat and yacht enthusiast, or just want to experience something different this October? Then don't waste a second and make sure you go to Genoa for the 53rd International Boat Show 2013. This year it takes place from 2nd to 6th October 2013!
It is one of the world's most important boat shows, dedicated to the pleasure craft market, taking place in the port of Genoa inside the huge exhibition area called Fiera di Genova.
Many famous people go to the show, so if you like these kinds of boats and you would also like to see some Italian and international celebrities, then you have the chance to do it all at once!
Also, the location is great, as the show takes place in the beautiful port of Genoa, only a few minutes walking distance from the amazing promenade with loads of small cafes and bars – right on the beach!
So, spend the weekend at the Salone Nautico di Genova (the Italian name for the show) and then at night just pick an amazing restaurant (Genoa is full of these – and often very reasonably priced) to have a taste of the delicious Genovese cuisine! I guarantee you'll love it!
Tickets to the event will be on sale during opening hours at the tills and will be valid only for the day of issue. The ticket office opening hours will be open from Wednesday 2 to Sunday, October 6th from 10:00am to 6:30pm
For more information about the show and to beat the queues by buying online tickets, please visit the following website: Genoa Boat Show
A two week Italian course in Genoa with Apple Language Courses from 30th September 2013, staying in a host family (single room bed and breakfast) amounts to: £690/€778/$1,115
Eliza