Italian… by the Mediterranean and under Mount Etna.
When I first embarked on my study of the Italian language, I had only a vague sense of the adventure I was beginning. The main images and conceptions that filled my mind of everything Italian were general and brief, and were associated with the bits and pieces of film, art and programs on the History Channel to which I had tuned, not to mention a few historical books which had caught my interest. None of this, however, spurred my interest enough until I met a group of Italians; finally I heard the language spoken in true form, and observed the culture and manner in which these people lived their life. I was enamoured.
After my initial purchase of an Italian textbook and 6 long months of trudging along on my own (but not without the occasional help of my new-found friends), I began to consider the possibility of a study-abroad experience. As an American college student, I needed foreign language credits for my degree and what better way to apply those electives of Art History, World Civilizations, Sensation and Perception, and Intro to Fashion, than to hop the Atlantic Ocean and take a dip right into the real thing?
After a few months of planning and financing I was on a plane headed towards Sicily. Do not ask how I came to choose Taormina, Italy as my final destination. Maybe it was the way the website described this quaint little town, nestled in the far foothills of Etna and only a pebbles-throw from the beach, but I knew I wanted a smaller, more comfortable, relaxed atmosphere from which to absorb as much Italian language and culture as possible. Taormina turned out to be a perfect choice to begin my language immersion program: the friendliness of the people, the simplicity of navigation through the town, the easy access to beach life, hiking and other destinations, and the diversity of cultures within the Taormina itself struck me within the first few days of my stay.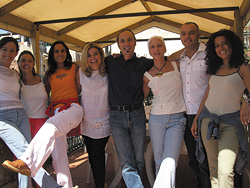 I felt at home amongst the faculty, staff and fellow students at the school, and over the course of my stay this ever diversifying, yet stable community would become by support and foundation, and not just socially but educationally as well. I was lucky enough to arrive in a shoulder season; classes were small and close-knit, enriching the relationship between both fellow students and teachers. The teachers themselves were phenomenal. Set on a rotational schedule that designated a new teacher every week, I was given the opportunity to be taught by many different individuals, allowing me to be exposed to different teaching styles, hear different sets of vocabulary and learn various manners of speech. I was fond of every teacher in a unique way, but all had immense amounts of patience, the ability to explain concepts, and tact for keeping a high positive energy within the classroom.
The staff at the school not only inspired me each day, but kept me stress free and reassured when they did everything necessary to work with my home institution in order for me to obtain credit. I was lucky enough to be given the chance to live within a dream for 3 months… The beautiful thing is that within this dream, I found a firmer and more romantic sense of reality which I has changed my perspective on life and enlightened the way in which I am now experiencing each new day.
Katie Smith (USA)