Milano is shopping HEAVEN!
I LOVE Milan!! Like most girls, I really like shopping – Milano is the capital of fashion and really one of the best places in the WORLD for shopping!! You should really come during the sales, if you can, you will be truly amazed at the bargains you can get!
Actually, any time of the year is good for shopping, in Milan. Right now, the Winter sales are still on, they started after New Year's, on the first days of January. I missed the opening days as I wasn't in Milan, but as soon as I got back I immediately went searching for the best bargains…
I NEEDED a new bag, a pair of jeans, possibly a pair of shoes and a coat. During a lunch break I went to a very good shop near the school called Renna Sport. They sell all the best brands and they were all 50% off. Well, I couldn't find what I was looking for, but I came out with two Armani jumpers and a belt … not bad for the first attempt! The next day I tried La Rinascente to look for the bag and the jeans.
La Rinascente is a very big shopping mall in the pedestrian area of Corso Vittorio Emanuele, which connects Piazza Duomo to Piazza San Babila. It's a seven floors store where you can find everything from design homeware to the luxurious Prada, D&G and Gucci's latest collections. Don't miss the top floor, a stylish foodcourt where to sit for a coffee overlooking the beautiful Duomo Cathedral or buy a fresh mozzarella di bufala delivered daily from the south of Italy.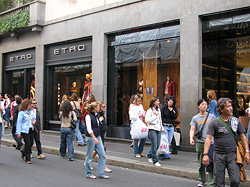 Unfortunately, I didn't find anything in La Rinascente, but I wasn't going to give up! At the weekend my boyfriend and I decided to go to Serravalle outlet –  a MUST for shopaholics. It's a 50 min drive from Milan and there is a regular shuttle bus from Cadorna Station.
Serravalle (this is how the milanesi call it) is an entire village built on purpose to host over 180 stores of the best brands. You can easily spend a whole day there looking for the best bargains. And believe me, it can get very exciting when you can buy Roberto Cavalli, Hugo Boss, Diesel, Versace at up to 70% off the outlet price!
I ended up buying all sorts of things – how can you NOT buy a Guess top when it's reduced from Euro 153 to Euro 30? – but I still haven't found the jeans, or the bag or the coat. I keep looking, sales are on till the end of February! Next: Summer Sales in July! Not to be missed.
Of course, everyone at the school is here to learn Italian. The teachers are great and all the staff really friendly. Everyone quickly makes friends with other students on the course, and whatever we do, in or out of class, we have a lot of fun! It's just the best experience, and for me…, best of all, the school is right in the centre of Milan, just a short walk from some of the best shops! So, after class, whether shopping for a bargain, or just indulging in leisurely 'window shopping', I really couldn't have chosen a better city, or a batter located school!
Amy (UK)