Italian and Neapolitan Pizza course
Although pizza is eaten all over the world, the Neapolitan pizza is a true Italian icon and is recognised by the European Union as a 'Traditionally Speciality Guaranteed' dish.
If you would like to spend 12 weeks living in the home of pizza (and one of Europe's most historic cities), learning not just one but two new skills, our Italian and Pizza making course in Naples would be right up your street!
This fantastic programme includes 8 weeks of Intensive Italian lessons, giving you the opportunity to improve your overall understanding and confidence in using Italian together with 4 weeks practical training in pizza making.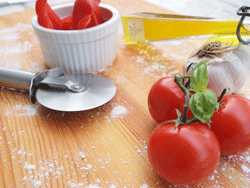 Over the 8-week language course you will receive 160 general group Italian lessons (max 12 students per group) and 40 private lessons, focusing on specific pizza related vocabulary relating to the history and culture of Italian pizza, ingredients, equipment, moulding, seasoning, flavouring and baking techniques.
At the end of the 8-week Italian course, students receive 4 weeks of practical pizza training in a traditional pizza parlour, where you will work for 6 hours each day (Monday to Friday), learning how to perfect truly authentic Italian pizzas.
Accommodation can be arranged for the full duration of the programme with an Italian host family (a great way to meet local people and try more delicious Italian meals) or in a shared apartment, where you can cook for yourself!
Contact us if you have any further questions about any of our Italian language courses!
Phillippa Taylor | Language Travel Advisor