Never neglet Napoli
Italy's third-largest city, Naples, is frequently, criminally overlooked. Many tourists, cruise ships and even Italian natives use Naples as a base to visit other parts of the Campania region of Italy.
Naples is often just the first stop on a journey to the ancient, archaeological masterpiece of Pompeii, the picture-postcard scenes of the Amalfi Coast and beyond. Some people expect to get a feeling of Naples in just a few hours. Experiencing Naples in this way is a mistake. Below I hope to outline exactly why one week, let alone just one day, in Naples is never enough!
My wife and I travelled to Naples at the end of September, combining her birthday celebrations with our one-year wedding anniversary. We went for the food, but found so much more. We always wanted to visit Italy together and found some great cheap flights from East Midlands, our local airport in the UK.
I had plans to take my wife, who hadn't been to Italy before, out of the city to explore more of the Almalfi coast. However, these plans were all put on hold as we quickly realised what little time we had! With just four complete days, Naples consumed us in the best way possible and left us yearning for more.
I will be sharing some of the best things we did and other must-dos to make the most of exploring this enchanting city.
Take a history and/or a food tour in Naples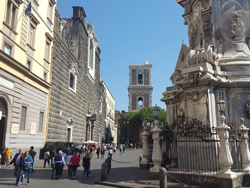 As you may know, Naples is one of the oldest continuously inhabited cities in the world. A historical tour of Naples with the right passionate guide will ensure that you fall in love with this enchanting place.
You may be aware of the slightly dishevelled (for most European standards), graffiti lined streets. You might have heard stories about the mafia's control, issues the city has with rubbish on the streets or the potential pick-pockets.
Even if you are able to appreciate Naples's faded beauty right from the start, you might still be concerned about what to expect.
None of this is worth worrying about!
Naples feels just as safe as any other major European city. In fact, the locals are often so friendly, you'll quickly forget you're a tourist in a big city and should soon feel at home.
Booking your guided tour in Naples
If you are studying Italian for one week or more, or even just visiting for a short time, make sure you take a guided tour of Naples! Our language school arranges tours themselves on most Mondays throughout the year. If you are not planning to learn Italian in Naples with us, then make sure you still book your own guided tour!
We arranged a street food tour for our first full day in Naples as we were keen to find out the best value places to eat. What we didn't realise was just how mesmerising it was to walk around the city with such a knowledgeable guide. Our guide spent 3-4 hours with us explaining the fascinating history whilst giving us an unprecedented insight in to the Neapolitan people and culture that makes this place so unique.
A tour of the city is an invaluable experience and doesn't have to be expensive. Only after understanding the astonishing history of Naples, ideally from a native, can you truly appreciate the unique, faded beauty that this city offers. We were blown away by our guide's historical and cultural knowledge and almost forgot we originally booked our tour just for the food!
Galleries and Museums
Cappella Sansevero
This is a small museum with some truly astonishing sculptures – The Veiled Christ is the marble centrepiece. Making hard marble look like Christ draped in light cloth could not have been an easy task. People say it's so fine you can almost see through the cloth! It is certainly impressive, however, I was more fascinated by the masterpiece 'Il disinganno' (Release from Deception) that shows a fisherman breaking out of a net, helped by an angel.
The detail and complexity of this piece, especially of the rope, was bewildering to see. To know that it was completed in 1754 makes it even more unbelievable.
After viewing what is really just a single room full of incredible statues, you can carry on down in to the basement. Here you'll see two 18th Century, slightly horrifying, anatomical human models. They are so intricate that artists would struggle to replicate them even today. Unfortunately you are not allowed to take any pictures here, but that makes it all the more worthwhile to visit!
Gallerie di Palazzo Zevallos Stigliano
This gallery is partly famous for having an original Caravaggio, unfortunately it was on loan to Milan when we visited. However, the €5 admission fee is still well worth it. An impressive collection of art is housed in a peaceful old palace right in the centre of Via Toledo. There was an exhibit dedicated to New York art when we visited. Warhol was never as interesting to me as a Baroque or Renaissance master, but it was still nice to see.
In the absence of Caravaggio there are some spectacular seventeenth century works of art. Local artists, Italian landscapes, sculptures and portraits can all be seen. There is actually a great range of interesting art from the 1600s to present day spread out over a few floors with a very grand marble staircase connecting the different exhibits.
Museo Archeologico Nazionale di Napoli
We unfortunately didn't have time to visit the national archaeological museum of Naples. However, as one of the world's most important archaeological museums it really should not be missed. We'll certainly spend time visiting it if we are lucky enough to return!
Learn Italian at our beautiful language school in Naples
The benefits of an immersive Italian language course in Naples are not hard to comprehend. Not only is it the best way to learn Italian, you get a thorough appreciation of Italian history and culture. Two weeks or longer on a language course also gives you the chance to really give Naples the time it deserves.
Our Italian language school is located right in the historic centre of the city. There is an incredible view from Mt Vesuvius from a couple of the classrooms and the staff there are incredible. Don't let the graffiti at the entrance put you off. Walk through the almost secret courtyard (one of many in Naples) and find your way up the stairs or lift and in to the relaxed atmosphere and air conditioned classrooms of this 17th century building.
Please feel free to contact me if you have any questions about learning Italian in Naples with Apple Language Courses!
Eat the best pizza in the world
The humble pizza was invented in Naples. Not only that, but it was perfected in Naples. There is so much to say about how good Neapolitan Pizza is, I've written a separate blog post, which you can read here: Naples Pizza.
Even if you don't get to visit my favourite pizzeria, da Michele's, you will struggle to have a bad pizza in Naples. The same goes for pasta, pastries, deep-fried delicacies and more!
If staying for just a short time in Naples make sure you plan where to go to eat!
Discover all the other incredible Neapolitan delicacies…
Incredible ice cream, espresso, buffalo mozzarella, rum soaked Neapolitan Babà, Sfogliatelle and deep fried delicacies. You will not go hungry in Naples!
Sfogliatelle is a particularly popular regional snack consisting of dozens of layers of delicate pastry. Get yours at the Gran Caffe Gambrinus! Gambrinus is a beautiful and important coffee shop that attracts a more sophisticated type of clientele. We went for a midnight snack on our first evening and were made to feel very welcome, despite not being very sophisticated ourselves.
It's so easy to write more about all the delicious foods and snacks to be found in Naples. The best way to find out about them all is to discover them for yourself! Whatever you try, the perfect end to any Neapolitan meal is a thimbleful of Limoncello or cup of Neapolitan coffee. We were quickly sold on Limoncello cream, which, like a zesty baileys, can be drunk at any time of day.
…but make sure you have another pizza
Whilst in Naples for just over four days I had six pizzas, including a cold pocket pizza and half a deep fried pizza with ricotta. I almost wish I could have had more. Give in to the cravings and consume as much perfect pizza as you can!
Don't forget to walk off all that fabulous food
Don't stop exploring Naples by foot. There are a few more ideas on what to see below but make sure you just start walking around the city. Discover the different neighbourhoods, meet the locals and find secret side streets, courtyards and picture perfect vistas.
Ride the funicular from Via Toledo…
A funicular ride to one of the best views in Europe? Too many ancient sights and church domes to count? Mt Vesuvius in all its glory? It's all there right from the heart of Naples!
There is a lot you can do from Via Toledo. Just near the Piazza del Plebiscito is the funicular stop on the Centrale Line. Here you can get a very cheap return ride from Augusteo to Piazza Fuga in the  Vomero district. Escape the hustle and bustle of the old town and go relax in the upscale neighbourhood. Stop off at one of the gelaterias, alfresco cafes or visit one of the fine local Italian restaurants.
We stopped off at 'Renzo e Lucia', managing to get an outside table with one of the best views ever! All whilst drinking a delicious cocktail. It was expensive, at €10 per drink, but free snacks included and definitely worth it for the view. I'm not sure about the food, but go find this restaurant for the view at least, located at the foot of Castel Sant'Elmo: Via Tito Angelini, 31/33, 80121, Napoli.
After that you need to…
…explore Castel Sant'Elmo!
If you think the views from the Vomero neighbourhood are great, wait until you get to Castel Sant'Elmo! A fortified residence here was documented over 800 years ago. Today's impressive structure still goes all the way back to 1537. It has been used as military outpost and even a military prison as recently as the 1950s. Now there is an art gallery instead of a prison and administrative offices for the castle and the city of Naples.
Due to it's age it is well documented in historical, regional landscape art. The shear size and prominence of the place means you can't miss it from wherever you are in Naples, and you really shouldn't.
All the photos I took do no justice to the awesome view from this place. Try to go and see it for yourself, ideally on a sunny, clear day. I believe we paid about €5 for the entrance fee. There is a steady, interesting walk up through the huge fortified walls with the view opening up as you get to the big open space, with an art gallery thrown in at the top.
Things I regret not having time to see
I have already admitted to missing out on the archaeological museum. With only four complete days in Naples, there is so much to see that you may regret missing some things too. This, however, just gives you even more reason to return!
Naples underground
Naples is a layered city with an incredible and overwhelming ancient history. You will notice this from just wandering the modern-day streets. However, Naples is a whole other experience underground! Unfortunately, the Naples Underground tour was closed the morning we had set aside for it, but to miss it is a mistake. Visit Napoli Sotterranea, Piazza San Gaetano, 68 for a trip to a different world. Tours run most days from 10:00 – 18:00, every hour in Italian and every two hours in English.
Pio Monte della Misericordia
This small church can be found just round the corner from the cathedral of Naples. Not a particularly unusual building. Nevertheless, in it is the priceless Seven Works of Mercy by Caravaggio. Painted over 400 years ago by what many people consider to be one of the greatest artists that has ever lived.
Castel dell'Ovo (Egg Castle)
If you thought Sant'Elmo was old, then visit dell'Ovo – one of the oldest known fortifications in the world. Legend has it that the Roman poet Virgil put a magical egg into the foundations to support the fortifications. Naples would be protected from disastrous events provided the egg remained unbroken.
One of the finest castles of Naples, this impressive 15th century building stands on the site of a 6th century BC Greek colony, and later a Roman fortress. We didn't have time to explore Castel dell'Ovo, but it's worth ticking off your to do list at some point!
Use Naples as a base to travel
If you can exhaust all that Naples offers, or you simply need a break from all the astounding historical beauty, then you do have some undisputed world-class tourist options. It's now time to use Naples as a base.
You may want to visit Pompei, The Amalfi Coast, Capri, Salerno, Sorrento and more… but that's a different post altogether.
– Pete