Roma is the city for everyone!!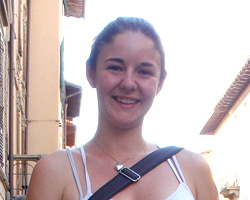 I took a 6 week course in Roma and thoroughly enjoyed every minute of it! Roma is definitely a city that suites all types of people as it has everything and more. It's a big city but almost everywhere you go you can see beautiful old roman buildings! The city is full of so many things to do and the roman people are SO friendly! It's also so easy to get around the city by either bus or metro.
The school is in the centre, and so after school you can head into the centre for sightseeing, or go for a stroll and get an ice cream – I really got addicted to Italian ice cream whilst I was there! The food is also amazing and there is a great typical restaurant just around the corner from the school, where many Italians and students go.
By far one of the best things about the school was the diversity of nationalities. There are people from south Korea, Australia, Mexico, Argentina, Canada, Japan, New Zealand and also from all over Europe. Whilst on my course there, I met so many people from around the world and it was SUCH a great experience. Also in the school there is a cafe where the students normally hang out and where the food is good and well priced.
My Italian host family were fantastic and the food was excellent. I definitely enjoyed my stay with them and I felt like one of the family. There were the two parents and three children which always helped me with my Italian showing me the names of fruit and vegetables, and of course all the different types of pasta! I never imagined there were so many!
I felt so at home with my host family… the food was simply INCREDIBLE and they were so friendly and patient with me – It made all the difference to my time in Rome… I really cried when it was time to leave – and so did they!
I should also say that at the weekends you can easily travel and see other parts of Italy. Roma is a great location from which to explore the rest of Italy, as it's located right in the middle of the country and with great rail links North and South – I spent one weekend visiting a friend from the UK who was doing a year abroad in Milan – We had a fantastic couple of days!
My Roman course was much more than just a language course – Thanks to the family and the school I learnt so much Italian and so much about Italy… I couldn't have asked for more – I will certainly be returning next year!
Cristina (UK)