Luke's Italian course in Rome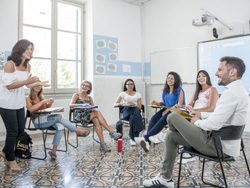 Below is an unedited account of a two-week Italian course in Rome from our lovely student Luke.
We first learned about Luke's infectious enthusiasm for language and travel through an excellent Instagram post he wrote in response to our collaboration with Shut Up and Go.
Founded in 1974, our exceptional language school in Rome has recently celebrated their 45-year anniversary. As Luke has discovered, it's unquestionably one of the best Italian language schools around. Read on to find out more – and, if you're interested in taking a course in Rome yourself, get in touch!
– Hello! My name is Luke and I'm here to encourage anyone who is in the phase of considering whether or not to do a course with Apple Languages.
I just finished a 2 week-long course with the school in Rome, Italy and I can say without a shadow of a doubt that those were the two happiest weeks of my life. I have always loved learning foreign languages and through that passion, I've also developed a love of meeting and interacting with foreigners from any country, and that's what made this experience so very incredible for me.
My course through Apple Languages gave me the opportunity to spend two weeks living with Italians, attending classes with people from all over Europe, South America, Asia, and more, and even though I only spent two weeks there I made friendships that will last me a lifetime.
The Italian school in Rome starts everyone off with a language placement exam, so on the very first day there I took the short test (with a written and an oral part) and was placed in the A2 class. My arrival at the school was a little shocking because I realized that in the office, in the school café, and in the classrooms everyone was speaking to me in Italian, even though I was only at an A2 level, but what shocked me even more was how hard each of those people was willing to work to help me understand.
The teaching experience at the school isn't only in the classrooms, everyone down to the sweet family that runs the café is willing to speak slowly and listen patiently to the students, and it's never a problem if you hold up the line a little bit because everyone is aware that you're learning and is very supportive of the process. There was even one day that I arrived early to the school and was sitting in the café speaking Italian with one of the French students from the class above me, and when the lady came to bring us our cappuccinos she told us she was so proud of us for working on our Italian even in our leisure time.
As for the courses themselves, I could not have been more pleased with the way they were structured. The students in my class came from Brazil, Germany, Belgium, Japan, Sweden, and more, and we spanned in age from 16 to 60 and yet still the classes were always able to be understood by everyone. I had always wondered what a full immersion approach would be like as a student and I realized it's not as hard as it seems.
The teachers spoke very clearly, and frequently used hand gestures or body motions to signify what they were saying, and if you ever had a question you were always encouraged to ask, even better if another student could answer it for you. (In Italian of course!) Most of the class consisted of conversation prompts to get us speaking with each other, listening to videos, and learning the lyrics to popular Italian songs.
I feel as though all in all I not only learned a lot about the Italian language but because of the content of the lessons, I learned a lot about the Italian people as well.
The school also organizes the most amazing activities! In the short time I was there I got to do several walking tours, a day trip to Frascati where we ate in a grotto and sampled some local wine, and a cooking seminar where we learned how to make polenta. These activities are a wonderful way to get to know the city, and also a wonderful way to get to know your classmates.
Some of my closest friends from my time at the school were people from other classes that I met while doing the activities, and I can attest that there is nothing in the world better than realizing that you are walking the streets of a foreign city, with your foreign friends, while speaking a foreign language. It truly helps you to realize the progress you have made.
I think it goes without saying that I'm already in the process of trying to decide when I can manage to go back for another (much longer) course. My two weeks with Apple Languages were everything I could have ever dreamed they would be and so so much more, and I can promise you that if you choose to do a course too, you'll feel the exact same way!
– Luke Williams
Rome Instagram posts from Luke:
Extra photos from Luke: