San Giovanni Valdarno – a slice of Tuscan life
I was unsure what to expect of San Giovanni Valdarno. It had been described as a small medieval town located in the heart of Tuscany, but I've fallen for these descriptions before, only to arrive at a bustling industrial rail station that doesn't quite meet my expectations! However, I'm pleased to confirm that my first impression of San Giovanni did not disappoint.
I travelled from Florence by train and enjoyed a journey of approximately one hour, taking in delightful countryside and stopping at many of the small towns en route. I was advised later that it is also possible to take a more direct train, which should take about 35 minutes, but I felt that my ambling journey had set me up for the relaxed lifestyle I was about to experience.
A smiling face greeted me at the station, as the school arranges for a member of staff to meet students and show them to their respective accommodation. We took a short walk from the station and soon arrived at the town's main square and the centre of the community. After leaving my case in my new home (a comfortable studio apartment located in the same building as the school, just off the square) I took off to explore.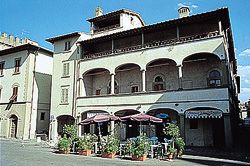 The family-run language school arranges an orientation tour on each official course start date, taking in local sights such as the town hall and the church (the site of a miracle should legend be believed – I'll let you discover more about this for yourself!) both situated on the main piazza, and more practical locations like the shops, laundromat, post office, canteen, and local bars and restaurants. For a small town, the central shopping street provides adequately for the odd spot of retail therapy, with smaller clothing shops neighbouring larger chain stores. Should you manage to exhaust this shopping promenade during your stay, there are also a few retail outlets in the surrounding area, including a discount Prada store.
After a short walk around the town, myself and a companion settled in a local cafe to enjoy an early evening drink. Observing the main piazza, I was charmed by the scene before me. Local men stood in groups, most likely discussing the day's sporting results (some things are the same the world over!), couples strolled hand in hand, and young local students sat gossiping and generally just enjoying each other's company. It seemed like the whole town was out in force, and I was delighted to be part of the relaxed atmosphere.
Living in a small suburban town in the UK, my evenings are generally spent cooking a meal and then watching television before bed, so it was refreshing to see people just enjoying the simple pleasure of spending time outside with friends and neighbours. It certainly made me re-think my usual routine and I'm hoping that I'll be able to recall those evenings and appreciate the company of my family more. I'm sure it will only take a small sip of a nicely chilled white wine to bring things back…!
The next morning I would have been able to lie in and still arrive for lessons in plenty of time, as the 'commute' to the school took all of 30 seconds. I say 'would have' as I was unable to resist a visit to the local pasticceria for a typical Italian breakfast of a pastry and caffeine of some variety! My ever increasing appetite sated, I joined the class and prepared to learn.
The main thing that struck me about the lessons was the amount of laughter. It was great to see people having fun and learning at the same time. Students were split into small groups, and given the task of pairing up unlucky-in-love Italians by matching their personality traits, likes and dislikes etc. The ensuing discussion resulted in us all learning some unusual Italian words and phrases!
I discovered that one of the main benefits of learning Italian in San Giovanni Valdarno is that you really have to use it around the town. In larger cities, staff in local restaurants and shops are well used to dealing with tourists, and therefore often speak and understand many languages. This isn't the case in San Giovanni as it isn't on the tourist trail. The locals might speak a little English, but they are patient and will let you order and converse in Italian, regardless of how long it might take!
San Giovanni Valdarno was a perfect example of a typical Tuscan town and I hope to visit again in the future, if only to give myself a refresher course in enjoying the simple pleasures in life (and maybe a visit to the Prada outlet…!).
Amber