Taormina, Sicily: an unmissable experience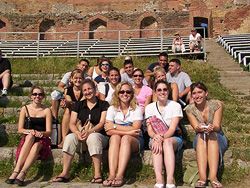 For two weeks, Taormina, located on a terrace with its spectacular views of the beach below and Mount Etna in the rolling hills in the distance was where I called home.
I studied at the Italian language school and lived in a rented apartment located behind the sophisticated and chic main street of Corso Umberto. My accommodation was organised by the school and rented from one of the old typical sicilian nonna's and the three generations of her family that lived in the apartment above.
School life is interesting to say the least – for a 24 year old woman who has finished her university studies a few years ago, going back to school is an experience in itself!
School life consisted of 4 hours of learning, including grammar, conversation and fun activities within an intimate friendly environment catered for individual needs.
However the experience truly begin the moment you walked out of the school when you get to put into practice all the mornings learning on the sicilian italians.
My afternoons and weekends were made up of experiencing typical sicilian life including the siesta times (what I like to call an afternoon nap) in the heat of the day. Afternoons spent working on my tan and cooling off in one of the numerous beaches below that are accessible by the cable car, bus, or if your feeling fit you can walk – but with amazingly rewarding views for your efforts. Also late dinners in the piazza's where the italians sit, mingle and 'people watch' and sampling numerous local wines and many gelati flavours!
Also included in the many delights of Taormina is being a typical tourist. With trips to mount etna and boat trips to the aeolian islands where you can see the volcano on Stromboli errupt at night time with real live lava errupting every 15 minutes.
The famous theatre of Teatro Greco where I went and saw an opera which was a very surreal experience with the beautiful music of the opera singers enveloping you but with the faint hum of cicaders (bugs) in the background and the view of taormina below as the theatre is suspended between sea and sky. These are just to name a few.
So to sum up for an all round learning, cultural and to get down to it, amazingly good time, then visiting, living and learning Italian in Taormina is a definate must to add to your "Things to do before you die list" – which we all know every one has!
Amy King