Ten reasons to go to Siena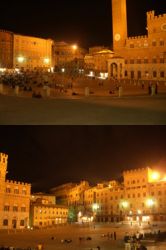 History
Dripping with history, you could be mistaken for thinking you have taken a trip back in time to a medieval city when visiting Siena! Legend has it that Senius, son of Remus, who was in turn the brother of Romulus, founded Siena. With the first settlements in 900 to 400 BC and the cathedral being built in the 1100s you cannot fail to be impressed by the history of this fascinating city.
Piazza del Campo
Shaped like a medieval Roman amphitheatre, the Piazza del Campo is regarded as one of the most beautiful public spaces in Europe. Unmissable in the centre of the city you have to make your way down one of the many steps and alleyways that lead to it. At night you can buy ice cream at one of the 'Gelaterias' before entering the square. Alternatively, for a little more money there are many competing restaurants with front row seats surrounding the square.
Tuscany
Soft rolling hills, cypress trees and beautiful Tuscan sunsets can all be found surrounding Siena. Established as a centre for banking for the Tuscan region the importance of this city for Tuscany is clear. When you have finished gawping at the unique city centre, the Province of Siena is also a delight to explore. The south of the city, on the way to Rome has been described as typical Tuscany, but you also won't be disappointed on a train trip north to Florence. That leads nicely onto my next point…
Florence, Rome and Pisa!
If you want a relaxing base to explore the best that Italy has to offer then where better to stay than a city that lies south of Florence, east of Pisa and north of Rome? Trains are always on time and are a great way to travel the country cheaply and quickly.
Travel
Siena, hidden away in the Tuscan hills and not situated near major roads, is surprisingly easy to get to. The nearest international airport is Florence, but you can also fly to Pisa, Rome or Venice Marco Polo and easily take a train from any major Italian city, often changing on route in Empoli. There is no traffic permitted in the city centre and it is a delight to explore by foot.
Italian Food and Drink!
Not so much an advert for Siena but Italy as a whole. Italian food and drink, especially that in Tuscany is like no other. With plenty of sunshine all year round and close to the Chianti region, grapes, olives and fresh figs can all be found growing in abundance, excellent together with the rich Italian meats, pastas, breads and of course pizza of the region! Many people will find it hard not to find some food and drink that they love. In Siena it is possible to dine in a variety of locations from restaurants with great views over-looking the city to those going underground, lying beneath the city, offering a very different alternative.
Art
To quote my high school art teacher, when painting, "Throw some more burnt sienna into that to make it look more earthy and realistic". The colour of course comes from clay from the region. Much of today's sienna (note the double 'n' often used as an alternative spelling to Siena) production is now carried out in the Italian islands of Sardinia and Sicily, but the name still stands. All the old stone buildings in Siena contain the peaceful sienna and ochre earthy tones that characterise this region. Siena doesn't quite compare to Florence when it comes to great museums housing art but to see a place with such contained, unspoilt Gothic and Romanesque architecture, standing in the middle of the Piazza as the sun sets can be compared to stepping into a great work of art itself. In fact, to quote UNESCO "the whole city of Siena, built around the Piazza del Campo, was devised as a work of art that blends into the surrounding landscape."
UNESCO
Declared a World Heritage Site by UNESCO the historic centre of the city is protected and conserved as a "site of outstanding cultural importance to the common heritage of humankind."
Il Palio
If you want to see a spectacular, pandemonic event like no other then why not visit Siena on 2nd July or 16th August? A frantic horse race around the tight corners of the Piazza del Campo with you in the centre of a heaving mass of excited Italians is a great contrast to the pompous, binocular-viewed horse races to be found in England, the United States and other sedate grass covered horse tracks.
Learn Italian
It would be silly to post an article on a language learning website and not mention that you can learn Italian in Siena!
Pete