7 Reasons to go to Trieste
Venice is undoubtedly one of the most popular Italian cities – in fact, over 30 million people visit it every year! You'd be forgiven for thinking that its canals are the only thing that this area of Italy has to offer. However, less than two hours along the coast is the unspoiled capital of the Friuli Venezia Giulia region, Trieste.
Here are seven reasons to go to Trieste, whether you're a tourist or – better still – a student on one of our incredible Italian language courses!
1. The heart of Europe with an Italian soul
Between the coast of the Adriatic Sea and the foot of the Rosandra Valley is a true Italian gem: Trieste.
Hundreds of years before Venice existed, the ancient Illyrians settled in this picturesque area somewhere around the 10th century BC. Later, the Veneti people gave the city her name, Tergeste, dervied from the Venetic word 'terg', meaning 'market'.
As with Venice, Trieste was once one of the most important port cities in Europe. In fact, between the 13th and 14th centuries, these two cities were enemies – not just over trade but also over foreign affairs. Because of this intense rivalry, Venice invaded Trieste more than once. Later occupations by France in the Napoleonic Wars and influences from nearby Austria, Slovenia, and Croatia have made Trieste a melting pot of different cultures.
Despite this variety and its location in the heart of Europe, the city of Trieste remains authentically Italian. It is peppered with churches and grand piazzas, and the colourful buildings along its winding streets create a magical atmosphere. That being said, Trieste has an international airport and great railway connections to nearby cities and countries, so getting there and back is easy. If you're looking for a raw Italian experience, this is the right place for you!
2. Architecture in Trieste
The oldest architecture in Trieste is the Arch of Riccardo, which was built in 33 BC, making it over 2,000 years old! You can find it in the narrow streets of the Old Town, and it's well worth a visit. Folklore says that it was crossed by King Richard I of England after the Crusades, hence its name.
An iconic symbol of city, the Trieste Cathedral overlooks the port from Capitoline Hill. History tells us there's been a religious building on the site since the 6th century; the current stone building was finished in the 14th century, making it one of the oldest places of worship in the area. The cathedral contains treasures such as the urn of Saint Justus, a legendary cephalophore (a statue of a saint holding their own head!), and impressive art including the huge mosaic depicting Mary, the baby Jesus, and Saints Justus and Servolus. The mosaic is thought to have been laid as early as the 13th century!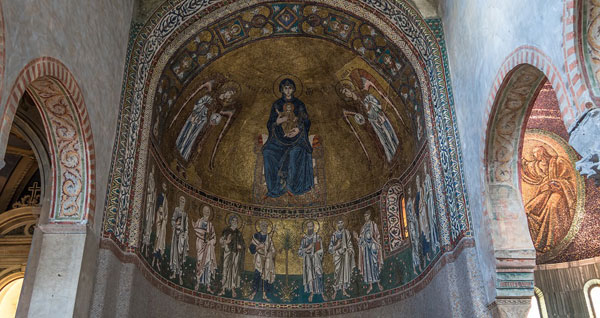 If you are in the town centre, be sure to pass by the amphitheatre! The monument was built around the 1st century AD by Quintus Petronius Modestus, stepfather of the famous Roman emperor, Hadrian. It might not look that big from afar, but this place can hold up to 6,000 spectators! What's more, there are regular concerts and performances here, allowing you to travel back in time and experience a Roman show for yourself.
Not a fan of the overworld? Why not take a trip to the underworld instead? Not far from Trieste is the Grotta Gigante, a giant cave near the Karst Plateau – it's so giant, in fact, that its main hall is over 107 metres high! Loose yourself in the eerie world of stalagmites and stalactites, some of which are also giants, reaching heights of over 80 metres.
This doesn't even scratch the surface of attractions available in Trieste. Churches, castles, the Austrian Quarter, and the Piazza Unità d'Italia all wait to be discovered.
3. Enchanting castles
A course in Trieste also gives you the possibility to visit stunning castles. Right outside the town you'll find the 150-year-old Miramare Castle, a project of Austria's Carl Junker. Built and finished in only four years, this stunning white castle sits on a cliff overlooking the Adriatic Sea and is known for its extensive gardens. Miramare Park boasts an area of 22 hectares, which is full of trees from all over the world.
While many specimens come from nearby countries like France and Spain, you'll also find cypresses that made it all the way from California and Mexico! Though it was never designed as a public park, the Archduke of Austria opened the castle's gates to the public so they could appreciate its beauty. Take a look yourself when you are there – you won't be disappointed!
If you can't get enough of castles, Trieste can double its offer with the Castle of San Giusto. While the Miramare Castle was built in just four years, this one took almost two centuries to finish! The project began in 1470 under the command of Holy Roman Emperor Frederick III and was finally finished around 1630. The design of this castle was dictated by the remains of past castles on the site, which gives it a very different feel from the almost quaint Castello di Miramare. San Giusto's towering walls speak of strength and power, and offer impressive views over the city.
4. Lifestyle of the port city
While other cities in Italy have famous monuments that draw lots of tourists and attention, this is not the case in Trieste. Though this may sound sad, this is actually one of the city's key advantages! The lack of crowds means you can move at your own pace and take in all the city has to offer. You don't need a planned tour guide to check off the sights on your list, and you certainly won't find the high prices that are so unavoidable in popular tourist destinations. Unlike the nearby Venice, in Trieste you can escape the rat race and unravel the city on your own terms.
The people of Trieste – the Triestini – also embrace this more relaxed pace of life. They love to have a long – and usually loud – chat over dinner or a drink, and most of them are sun lovers, so if it's a sunny day then be ready to meet them at the beach, even in November! Their friendly and talkative nature means you'll have lots of great opportunities to practice Italian during your visit.
5. Cafés in an antique town
There is one thing about Trieste you really shouldn't miss. It's not an impressive monument or a grand view – instead, it's something quintessentially Italian that you can experience every day in many different locations: coffee. I'm not talking about a Starbucks on every corner – oh no, not in Trieste. This city has an intense relationship with this drink – to find out why, we need to learn a little history.
Coffee gained Western popularity thanks to European exploration in the Americas and trade with Africa and the Middle East. During this time, Trieste benefited from free-port status that attracted merchants from around the globe. So much coffee came into Europe through Trieste that a burgeoning industry arose. Warehouses were built to store the beans and roasteries were erected to create ground coffee that was sold throughout the Habsburg Empire. The city made so much money from this trade that several of its key attractions – such as the Commodity Exchange on Piazza della Borsa and the Fontana Dei Quattro Continenti (Fountain of the Four Continents) on Piazza dell'Unita d'Italia – were built at this time, specifically to show off Trieste's prosperity and popularity.
The local cafés do share one similarity with Starbucks, however, that you'll need to be aware of. Like in the popular chain, if you want to enjoy a caffeine kick, you'll need to know the lingo. Since the history of the city is so tightly woven with the history of coffee in Europe, and since language always adapts to social and cultural changes, Trieste-specific terminology for coffee was born. If you want to get exactly what you want – or perhaps need – in the morning, you'll have to know the right terms to use. Here you can get to grips with how to order coffee in Trieste. Usually you can also get a piece of cake with your drink, so take a seat and enjoy the cafés of Trieste!
6. Attention Foodies!
You can't leave Trieste without trying some of the food the town has to offer! For example, risi e bisi (rice served with peas), a really simple dish that's almost as old as Trieste itself (it dates back to the Veneti, the ancient tribe that named the city!). Or why not try chifeletti, deep-fried crescents made of eggs, butter, flour, and mashed potatoes? With a good amount of sugar, this popular side-dish makes a great dessert as well!
Fish-lovers should try some sardoni impanati – fried pilchards that are considered a local delicacy. Doesn't sound too special? Let me add that chefs catch them in the Riviera Barcola and serve only the biggest. Together with a fine radicchio and a glass of white wine, you will dine like a true Triestini!
A dish which epitomises the melting pot that is Trieste is jota, a stew that's also popular in Adriatic countries like Croatia and Slovenia. Trieste's proximity to these places, and its importance in the Austro-Hungarian Habsburg Empire, mean that Central European influences are very salient in the culture and cuisine here. The stew consists of meat such as sausage or bacon, beans, potatoes, sauerkraut, and garlic. Think of it as a Tuscan bean soup with a Germanic injection!
One thing is for sure: though pizza and pasta may be Italy's national dishes, these days you can find them anywhere. So, when in Trieste, why not discover something new and try something you've never heard of?!
7. Beautiful kiss between the sun and the sea
Time flies when you're having fun, and you will have a lot of that in Trieste! If you go to the beach or visit Miramare Castle in the afternoon, you will eventually see the majesty of nature as the sun sets over the Adriatic. It's as picturesque as you might dream it would be!
We definitely recommend eating dinner outside in the evening or – better yet – dining by the beach so you can enjoy that fantastic view.
– Dennis, November 2019