Top 10 places in Tokyo!
Hello everyone, Maria here! This article will feature some of my favourite places in Tokyo. I am personally very much in love with Japan and the Japanese culture.
My best friend whom I grew up with is half Japanese. Her mother always made sure her daughters were living the Japanese way of life. I was lucky enough to witness this growing up.
I have also participated in a lot of exchanges with Japan in the past, took a Japanese language course, watched anime's and manga's in Japanese, and visited my friends in Japan over a dozen times so far! You could say that I am quite attached to the country.
My Japanese friends are lucky to live and work in this beautiful, vibrant city.
Here are my top 10 places in Tokyo:
---
(1) 砂場総本家 Soonaba soh honke
Literally translates to Sandbox Family Business Location – a traditional restaurant. Highly recommend and ideal for lunch. It is located near Minowabashi.
—
Sunaba soh honke (砂場総本家)
1-27-6 Minamisenju Arakawa Tokyo
東京都 荒川区 南千住 1-27-6
---
(2) 魚金 Uokin
A restaurant that does incredible Sashimi, if not the best in town! This is the perfect place for a shashimi lunch or dinner.
—
Uokin (魚金)
3-18-3 Shinbashi Minato Tokyo
東京都 港区 新橋 3-18-3 第2富士ビル
---
(3) かんだやぶそば Kandayama busoba
This means 'fumbler from Kandayama'. This restaurant is well-known for its delicious buckwheat noodles. Ideal for lunch, or dinnertime.
—
Kandayama busoba (かんだやぶそば)
2-10 Kanda Awajicho Chiyoda Tokyo
東京都 千代田区 神田淡路町 2-10
---
(4) About Life Coffee Brewers (ALCB)
A cute little corner coffee shop for delicious coffee to-go! This is in the centre of Shibuya aka the train station and financial district of Tokyo. A must-see.
—
About Life Coffee Brewers
1-19-8 Dogenzaka, Shibuya-ku
日本, 東京都渋谷区道玄坂1丁目19−8
www.about-life.coffee/
---
(5) アンヂェラス Angelus
This is another café which I really like. You can sit down here and taste local pastry specialties such as their'Pudding a la mode' (プリンアラモード) or their 'Boat Cake' (バナナボート), my favourite!
—
アンヂェラス Angelus
1-17-6 Asakusa Taito Tokyo
東京都 台東区 浅草 1-17-6
www.asakusa-angelus.com/
---
(6) 厨菓子くろぎ Kuriyakashi Kurogi
Because you can never have enough coffee shops! Another favourite of mine which specialises in matcha green tea and 'wagashi' (Japanese sweets). Highly recommend.
—
Kuriyakashi Kurogi (廚菓子くろぎ)
7-3-1 Hongo Bunkyo Tokyo
東京都 文京区 本郷 7-3-1 東京大学 本郷キャンパス 春日門 Daiwaユビキタス学術研究館 1F
www.wagashi-kurogi.co.jp/
---
(7) 築地市場 Tsujuki fish market
The Tsujuki fish market is located in Chuo, one of the 23 districts of Tokyo. Chuo means 'centre' though ironically enough, this disctrict is fairly small and not very central. Do not let this fact prevent you from visiting the market though, which is truly an interesting place to see. You will definitely experience a little culture shock, but that's what often comes with travelling abroad!
—
Tsukiji Fish Market is just above Tsukiji Shijo Station on the Oedo Subway Line. Alternatively, it can be reached in a five-minute walk from Tsukiji Station on the Hibiya Subway Line.
---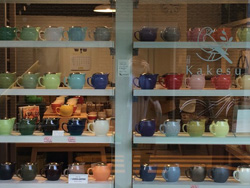 (8) カケス雑貨店 (homeware shop)
I like this little shop that sells Japan-made home and décor items, local products and lots of gift ideas. You will certainly find something to commemorate your trip here!
—
カケス雑貨店
3-24-2, Nishi-asakusa, Taito-ku, Tokyo, 111-0035
〒111-0035
東京都台東区西浅草3-24-2
---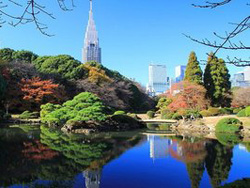 (9) 新宿御苑 Shinjuku Gyoen National Garden
This is a truly beautiful park. Go here to experience an escape from the hustle and bustle of Tokyo. Rejuvenate with a leisurely stroll through pure, natural scenery. There is a lot of history to this place. Another must-see!
—
Shinjuku Gyoen National Garden on Google Maps
---
(10) 代々木公園 Yoyogi Park
Neighbouring park of the above mentioned one. It is best for picnics with family and friends. A really nice place to hang-out!
—
Yoyogi Park on Google Maps
---
PLUS: Two extra tips: Make sure you visit the neighbourhoods of Harayuku and Asakusa! Let yourself be surprised by these 😉
Don't forget, the best way to immerse yourself in the world's largest metropolitan area is on a Japanese course in Tokyo with Apple Language Courses!
That is it for this blog post. I hope you enjoyed reading about some of my favourite places in Tokyo and have been inspired to visit it for yourself.
I will surely be visiting it again soon!
– Maria