Discover Latvia's beautiful capital, Riga!
What makes Riga the best place for your next Russian language course? Read on to find out!
Often overlooked as a study destination, Riga, the capital of Latvia is actually an ideal place to learn Russian. Immerse yourself in Latvia's natural beauty whilst discovering the impressive cultural heritage of its capital. Delicious food and drink also awaits your visit!
What can you expect on a trip to Riga? What are the best parts of this city and why do we like it so much?
Enjoy pure nature
Latvia is the ideal country for all nature lovers. About 54% of the country's area is covered with forest but there is even more to it than that. As one of the greenest countries in Europe, Latvia is home to a breathtaking variety of wild animals. From lynxes and wolves to deer, foxes, wild boars and elks.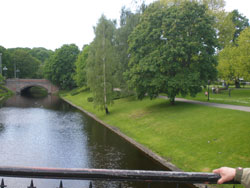 With 12,000 rivers and 3,000 small lakes Latvia is ideal for those who love daydreaming beside scenic water. Enjoy this calming and peaceful atmosphere throughout Riga and the rest of the country! Latvia also has a wonderful waterfall called Ventas Rumba. Although it is only about 2 metres high, during floods in spring it has an impressive width of 270 metres. This makes it the widest waterfall in Europe!
Of course, such a marvellous natural heritage must be protected. It's therefore not surprising that you will find the following: 4 national parks, 42 nature parks, 260 nature reserves and 355 nature monuments in this beautiful country.
Fall in love with Riga's history and art
Latvia's capital is sometimes described as the Paris of the North. The fact that almost a third of the country's population live in Riga indicates that this city is incredibly wonderful. As a connection point of the East and West, Riga has a fascinating history. It was founded as a port town and was an important Hanseatic city from the 13th to the 15th century.
The historic centre of Riga was declared a World Heritage Site by the UNESCO and for a very good reason! The architectural value of this area is incredible. Apart from the impressive medieval core and fascinating wooden architecture of the 19th century the city, Riga will captivate you with the highest concentration of beautiful Art Nouveau buildings in the world!
To learn even more about Riga and Latvia visit one of the following museums:
Latvian National Museum of Art – permanent exhibitions of Latvian art from the 19th century to 2000 as well as many interesting temporary exhibitions. You can also go to the museum restaurant and enjoy a meal made with seasonal local ingredients.
National History Museum of Latvia – find out more about Latvia's captivating history!
Continue discovering incredible culture
Latvia also enjoys a good reputation for its music festivals. The most spectacular one is probably the Latvian Song and Dance Festival which takes place every five years. The Latvians have a rich tradition of choral music and folk dance. So much so that they like to call themselves a nation of singers. This can be observed during this festival, with lots of stunning choirs and folk dance groups to see. And what's the best thing about this? The next Latvian Song and Dance Festival will be held from the 30th of June to the the 8th of July 2018!
Browsing markets in foreign countries is always a great source of enjoyment as they usually offer many unique and interesting products which are different from those in your home country. Also in Riga you will have the chance to enjoy this fantastic activity. The central market in Riga is one of the biggest in Europe and consists of several pavilions. Treat yourself with some fresh and delicious products, from meat and fish to fruit and vegetables.
If you prefer to relax at the beach you will be delighted to hear that Riga has two! Both beaches are idyllically white and sandy. Although the average annual temperature is quite low you can expect about 20 degrees in the summer. So you will surely be able to spend some enjoyable hours at either the Vakarbulli or Vecaki Beach.
Try delicious food
The Latvian cuisine has some unique characteristics which might seem strange to you at first. However, don't let this deter you and try all specialities of the local gastronomy instead.
R
ye bread plays a particularly important role in the Latvian cuisine and there are countless variations of it. Latvians love rye bread so much that they even put it in the very special dessert Maizes zupa (bread soup). To make this dessert you mix rye bread with sugar, dry fruits and whipped cream. Another speciality made with rye bread is Kvass, a drink which can contain up to 1.2% of alcohol. However, this is not considered an 'alcoholic' drink by the locals.
A very authentic Latvian main dish is Kartupeļi ar siļķi un biezpienu. It combines herring, cottage cheese and potatoes, considered the most popular foods in this country.
Another delight are kartupeļu pankūkas (potato pancakes). There are savoury options with sour cream and meat sauce. You can also find sweet variations with sour cream and berry jam.
Sample some traditional Latvian beer
Whilst visiting Latvia you will also have plenty of opportunity to try lots of beer. The country has a very old brewing tradition and offers some very good beer brands.
To show how much the locals love beer Riga has also two quirky beer places on offer:
The Aldaris beer museum – gives you an insight in the Latvian brewing tradition and displays historic exhibits which are related to beer
The beer spa – a spa where you can have beer baths and beer massages
Learn Russian in the European Union
You might wonder why we think that Riga is a wonderful location to learn Russian as Latvia's official language is actually Latvian. However, Russian is the mother tongue of more than a third of Latvia's population. Highly qualified native Russian speaking teachers will look after you at our language school. You might even find yourself having some very interesting Russian conversations with the locals!
Latvia lies right next to Russia, on the border of the European Union. Studying Russian in Riga is therefore a lot more straight forward for the majority of European citizens. The main reason being that you do not need a Russian visa!
Latvia is a truly unique and enchanting country and Riga is an absolute must-see.
We hope this blog post could give you a little insight into the Latvian culture and will inspire you to learn Russian on a language course at our Russian school in Riga.
– Sabrina