7 reasons to learn English in Malta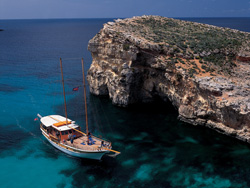 When people consider learning English they often forget that they can do so on the beautiful island of Malta! Aside from Maltese, English is one of the two official languages of Malta. Giving you the perfect opportunity to improve your language skills whilst visiting this incredible island.
When it comes to learning English abroad, Malta is sometimes overlooked. In this post we would like to present seven reasons why it is absolutely worth taking a language course in Malta.
1. An incredible value English-speaking destination
Compared to other popular English-speaking destinations Malta is quite a cheap place to live and learn a language. This means that you can enjoy your stay in Malta to the full without going bankrupt!
Here are some approximate prices for food and transportation:
Bus ticket (single): € 2,00 in the summer; € 1,50 in winter
Ferry from Malta to Gozo: € 4,65 for pedestrians
Ferry from Sliema to Valletta: € 1,50 (single); € 2,80 (return)
Pastizzi (delicious Maltese snack): € 1-2
Main meals: € 10-14
Regular cup of coffee: € 1,50 – 2,50
2. A varied and long history and cultural heritage
When you visit Malta you will soon discover that this country is soaked in history and culture. It is therefore not surprising that Malta is home to three incredible UNESCO World Heritage Sites: The City of Valletta, the Megalithic Temples and the Ħal Saflieni Hypogeum.
The Megalithic Temples consist of seven temples which are located on the main island of Malta and its sister island Gozo. Dating back to the 4th millennium BC they give an insight into the long history of the country. And best of all, they are open to the public! Visit Malta's Megalithic temples to see stunning prehistoric monuments and immerse yourself in the island's fascinating history.
The Ħal Saflieni Hypogeum is an underground burial site, which was only discovered in 1902 but dates back to 4000 BC. Visiting this prehistoric construction might be a bit scary but definitely impressive and exciting.
Malta also has some interesting museums to offer:
National Museum of Archaeology – exhibits artefacts dating back to the period of 5000 BC to 400 BC, including components of the Megalithic Temples and the Ħal Saflieni Hypogeum.

Malta Maritime Museum – all about Malta's maritime history as an island in the Mediterranean. It also gives you an insight into global seafaring and exhibits fascinating old maritime equipment.
National Museum of Natural History – exhibitions on the local biota, including displays of Maltese insects, fossils, birds, fish and much more!

If you are an art enthusiast you will be delighted to hear that in Malta you will have the chance to see the only signed original of Caravaggio! Go to the Oratory of St. John's Co-Cathedral in Valletta and marvel at his work "Beheading of St. John the Baptist".
If you don't want to pay any admission fees but still wish to experience the Maltese culture you can participate in a traditional village festa. These celebrations mainly take place between May and September and consist of music, fireworks and food & drink. Every village dedicates its festa to its patron saint and people decorate the streets with statues and banners to honour the patron saint.
Malta can also indulge you with some mouth-watering traditional delicacies:
Pastizzi – savoury pastries stuffed with ricotta or mushy peas
Imqaret – deep fried pastries filled with dates
Qubbajt –Maltese nougat
Lampuki pies – fish pies made with the popular lampuki fish
Bigilla – a pâté made of garlic and mashed beans. It is usually eaten as a spread.
3. A relatively small island that is easy to get around
Malta only covers about 316 km², making it one of the smallest countries. It takes less than an hour to get from the east to the west or from the north to the south. This means that even during a short stay you will have the chance to explore all parts of Malta.
This also makes the capital Valletta easy accessible, regardless of where in Malta you are staying. You can get to Valletta by bus and there is also a ferry service from Sliema to Valletta which even allows you to take a short but wonderful ferry trip on the Mediterranean.
Amongst the locals Valletta is also known as Il-Belt which means "the city" in Maltese. However,
Valletta is much more than just an ordinary city, and because of its impressive fortifications the city
was one of the best protected cities in world history! As the construction of Valletta began in
1566, it is also a beautiful example of Baroque architecture and therefore an absolute must see.
If you are a fan of theatre performances, you will be happy to hear that Valletta is also home to
one of the oldest theatres in Europe – the Manoel Theatre. If you are still not fully convinced about
visiting the country with the smallest capital in the EU, we should remind you of the fact that the
whole city of Valletta is a UNESCO World Heritage Site. This is thanks to its very long history, and
with 320 monuments in an area of 55 hectares, Valletta is one of the most concentrated historic
places in the world!
4. Sun-spoiled almost all year-round
In Malta you can enjoy at least 300 days of sunshine throughout the year, making it the perfect destination for those who love sunbathing. Malta's weather is influenced by the Mediterranean climate, meaning that you can benefit from hot summers and mild winters. The pleasant average annual temperature in Malta is 18°C. In winter, you can expect averages of around 12°C, and 30°C in the summer, allowing you to enjoy your time to the full, with swimming, sailing, sunbathing, walking and much more.
5. One of the safest countries in the world
You can find Malta on the list of the safest countries in the world. This allows you to concentrate fully on sightseeing, relaxation and language learning! Have a carefree holiday and feel likeyou are at home in this beautiful and sunny country.
6. An island which is easy to reach
You can get to Malta very easily. All major airlines offer reasonably priced flights to Malta and you can start your journey from most countries. So do not waste any time and jump on the next plane to incredible Malta!
7. The location of our school in St. Julian's
Last but not least our English language school is situated in St. Julian's, an idyllic former fishing village. Located on the east coast of Malta this picturesque town offers you direct access to the sea and wonderful beaches, including the marvellous St. George's Bay. You will also find numerous shops, cafés, restaurants, bars and nightclubs very close to our school in the Paceville district.
The town is named after its patron saint who also is the patron saint of hunters. Of course, the locals also celebrate a festa which is dedicated to St. Julian. The festa of St. Julian is celebrated in the summer on the last Sunday of August. Should you have the chance to be there at the end of August you must not miss it!
Our school in St. Julian's has modern facilities which support your learning process. The bright and airy class rooms provide an ideal and friendly learning environment that allows you to improve your English very quickly.
We hope these seven reasons will inspire you to discover this small but unique and fascinating country and show you the benefits of taking a language course with us at our English school in Malta!