Experiencing Mexico- in Guadalajara!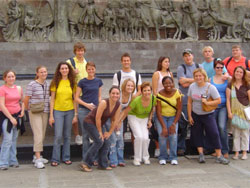 As much as there is to see in Mexico- one place you definitely should not miss is Guadalajara! The second largest metropolis of the country and capital of the province Jalisco offers an incredible diversity of experiences of all kinds and therefore is the perfect place to become fully immersed into Mexican culture and the Spanish language!
When I first came to Guadalajara, initially I was overwhelmed by the masses of people, the traffic, the impressive buildings and the colourful and diverse Mexican culture. The city, which is located at a height of more than 5000 feet, impresses with its colonial architecture, a multitude of giant cathedrals and palaces, beautiful plazas with romantic pavilions and 22 different museums!
As soon as you have seen everything in the historic centre, it is worth visiting one of the numerous shopping centres, one of which hosts nothing but shoe stores! Away from the modernity and decadence of these shopping paradises you can also find the country's biggest indoor market in the town centre, the "Mercado Libertad", provided you are a little patient and ready to get lost in the giant halls, this is a nice place to not only try local specialities, but also to find some unique souvenirs.
What deeply impressed me during my stay in Guadalajara was the Mexican cuisine…
Though many typical dishes can be quite adventurous when trying them for the first time (I am glad I only found out what "menudo" actually consists of after having eaten it!), most of them are absolutely delicious! What you can find on every corner in Guadalajara are the "taquerias"- stalls or small shops that often only consist of a barbecue and a sunshade and sell very cheap tacos at every hour of the day. These kinds of food places are often the perfect place to get in touch with the locals whilst grabbing some fresh fast food!
Another cultural experience you should not miss is visiting the area of Tlaquepaque (pronounced Tla-keh-pah-keh), which is within easy reach from the city centre. Here you can find the centre of local craftworks and it is also known for its mariachi bands! Taking a stroll through the beautiful streets and numerous shops can be a welcome change to the hectic pace of Guadalajara's city centre- not only for those interested in arts!
No matter if you want to explore Mexico's history, get to know the warm and friendly Mexican culture, or just experience one of the most interesting and lively places of the country- I would advise everybody to make the wonderful experience of studying Spanish in Guadalajara!
Rebecka