Rabat – sights, sounds, and souks
Rabat is a truly unique travel destination! Often overlooked due to the attention other Moroccan cities receive, Rabat offers an exceptional and authentic Arabic experience. While having the amenities of any big city, Rabat offers you more of the Moroccan lifestyle and a more native feeling altogether than you would normally expect from a capital city.
Read on to find out why Rabat might just be just the perfect destination for your Arabic language course!
Arabic Immersion
Rabat offers something that many cities in Morocco cannot. You will find fewer tourists here thanks to Casablanca, Marrakesh, and Fes. These tourism magnets leave Rabat with a raw and authentic Arabic atmosphere. What's more, as one of the oldest cities in this part of the world, Rabat is one of the best places for an immersive language experience. Our school puts a lot of effort into maximising your time in the city with high-quality tuition and interesting cultural activities.
Cooking workshops
One such activity is the cooking workshop, which not only gives you the opportunity to taste delicious Arabic dishes but also to learn about Arabic culture and history. One thing you'll notice is just how much Arabic food has had an influence on global cuisine, especially in countries like Spain and France.
Besides the fact that you'll be able to bring new and tasty recipes home, you'll also expand your vocabulary as you learn words for ingredients, utensils, and cooking methods. Don't worry if you think you can't cook – our teachers will show you what to do. You'll be making tasty meals in no time!

Marché Central Rabat
If the cooking workshop gets you fired up to prepare more traditional dishes, then you should check out the Marché Central Rabat. In this market you will find everything you need to cook an Arabic meal: fresh vegetables, fruits, meat, and fish are all available here. What's more, the market has a vibrant and authentic atmosphere, since it's full of locals going about their business. If you want to try out your Arabic skills with local merchants and see what kind of exotic food Morocco has to offer, this is the place to go.
Arabic calligraphy 
Another way to get to grips with Arabic culture and history is to attend our school's calligraphy workshops. This won't just improve your general writing skills – it's also a pleasure to learn this art and create something beautiful.
You'll cover not just calligraphy styles and their formations, but also its cultural significance and how it has changed over the past centuries. Calligraphy is closely related to religious expression and has a long artistic heritage. Take a chance and discover this side of Arabic in an authentic environment!
Souks
Souks are an important part of everyday life, not only in Morocco but also in Northern Africa, Western Asia, and parts of the Horn of Africa. They are marketplaces that form a key part of the local community, just like the Marché Central Rabat. The souks offer the perfect opportunity to take a deep dive into local culture; they're also great places to buy clothes, souvenirs, or accessories. Due to the size of most souks, you're almost certain to find something that appeals to you.
Souk Lakbir
Souk Lakbir – which literally translates to 'Big Market' – is the best place for textiles. Whether you're searching for clothes, fabrics, or even sofas and curtains, you'll find them here. Some booths sell traditional Moroccan dresses – a great souvenir of your time in Rabat! There's a lot to see at this big market; be sure to make time to stroll around and see what you find.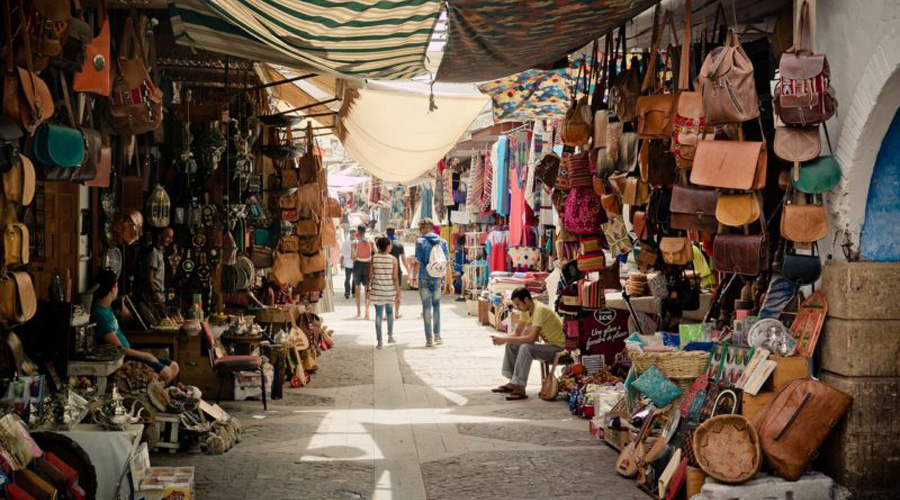 Kissaria
Not to be confused with the Marrakesh mall of the same name, this souk is all about accessories and jewellery. The best thing about Kissaria is that you won't find just any old jewellery in here; the sellers offer handcrafted pieces, so every one is unique.
This souk is also huge and covers lots of streets – you'll find something interesting around every corner! What's more, the range of products is very diverse, from inexpensive delight to luxury goods, so you're sure to find something to take home that suits your budget.
Souk El-Attarine
One iconic Moroccan institution is the spice market. Spices are used in all traditional Moroccan dishes, so they're absolutely vital if you want to cook for yourself. Besides spices, you will also find perfumes and a variety of homemade remedies at Souk El-Attarine. Prepare yourself for the mix of scents that fill the air here, which gives the place a distinct and unique charm. This is the ideal market to visit if you want to find authentic flavours and try new foods.
Sights
Rabat is home to some really stunning sights, which are perfect for any history buff or culture vulture. Lose yourself amongst the city's striking buildings and enjoy the energy that surrounds these ancient places.
Kasbah of the Udayas
The Kasbah of the Udayas is not just ancient – it also deserves its title of a World Heritage Site.
A kasbah is a walled citadel common in northern African and Western Asian countries. Construction began on the Udayas kasbah around 1150, but the huge complex wasn't completed until the 18th century.
View this post on Instagram
To get an idea of how advanced and creative the Almohad were, you only have to look at the kasbah's gate, which is widely considered to be one of the most beautiful works in Moroccan architecture. Called the 'Great Gate' (Bab al-Kbir), it has no real military purpose since it was built within the walled city. Instead, the gate has more of a ceremonial meaning, which the design makes absolutely clear. Above the gate's horseshoe arch you'll see intricate geometrical carvings which are stunning even by today's standards, let alone for 12th-century architecture!
Inside the Kasbah
The oldest building in the complex is the mosque, which dates back to 1150 (making it the oldest mosque in the city, too!). Like other medieval mosques, the direction of prayer (qibla) faces south rather than towards Mecca, as per historic hadith traditions. The mosque's minaret is adorned with more intricate Arabic designs, and its walls feature traditional Moroccan tiles and carved stucco detailing. The Old Mosque, as it is called locally, is not just evidence of the strong faith its builders had, but also of the quality of Almohad craftsmanship. Though the interior is only accessible to Muslims, its exterior is striking enough that it's definitely worth even a passing visit!
Also in the Ubayad complex is a museum which was once a palace. Built in the 17th century by Sultan Moulay Ismail, the museum now houses a collection of jewellery, musical instruments, ceramics, carpets, silks, and more. All the exhibits are from different parts of the country, so a visit here will give you a deeper understanding of Moroccan culture and history in general. Near the museum you will find an Andalusian garden filled with different plants and trees, which is perfect for a rest during your cultural tour of the city. Since the Moorish gardens of Andalusia were themselves inspired by Almohad architecture and designs, this garden is an interesting take on the Morisco side of Arabic culture.
View this post on Instagram
Hassan Tower
One of the most iconic constructions in Rabat is the Hassan Tower, which stands on the high south bank. As part of an ambitious project to build the world's largest mosque, the sandstone Tower was commissioned by Caliph Abu Yusuf Yaqub al-Mansur in 1195. This show-stopping construction was unfortunately never completed, because Yaqub al-Mansur died only four years into the project. The remains of his dream, however – the tower itself and a section of sandstone walling – are still breath-taking. At 44 metres tall, Hassan Tower is a sight to behold, even though it's only half its intended height.
Between the unfinished mosque walls are several lines of white stone pillars, which give the place a slightly eerie aura. Because of its architectural design and age, the Tower was granted UNESCO World Heritage status in 2012. It remains one of the city's most important historical complexes; a truly striking place, it's a must-see for any visitor to Rabat.
Coincidentally, Hassan Tower is the sister tower of the Giralda of Seville, which is close to our city centre language school!
Connection
Another great thing about Rabat is its position within Morocco. If you want to see other locations while you are here, you can easily travel to cities like Casablanca or Fes. You could even take a weekend trip to Marrakesh. In fact, our school often includes these kinds of excursions in its activity programme! Such excursions offer an insight into other key Moroccan cities and give you a well-rounded Arabic experience.
The good connection between Rabat and other cities means that getting to the capital is relatively easy. There are several international airports within easy travel of Rabat, and flights from many worldwide airports are easy to find.
What now?
If this post has made you curious about the wonderful capital of Morocco, check out our website to get more information about attending an Arabic course in Rabat. Alternatively, contact us today and see how we can help you arrange an exciting language experience!