Saludos desde Lima!
I'm learning Spanish in Lima. Apparently, the school I'm at is quite new, but it doesn't seem like it at all. All the teachers and staff are very professional, so so SO nice, and everything is really well organized!
There is so much culture in Peru, with the food, music and people. I've learnt a lot of Spanish in just 4 weeks, and feel much more confident with my Spanish now. The class sizes are very small, so we all get a lot of personal attention. We do learn grammar, but the whole focus is on using it, putting it into practice, getting used to speaking in Spanish and understanding Spanish when we're spoken to.
I've studied with the same organization, in Buenos Aires, Bariloche, Santiago, and even though I loved the other locations, Lima and the school in Lima are definitely my favorite!
One of my favorite things about Peru is there are SO many activities to do! I love adventure, (I recommend visiting the gold museum, Huaca Pucllana and Huaca Huallamarca Inca ruins, and in downtown the Iglesia y Convento de San Francisco, the Parque de la Muralla, the Iglesia y Convento de la Merced, Museos de la Inquisición y de Congreso, de Arte de Lima, Mirador Cerro San Cristóbal (con bus desde Plaza Mayor) etc….. and thanks to the school I was able to go handgliding, surfing (everyday) and sandboarding. ..and if you want to, it's just so easy here to hop on a bus and get to another town with even more to see and explore, if you want!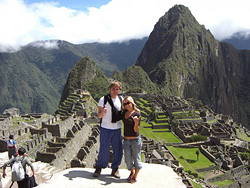 The nightlife in Lima is really good, the food amazing and shopping is excellent. For drinks Pisco Sour is best here, and most importantly the people are so nice and friendly – I really have felt safe the whole time I've been here!
I've stayed with a Peruvian family. The house is very cozy, my room quite small compared with my bedroom in Sweden, but it has all that I need. My Peruvian mom has been so helpful and welcoming, cooking great food for me every day, and every dinner time has been the perfect time to practice Spanish! I've always got so much to ask her and she's happy to answer my questions.
The school also offers shared apartments if you want to cook for yourself, sharing an apartment with other students from the school, but personally I would recommend staying with a family because the Peruvian food has been a wonderful experience and living with a family is simply the best way to make friends and get to experience and understand the local culture.
Carmen and Chris I give my Saludos and doy gracias!!
xoxox
Miss you both!!
Thanks for everything!!
Tawny Frans (Sweden)