Total immersion in Cusco!
If, like me, you're the kind of person who wants to be fully immersed in the language as well as in the local culture, then Cusco is definitely right for you! Cusco is simply full of Spanish colonial heritage, as well as Inca history, and is located not far from the world famous 'lost city' of  Machu Picchu!  It all makes Cusco, in my opinion, the perfect place to learn Spanish and discover Latin America!
There's just so much to do in Cusco!  After classes there are all kinds of activities organized by the school – kayaking trips or riding in a hot air balloon, guided tours of Cusco and much more!  And of course a trip to Peru wouldn't be complete without a visit to Machu Picchu!  Walking the Inca Trail alongside breathtaking mountain views and cloud forests is simply amazing, …and the view you get as you approach this incredible 'lost city' is unforgettable!
Another great thing about Cusco is that there are festivals held here each month, which are a great way to get to really experience Peruvian culture.  The festival of Inti Raymi (the Inca festival of the Sun) takes place at the end of June and is an event where everyone can join in, locals and tourists alike.  The streets are filled with people dressed in traditional Peruvian clothing- earthy colours — yellows, greens, reds, and purples, and there are live concerts, demonstrations put on by hundreds of actors, and typical dishes to try!  The festival lasts a whole week so it's really something special!
The nice thing about studying in Cusco is that you're constantly immersed in Spanish ….whether practicing with friends from the school at a nearby restaurant, or mixing with the locals, exploring the city, or of course practicing with your Peruvian host family.  I found it great fun to test my conversation skills with the locals, and there are lots of great bars and restaurants, as well as Inca museums and churches to visit near the school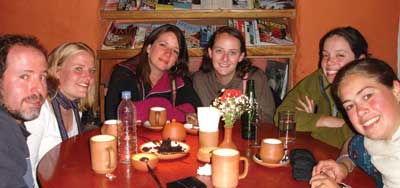 The local people are very friendly, which is maybe the best thing about Cusco….it means you're not nervous about practicing your Spanish and exploring the city….I couldn't believe how quickly my Spanish improved whilst I was there!
The whole experience really has made me want to explore more of Latin America…I can't wait to go back!
Zoey (UK)