Krakow's Sea Shanty Festival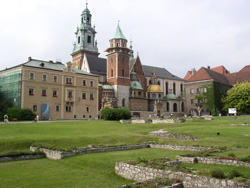 Kraków, situated in the south of Poland, is the country's second largest city. It has an exceptionally well preserved medieval centre with a beautiful, large market square. Kraków was also the European city of culture, an accolade it received at the turn of the millennium. It is home to 28 museums and various other art galleries and collections.
The full official name is 'Stołeczne Królewskie Miasto Kraków'. The appropriate translation for this is "Royal Capital City of Kraków".
Kraków has been hosting a sea shanty festival for over 35 years, despite it being a land-locked city. It is such a fun and successful festival that many more Polish cities host their own festivals each year. This includes four days of events, exhibitions, workshops and most importantly, concerts!
What are sea shanties?
Sea shanties are the work songs sung on board great merchant sailing ships in the mid-19th century. These large sailing vessels were used for commercial purposes, often sailing around the world. Each ship required hard working men to keep them going. Work at sea was never easy and the seamen needed help to stay motivated under often very grueling conditions. Shanties were created to help set and maintain an efficient rhythm for the work on these vessels.
The shanty songs were split into different types of chants to suit the wide variety of jobs aboard the ships. Each team of shanty-men had a song which matched the speed and rhythm of each job on the ship. Naturally, even these regular shanties (set chants) had to be adapted to the weather conditions. The songs were there to provide energy to perform, no matter what the conditions.
Helping sailors do their job
Although shanties and sea songs seem to be linked in some way, they are distinctly different. The shanty was strictly created for work tasks. It does not have any particular story-based logic. Sea-Songs are different as they tell stories about sailors and ships, piracy and storms. Sea-songs are more story-based and chronological, with an explicit beginning and ending.
Sailors often carried tales from their homelands to the decks of ships, creating cult stories that have been read, memorised and performed for generations across the globe. Nowadays, shanties are still being sung, but only as part of folk heritage – remembering the tough times and the hard-working men.
The shanties festival
The Shanties Festival in Krakow, Poland is incredibly important in terms of preserving Shanties as historic references of maritime history. They commemorate the creativity, tenacity and dedication of the shantymen. Men who helped drive ships of the world efficiently and methodically for hundreds of years.
Both Shanties and Sea Songs reflect the tough side of a sailor's life. They contain references to drunkenness, home sickness, the fishing industry and many more aspects of maritime traditions and history.
The celebration of this folk culture connects generations with a very appreciative view of our ancestors. Kraków, with it's incredible folk history and culture, is the ideal place to honour these hard working Polish ancestors.
The objective of the Shanties Festival is to cultivate and preserve the tradition of sea music. It brings generations together, as they gather to talk, sing and tell stories of the sea. It is a festival of joy, not only to locals, but also to the many visitors and tourists who will get to hear great shanty singers, bands and other maritime performers.
When does it take place?
Go and see the festival for yourself! You will find a truly first-class cultural and musical experience. Why not take part in the Shanties Festival in Krakow during your next Polish language course? Discover how this folk tradition is kept alive and delve right in to the heart of Polish culture.
Shanties Festival Krakow
Dates: 22nd February – 25th February
Admission: From 20 – 80 zloty (€5 – €20), depending on the concert