Porto comes out on top!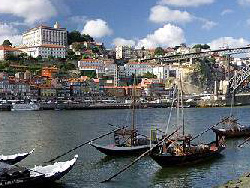 We keenly follow anything related to European travel and were very pleased to see one of Europe's oldest centres,
Porto, top the results of the online vote for the 'Best Destination of 2014'. If you are unfamiliar with this award, and all the locations that were shortlisted, you may wish to visit the link below!
For anyone who has sampled the world famous port, photographed the iconic Dom Luís Bridge (which majestically straddles the Douro) or wandered through the historic centre (a UNESCO World Heritage Site), Porto coming out on top of this list may not be a huge surprise! It is also a very active and lively university city, youthful and forward thinking despite its ancient, medieval roots.
Porto certainly knows how to make you feel welcome and is well aware of its appeal to tourists: the medieval district of Ribeira, port cellars and outstanding river scenery are all worthy of any top-ten list. You cannot fail to feel immediately comfortable with the people and in awe of the history, architecture, culture and gastronomy. If you are able to discover more of Porto, avoiding the temptation of overpriced Francesinha (a very meaty and tasty Portuguese sandwich) cafes, restaurants and ice creams by the river, it is easy to do so: an opulent 3 course lunch for less than €15, local favourites such as a fresh espresso coffee for less than €1.50, or one of the many less obvious attractions that make Porto such a special destination!
Like something out of a Harry Potter movie, the enchanting Lello & Irmão book store is a tourist attraction in its own right. From Majestic cafés to artisan shops, Porto is home to many buildings that, upon entering, make you feel like you are in a different era altogether! Locals would also be quick to point to the art galleries and shopping along Rua Miguel Bombarda, the crystal palace gardens (an excellent place to sit back and absorb the vantage point over the Douro) together with the ornate Portuguese-tiled train station and bold, Romanesque cathedral – all of which help make Porto the unique and magical place it is.
As a city of remarkable contrasts, in addition to the unspoilt, historic city centre, Porto is also home to the Casa de Musica, a highly acclaimed concert hall, which at almost ten years old, still looks like something out of a futuristic science fiction film! If you have ever considered visiting this incredible city then now is the time to do so! Apple Language Courses offers Portuguese courses at our partner school, excellently located, just a short stroll from the historic centre!
Link to the European Best Destinations website: www.europeanbestdestinations.org.
Peter Carvell